Locke, relievers silence Phillies in pitchers' duel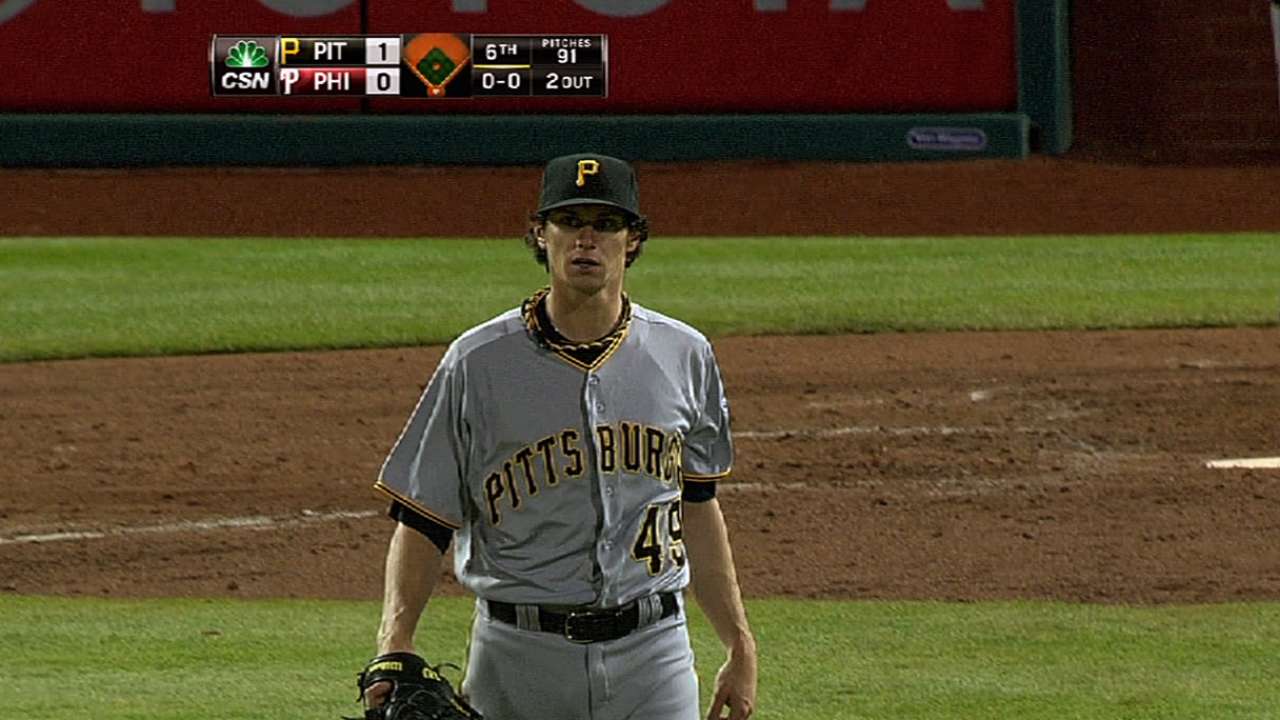 PHILADELPHIA -- Jeff Locke's success on a cold Tuesday night proved simple to analyze.
"That's his best big league performance," Pirates manager Clint Hurdle said. "Six innings of big league pitching.
"He had to battle. He had to compete. He had to get out of a jam. In the end, he did a little of everything. You tip your cap to that young man."
Bolstered by a bullpen ranked second in the National League in ERA, the Pirates beat the Phillies, 2-0, at Citizens Bank Park to hand Locke his second win of the season. Brandon Inge, who came off the 15-day disabled list earlier in the day, hit an RBI double in the fourth to give the Pirates (11-9) the only lead they needed against a Phillies team (9-12) which has struggled offensively for much of the season.
"He came right at us," Phillies manager Charlie Manuel said. "It wasn't that he did anything fantastic. He pitched a good game and was up to the task. He challenged us. If you were patient … if I went up there and looked for fastballs, I would have got good balls to hit."
Locke worked six innings in which he allowed just two hits with six strikeouts. The left-handed starter worked out of jams in the first, second and fourth innings as both teams struggled at the plate.
"He flat out made pitches," Hurdle said. "He used the changeup extremely well to both right-handers and left-handers. He sprinkled in some curveballs that had angle and bite. The two-seamer was a big pitch for him tonight. It really played well."
"The big thing was to get ahead of guys tonight," said Locke, who threw first-pitch strikes to 14 of the 23 batters he faced. "It makes a big difference when you start 0-1.
"I think you have to experience it and get through it. You have to prove to yourself that you can. We got in that jam with a leadoff triple and got a ground ball and another ground ball, and those are confidence builders."
Spotted a 1-0 lead, Locke faced his greatest challenge of the night in the bottom of the fourth after John Mayberry led the inning off with a triple into the right-field corner. The next batter, Domonic Brown, was hit with a pitch to put runners on the corners with no outs. Ben Revere hit Locke's first offering on the ground to third and Mayberry, on a contact play, was thrown out at home by Inge. Erik Kratz then hit into a double play to end the threat.
"There are so many ways for someone to score from third base with less than two outs," said Locke, who had the first scoreless start of his career. "The infield is in, so you just want to get something on the ground. I threw a sinker in to Revere and fortunately enough, the runner took off for home. Maybe it was a contact play or whatever, but that's a big relief off of your chest when you make a play at the plate like that. It sets up the double-play ball, and as they say in this game, you're always one pitch away. I was really on the ropes, and two pitches there saved me, and I got a clean inning."
The Pirates managed to get seven hits off Phillies starter Cole Hamels, who pitched for eight innings.
In the fourth, Neil Walker hit a ground ball to the left side of the infield that eluded Phillies third baseman Michael Young and dribbled off shortstop Jimmy Rollins' glove. In all fairness, Rollins made a good effort to get to the ball, which wasn't hit particularly hard. Even if he had fielded it, he probably would not have had a shot at Walker.
Up stepped Inge, who hit a drive into right-center field for a double that easily scored Walker.
"It's good for everybody in here," said Hurdle, whose team went an abysmal 0-for-13 with runners in scoring position. "It's good for all of us. He gets off a plane at 2:45, comes to the ballpark and makes a couple of plays on defense and barrels a ball. As we talked before, some matchups on left-handers and some other things may be available [for Inge]. Maybe the barrel can show up on occasion and give you a shot in the arm."
The Pirates added a second run in the eighth inning as Gaby Sanchez hit his second home run of the year, this one an opposite-field shot that landed in the right-field bleachers. The homer was the fifth allowed by Hamels in his five starts this season.
Michael Radano is a contributor to MLB.com. This story was not subject to the approval of Major League Baseball or its clubs.