Votto sends game to extras, Reds fall in 10th inning
Cingrani strikes out nine in second Major League start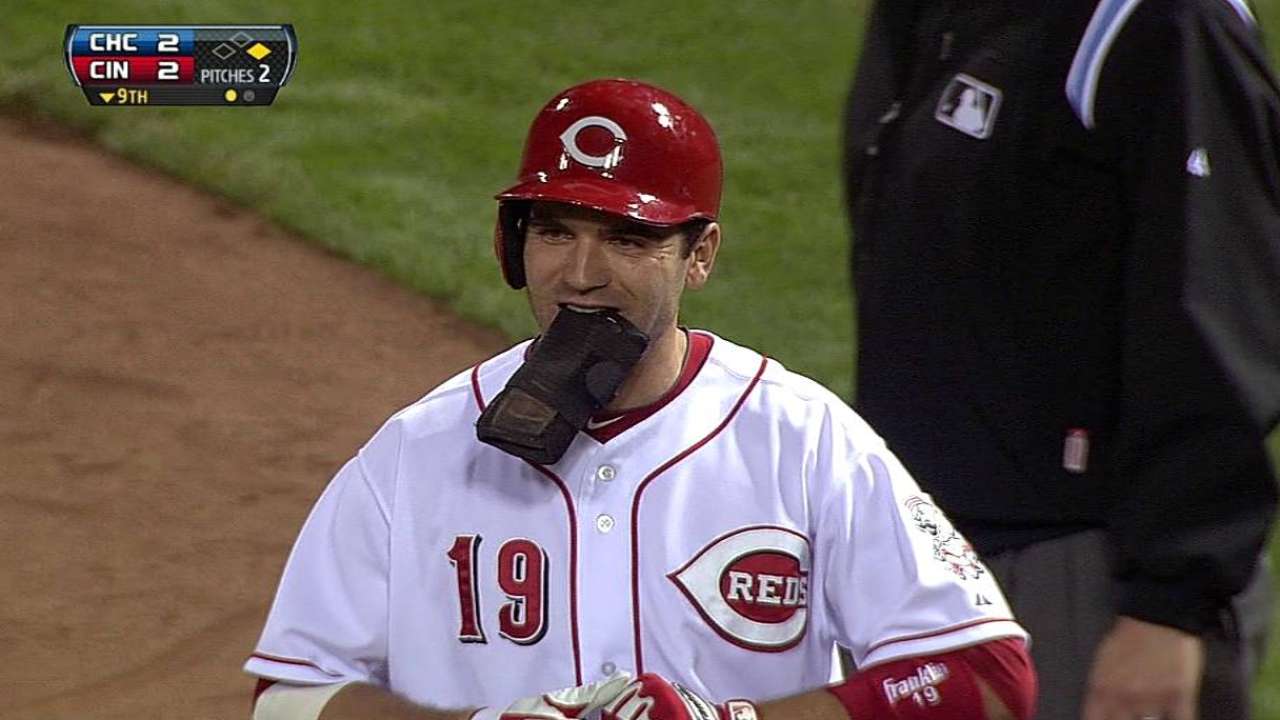 CINCINNATI -- Even though it wasn't so visible at the time on Monday night after a thrilling comeback win over the Cubs in the 13th inning, there was a downside lurking for the Reds from that game.
It was a depleted bullpen that became exposed when extra innings came once again on Tuesday. Hence, lefty Manny Parra found himself getting a second inning of work in the 10th inning that he normally wouldn't get. Parra gave up two runs and four hits in the Reds' 4-2 loss to the Cubs, and Darwin Barney's solo homer was the go-ahead run.
"We had to stick with Manny. Manny was our only guy," Reds manager Dusty Baker said. "Ordinarily, he wouldn't have been out there that second time. He threw a great [ninth] inning before. He made a mistake on Barney. He was trying to go outside and came inside on the home run."
Trailing 2-1 in the bottom of the ninth, the Reds rallied as Cubs starter Carlos Villanueva attempted to pitch a complete game. Shin-Soo Choo reached for the third time on the night with a leadoff walk and went to second base on a Zack Cozart sacrifice bunt.
Chicago called on Carlos Marmol to face Joey Votto, who was 1-for-15 with nine strikeouts lifetime against the right-hander -- including a strikeout on Monday. Votto won this battle, as his single through the middle scored Choo with the tying run. Marmol would walk two more batters to load the bases with two outs, but he escaped to force extras.
"You can't get 'em all. I wish we could battle like that every inning," Frazier said. "It was tough. It's one of those things that when you get runners on and don't get many opportunities, you have to do something with it. I had an opportunity to drive a run in or get on base with one out [in the seventh] and got a double play turned on me."
Parra returned for the 10th and after getting the first out, his 2-1 offering to Barney was pulled to left field for a homer.
"I think it was good for us," said Barney, who is batting .148 this season. "Obviously, it was nice to get an RBI. No one was in scoring position -- I'm probably like 0-for-1,000 in that situation. It feels good to contribute on that side of the field for sure."
Pinch-hitter Julio Borbon bounced a ball in front of the plate for a base hit and went to second base as catcher Corky Miller's throw hit the runner's back for an error. Borbon stole third base and scored on Dave Sappelt's single into center field before Starlin Castro walked.
In limited action for the Reds, Parra hasn't fared well at all. In six appearances, he has an 8.10 ERA with 15 hits and three walks over 6 2/3 innings. He was signed to a one-year, $1 million contract in January and made the club out of camp despite a shaky Spring Training. His roster spot could be tenuous as an opening will be needed when fellow lefty Sean Marshall is activated from the disabled list, which could likely happen later this week.
Cincinnati almost repeated Monday's 13th-inning comeback effort during the bottom half of the 10th inning Tuesday. Pinch-hitter Xavier Paul lined a one-out single to right field against Kevin Gregg, and Choo followed with a rolling single into left field to put the tying run on first base with one out. Votto returned with two outs and dueled for nine pitches before reaching outside for a strike-three swing that ended it.
"We really couldn't go much further than the 10th even if we tied it up," Baker said. "We have a quite a few days to go before we get an off-day. We're playing a tough team after these guys. That's how you get upside down with your bullpen and it usually starts a losing streak. We've got four against the Nationals and then we've got three against the Cardinals. You certainly can't go in there with an upside-down bullpen."
In his second big league start for the Reds, Tony Cingrani fared well overall as he gave up two runs and five hits over seven innings. The left-hander did not walk a batter and struck out nine.
"I was a lot more comfortable. The tempo was a little bit slower to me, so it was good," Cingrani said. "I was trying to make first pitches and make sure I was getting ahead of people. I wasn't really thinking too much about trying to throw a complete game or anything. I was just trying to give them a good quality start."
Through the first nine games of the 10-game homestand, Reds starters have posted 1.71 ERA and have yet to allow more than two runs in any game. Eight of the nine outings have been quality starts, with Cingrani's five-inning debut on Thursday being the lone exception.
Mark Sheldon is a reporter for MLB.com. Read his blog, Mark My Word, and follow him on Twitter @m_sheldon This story was not subject to the approval of Major League Baseball or its clubs.