Barney provides heroics in Villanueva's strong start
Second baseman homers in 10th; Righty nearly goes the distance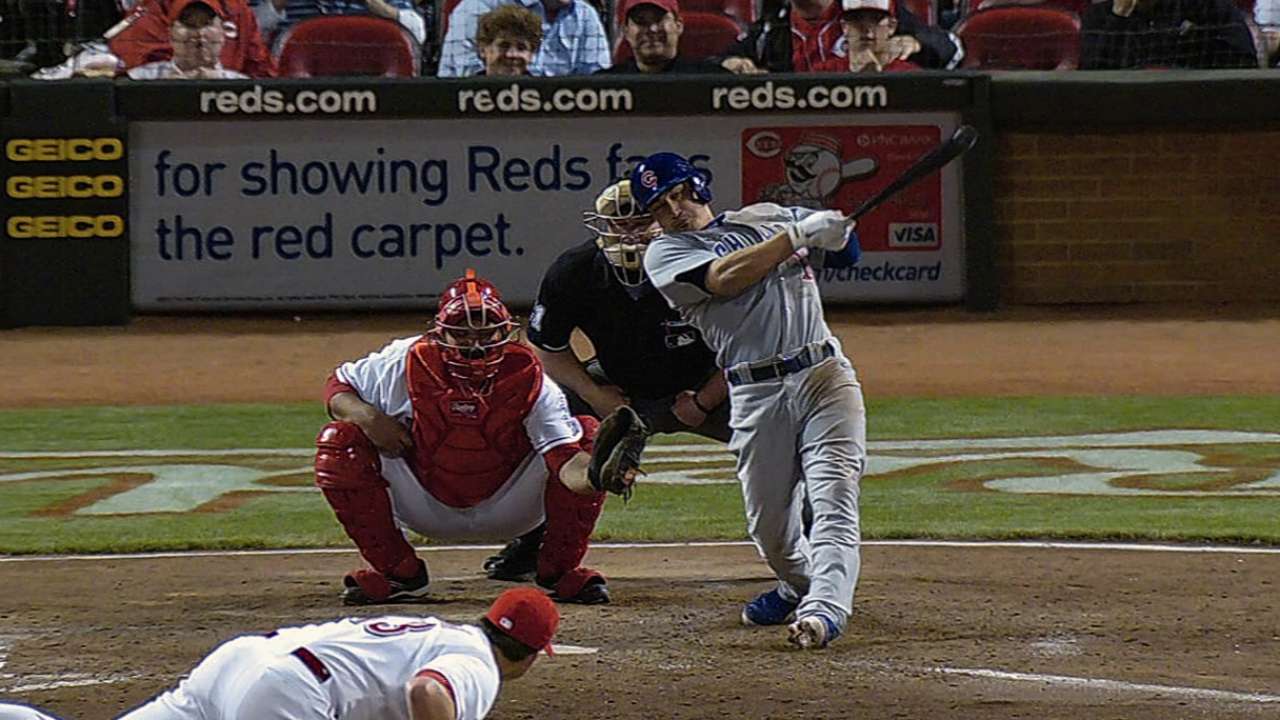 CINCINNATI -- Carlos Villanueva delivered some much-needed innings, Darwin Barney provided the go-ahead run, and Kevin Gregg filled the closer's role for the day as the Cubs held on long enough for a 4-2, 10-inning win Tuesday night over the Reds.
"It was nice, a good win," manager Dale Sveum said. "It wasn't easy."
Barney hit a tie-breaking home run with one out in the 10th off Manny Parra -- his first home run of the year and only his fourth hit in 27 at-bats this season. Julio Borbon then singled, moved up on an error, and scored on Dave Sappelt's single for insurance.
"I wouldn't say I needed it, I think our team needed that win," Barney said. "I think it was good for us. Obviously, it was nice to get an RBI. No one was in scoring position -- I'm probably like 0-for-1,000 in those situations. It feels good to contribute on that side of the field for sure."
It was a weird home run because Cincinnati catcher Corky Miller got in the way.
"They called catcher's interference on the play, so when I first hit it, I thought I got it pretty good and when [umpire Marvin Hudson] called interference, you never know how much it'll take off your bat speed," Barney said.
Wait a second -- catcher's interference on his home run?
"Maybe I would've rolled it over if it didn't hit the glove," Barney said.
Chicago led, 2-1, going into the ninth, but the Reds forced extra innings for the second straight game. Shin-Soo Choo walked to start the ninth against Villanueva, who was pulled one out later after throwing 99 pitches.
Carlos Marmol entered to face Joey Votto, who was 1-for-15 in his career against the right-hander with nine strikeouts. The odds were in Marmol's favor, but Votto lined a RBI single past Barney to tie the game.
"Those numbers don't lie," Sveum said of Marmol's stats vs. Votto. "He got the ground ball. I'm like, 'Really? You can't hit it at somebody? You've got to be kidding me.' Marmol was all right."
The Reds then loaded the bases, but the Cubs escaped when Chris Heisey hit into a fielder's choice.
Villanueva was the hero. The Cubs were coming off a 13-inning game on Monday and needed him to go at least five. He topped that by pitching into the ninth. It was his fourth straight quality start, but he has only one win to show for it. Marmol ended up with the win, and now leads the team in the category.
"The most important thing today, besides the fact that we obviously won the game, was that I was able to go deep in the game, especially after [Monday's game]," Villanueva said. "We needed it."
Villanueva kept the Reds off balance by mixing his pitches, especially the velocity.
"He was throwing a bunch of stuff -- that's how he pitches," Reds manager Dusty Baker said of Villanueva. "Those guys generally give you more trouble earlier in the season before you get your timing."
"That's on purpose," Villanueva said of the variances. "Sometimes it works, sometimes it doesn't. I pick my spots, and that way I won't get hurt by it."
Villanueva, projected as a swingman when he signed with the Cubs, now boasts a 1.53 ERA in his four starts.
"He's been outstanding," Sveum said. "To stick with a game plan is the ultimate dream for a pitching coach and a manager to be able to say, 'Just do this and you'll get these guys out,' and he's able to pull it off."
Marmol wasn't able to do that, which is why he lost his closer's job after one week. Gregg, released by the Dodgers on April 3, picked up his first save since 2011.
"For me, it's about going in there and helping the ballclub now in whatever role it can be," Gregg said. "Today was an awesome feeling. I really enjoy that. That's a lot of weight on your shoulders when you're out there making pitches in that situation. I love that pressure, I love what comes with it, of what comes from being able to carry home a victory for the team."
And Gregg knows what Marmol is dealing with.
"The last four outings I've seen, he's thrown the ball well," Gregg said of Marmol. "The numbers were in his favor [against Votto]. The matchup was there. If that ball is hit right to Barney, we're not talking about it. ... I like where [Marmol's] head is at. He's got to stay headstrong to get through this thing."
The Cubs took a 2-0 lead in the second. Alfonso Soriano singled to lead off, stole second, then swiped third before scoring on Scott Hairston's sacrifice fly. Cody Ransom, making his first start after he was claimed off waivers from the Padres, drove the first pitch he saw from Tony Cingrani into the right-field seats for his first hit and home run.
Ransom is the first Cubs player to homer in his first at-bat for the team since Starlin Castro did so on May 7, 2010, also at Great American Ball Park. Castro homered in his Major League debut at-bat; Ransom was 0-for-11 for the Padres before he was put on waivers. Ransom has done this before, as he homered in his first at-bat for the Yankees on Aug. 17, 2008.
For Soriano, it was the first time he stole two bases in one inning since Aug. 25, 2008, when he swiped a pair against the Pirates.
Sixteen of the Cubs' first 19 games have been decided by three runs or less, the first time that's happened in franchise history since 1991. The tight games make it tough on everyone.
"You can't dwell too much on the close games," Villanueva said. "It'll crush your spirits sometimes. You have to look at the positives, and the positives are that we are close. We're not getting killed, it's just one-, two-run games. Hopefully, this will turn it around and we start winning some ballgames now."
Carrie Muskat is a reporter for MLB.com. She writes a blog, Muskat Ramblings, and you can follow her on Twitter @CarrieMuskat. This story was not subject to the approval of Major League Baseball or its clubs.