Ortiz experiences both extremes in Rangers' loss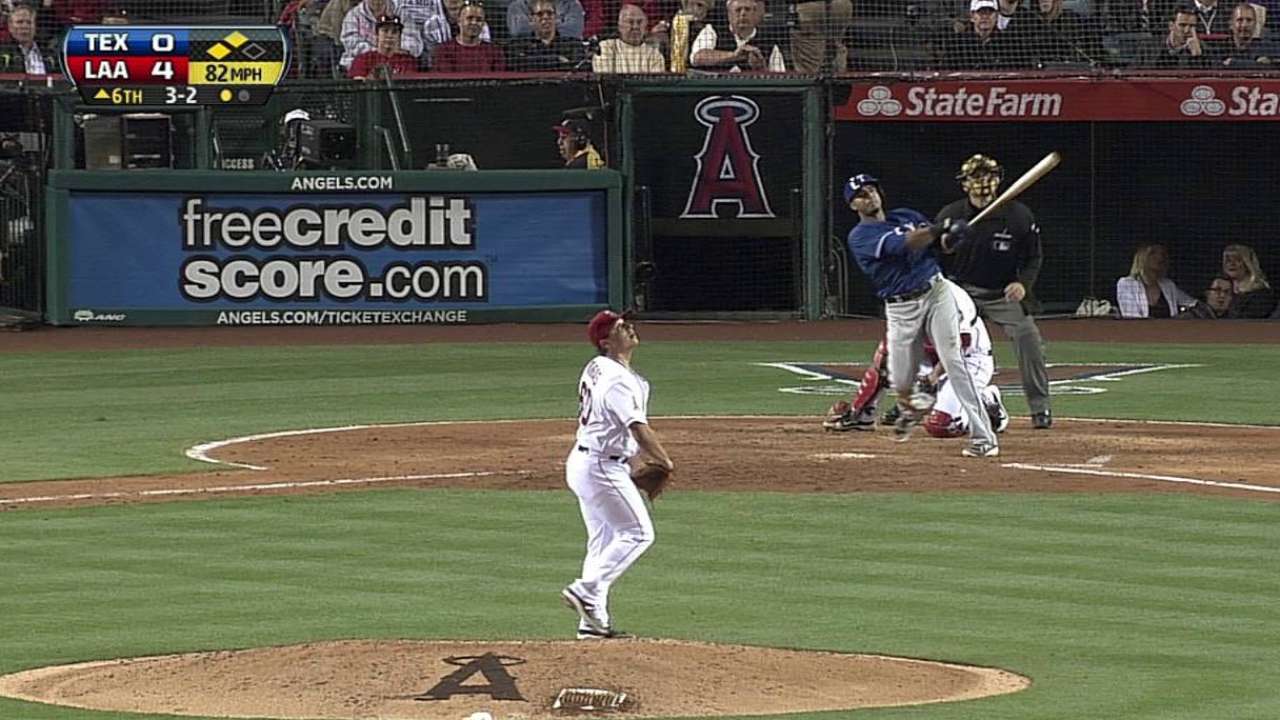 ANAHEIM -- Rangers rookie left-hander Joe Ortiz pitched heroically in the 10th inning. With one out, the bases loaded and the game tied, he got two former Most Valuable Player Award winners to hit ground balls that kept the Angels from bringing home the winning run.
But his glorious moment was fleeting. Ortiz returned in the bottom of the 11th and gave up a one-out home run to Howie Kendrick that lifted the Angels to a 5-4 victory over the Rangers. The loss on Tuesday night at Angel Stadium snapped the Rangers' four-game winning streak.
"Somebody's got to win and somebody's got to lose," Rangers manager Ron Washington said. "We felt good with Ortiz out there. But he got a pitch over the plate that Howie could handle. Howie has done that before."
The home run was Kendrick's second of the game. He had a two-run home run in the fourth off Rangers starter Alexi Ogando that gave the Angels a 4-0 lead. The Rangers were able to come back, mainly on Nelson Cruz's three-run home run off Angels starter Jason Vargas in the sixth, to tie the game.
But a tremendous catch by Angels left fielder Mike Trout kept them from going ahead in the ninth, and that was their last real chance for a second straight comeback victory.
"We came back. ... It was a great game," Cruz said. "We battled, but at the end, most of the time it's going to end on a home run."
That was the case on Tuesday night.
"It's a great feeling, to know that you can leave the other team on the field, no matter when it is," Kendrick said. "But to get the victory is the most important thing. Every game against these guys is really tough. Neither team lays down, and it seems like the ninth inning rolls around and it's always a tied score."
The score was tied at the end of nine innings because the Rangers were 1-for-13 with runners in scoring position. The missed opportunity that hurt the most was in the ninth.
The Rangers had Ian Kinsler on third with two outs against Angels reliever Ernesto Frieri when Beltre launched a drive deep toward the left-field corner. But Trout raced over and made a breathtaking diving catch to take way a go-ahead hit.
"Once it was hit, it was hooking away from me a little bit, and the only chance I thought I had was to dive a little bit and brace myself from hitting that wall," Trout said. "Once I caught it, that was the next thing on my mind was hitting that wall."
Beltre stood beyond first base and watched the play over again on the giant video screen beyond right field. He turned away in disbelief.
"I saw it," Beltre said. "I couldn't believe it, but I saw it. When I hit the ball, I saw where he was playing and I saw the ball hooking. I thought he had no chance to get to that. I was wrong. It's not fair. It's not fair for them to have three center fielders playing the outfield here."
Ogando gave the Rangers seven-plus innings, allowing four runs on six hits and three walks while striking out five. He had some trouble early but found an effective changeup and then started commanding his fastball. Two unearned runs the Rangers gave away in the first didn't help matters.
Ogando retired Peter Bourjos on a grounder to start the inning and struck out Trout on a slider in the dirt. Catcher A.J. Pierzynski blocked the ball, and it rolled just a few feet away. Trout still broke for first and ended up being safe. Pierzynski threw low and first baseman Mitch Moreland failed to come up with it for an error.
Ogando, after getting ahead 0-2 in the count, walked Albert Pujols. Josh Hamilton followed with a fly ball deep down the left-field line and Jeff Baker made a terrific sliding catch as he went into the wall.
But he also suffered a bruised right knee and had to be replaced by David Murphy. Baker said he is going to probably miss a couple of games until the swelling goes down. But the inning wasn't over and run-scoring singles by Mark Trumbo and Kendrick put the Angels ahead, 2-0.
"A simple out ... a strikeout, unfortunately we didn't finish it off," Washington said. "That's two runs they got when we should have been off the field."
Kendrick gave the Angels a four-run lead with his first home run in the fourth and Cruz pulled the Rangers within one with his three-run shot in the sixth. The Rangers tied it up in the eighth when, with the bases loaded and nobody out, Murphy brought in a run by grounding into a double play. But that was also a missed opportunity for a bigger inning.
The Angels loaded the bases themselves with one out in the 10th off reliever Robbie Ross. Ortiz came in to face Pujols and Hamilton, and kept the Angels from scoring. Pujols hit a grounder to Beltre, who threw home for the force. Hamilton then grounded out to second to end the inning.
Washington was hoping Ortiz could get them one more inning before turning it over to long reliever Derek Lowe. But Kendrick foiled that and brought a terrific game to an end.
T.R. Sullivan is a reporter for MLB.com. Read his blog, Postcards from Elysian Fields, and follow him on Twitter @Sullivan_Ranger. This story was not subject to the approval of Major League Baseball or its clubs.