Mets burned by Ellis' two homers, shaky bullpen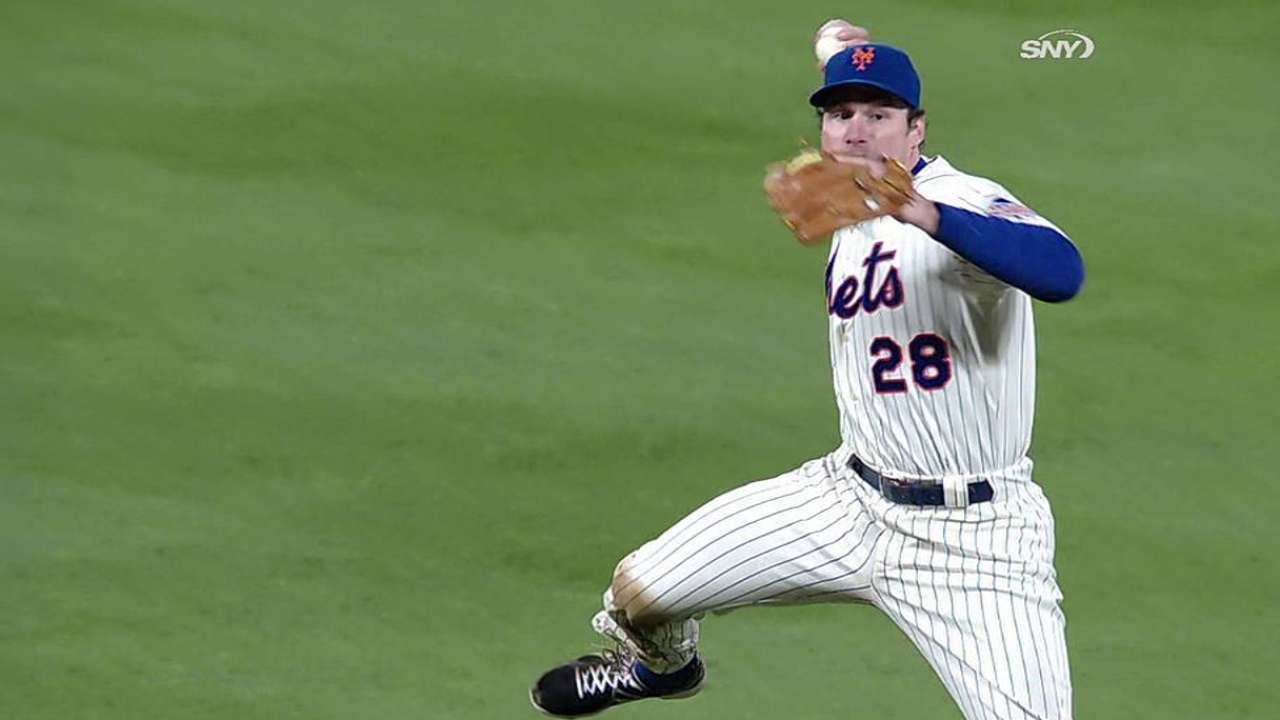 NEW YORK -- The Mets' rotation may not be in trouble, but their bullpen certainly seems to be.
Those were the takeaways from Tuesday's 7-2 Mets loss to the Dodgers, in which Los Angeles second baseman Mark Ellis played a heavy role. Ellis knocked starting pitcher Jon Niese out of the game with a comebacker to the mound, then smacked two homers in what became a late rout at Citi Field.
Niese sustained nothing more than a bruise, and he expects to make his next start. But asked to contribute yet another heavy workload, the bullpen once again struggled, increasing its ERA to a league-worst 5.52.
"That hasn't helped," manager Terry Collins said of the frequency with which he has had to turn to his relief corps. "That's certainly a factor. When you keep your bullpen rested is when they stay the sharpest."
Normally, Niese's starts are occasions to give the bullpen some rest. But facing Niese with one out in the third inning, Ellis hit a sharp comebacker off the pitcher's right leg, forcing him out of the game. X-rays were negative, revealing only a bruise, though that did not help the Mets in the moment.
Instead, Collins needed to figure out "how we're going to get seven innings of relief pitching." He's still figuring. Four innings after Niese's injury, Ellis launched a decisive three-run homer -- his second of the night -- off reliever Brandon Lyon, giving the Dodgers the lead for good.
That blast spoiled the early efforts of New York's offense, which forced perennial Cy Young Award candidate Clayton Kershaw to throw 111 pitches over five lackluster innings. Kershaw breezed through 2 2/3 quick innings without allowing a baserunner, running up a two-strike count to pitcher Robert Carson with two outs in the third. But in his first big league plate appearance, Carson worked a seven-pitch walk to extend the inning.
"I have no idea [how I did that]," Carson said, laughing. "When I got to first base, Adrian Gonzalez said, 'Hey, hold your head up because getting a walk off him is like a hit.'"
"I was pretty terrible," Kershaw said. "Awful. A two-out walk to the freaking pitcher. ... The team won in spite of me instead of because of me. I just did everything wrong."
The next batter, Ruben Tejada, also walked, setting the stage for Daniel Murphy and David Wright to come through with consecutive RBI singles. Kershaw left after five, earning a no-decision.
Laboring on the mound prior to his injury, Niese walked the bases loaded in the second inning, but he used a Kershaw double play to hold the Dodgers to one run. Still, he needed 54 pitches to record seven outs, allowing six baserunners.
"Obviously, it wasn't my best stuff," Niese said. "In the second inning, I was trying to be way too perfect instead of just being aggressive and pounding the zone. I was trying to make too good of pitches and fell behind guys and obviously walked three guys. It's something I'm going to try to get better at."
The early damage might have been worse had Carson not entered and -- thanks in part to a leaping grab at shortstop by Tejada, robbing Jerry Hairston of an RBI hit -- fired 2 1/3 innings of one-run ball. Carson departed after serving up Ellis' first homer, a solo shot with two outs in the fifth.
"I hate seeing Niese [injured]," Carson said. "But you see that, you have to get ready. You can't really do anything about it. I just wanted to go out there and try to keep doing what he was doing with the hitters -- attack them and get some ground balls and get some outs."
Carson did, and Scott Atchison did, but the rest of New York's bullpen did not. The Dodgers put the game away in the eighth inning, greeting reliever Josh Edgin with two singles and two doubles in a five-batter span. Allowing two of those baserunners to score, Edgin has now given up more runs (nine) than he has recorded outs (eight) dating back to April 16.
Edgin's problems may not necessarily be isolated. Despite flashes of brilliance, Mets relievers have struggled as a group. Every reliever has taken his turn as the culprit, even if some have done so more often than others.
But Collins was most befuddled by Edgin's inconsistency, indicating that it may be a function of overuse.
"I've been there before where I've seen that," the manager said. "I'm a little bit concerned that might be what we're facing."
Anthony DiComo is a reporter for MLB.com. Follow him on Twitter @AnthonyDicomo. This story was not subject to the approval of Major League Baseball or its clubs.