M. Ellis carries Dodgers to victory with two homers
Second blast breaks tie in seventh; A.J. Ellis contributes two-run double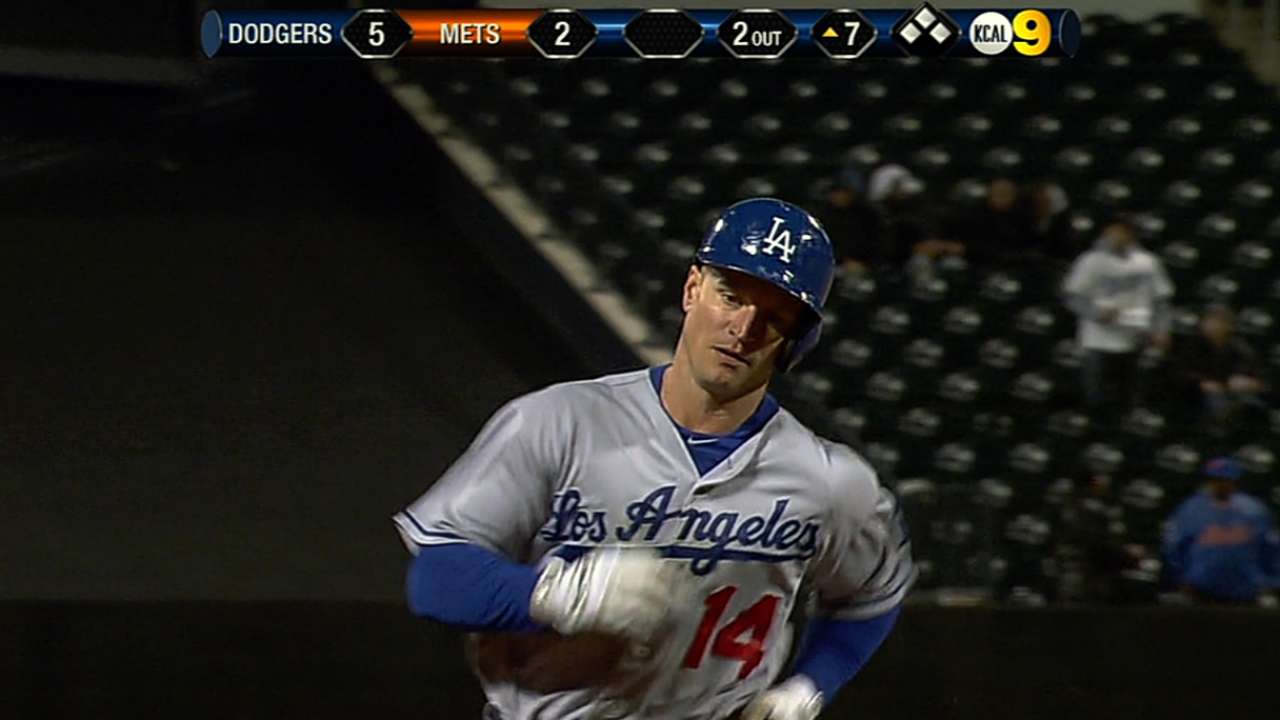 NEW YORK -- The 2013 All-Star Game ballot will be unveiled Wednesday, and Dodgers fans shouldn't forget the Ellises.
Mark Ellis had a career game Tuesday night, going 4-for-5 with two homers and four RBIs to lead the Dodgers to a 7-2 win over the Mets in their series opener.
And A.J. Ellis chipped in with a two-run double (he's hitting .321) as the Dodgers scored seven runs in back-to-back games after squandering the better part of the month of April offensively.
While the Dodgers have five regulars with past All-Star berths -- Adrian Gonzalez, Hanley Ramirez, Carl Crawford, Matt Kemp and Andre Ethier -- neither of the Ellises has made a team. A.J. has only been a starting catcher for two years, but Mark is a 12-year veteran second baseman who, despite being known for dependable defense, has displayed enough power to reach the 100-homer mark with his first shot Tuesday night.
"It would be really cool, just unbelievable to make it," Mark said of the All-Star Game. "Something I've never done. Traditionally I don't have good first halves, maybe that's part of it."
According to Eric Stephen of True Blue LA, the only other Dodgers second basemen with at least four hits and two homers in a game are Jackie Robinson and Davey Lopes. Ellis also saw his average soar from .311 to .348. His 11 RBIs are second on the club to Gonzalez's 14 and already more than one-third of last year's total of 31.
The second of Ellis' home runs, a three-run shot, came off Brandon Lyon. The last time Ellis had a multihomer game was five years ago, in Arizona, and one of them was a three-run shot off Lyon.
"My rookie season, I saw Randy Velarde hit his 100th and I thought to myself, 'I'm not going to hit a ton of homers, but if I get to 100, I'd be happy,'" said Ellis. "It's nice to get this one here."
Manager Don Mattingly said he isn't surprised that the Dodgers are finally scoring.
"That stretch when we weren't scoring, we had the same amount of hits [12 on Tuesday], we were just getting two runs, and we talked about if we continued to get traffic on the bases, the game tells you you'll score more runs," he said. "Hopefully, we can get some momentum going our way where we feel we're going to get big hits and not that we're not going to get the hits."
Mark Ellis knocked out two Mets pitchers. His one-hop single off the right leg of starter Jon Niese in the third inning ended the lefty's night with a bruise. Ellis' solo homer with two outs in the fifth tied the game and sent reliever Robert Carson to the showers. His three-run shot off Lyon with two outs in the seventh was the tiebreaker.
A.J. Ellis' two-run double in the eighth gave some insurance to the Dodgers' bullpen, which pitched four scoreless innings. Ronald Belisario, demoted from the late innings because of a slump, was the winner with a perfect sixth inning. Paco Rodriguez, Matt Guerrier and Josh Wall finished up with scoreless innings.
The Ellises and the bullpen were so productive, they made up for another disappointing start from Clayton Kershaw, who retired the first eight batters he faced, but barely made it through five innings with a tiring 111 pitches.
"I was pretty terrible," said a self-critical Kershaw. "Awful. A two-out walk to the freaking pitcher. I just beat myself. The bullpen was awesome, the Ellis Brothers were awesome. The team won in spite of me instead of because of me. I just did everything wrong. I didn't have a very good night."
Mattingly said Kershaw might have been impacted by the long delay after Niese was injured, but Kershaw pointed out that he retired the first two batters he faced after that break, only to issue back-to-back two-out walks, with both scoring.
Another offensive contributor was Justin Sellers, who came into the game batting .174 as the substitute for shortstop Hanley Ramirez, who could be back in a week. Sellers had three hits, an RBI and scored a run, raising his average to .220.
"I made an adjustment after working 30 minutes today with [hitting coaches Mark McGwire and John Valentin]," Sellers said. "Keeping my hands closer to me, and it paid off. I felt great at the plate. I have a tendency to get a little big, and that's not me. I've got to stay short, hit line drives and get on base."
Ken Gurnick is a reporter for MLB.com. This story was not subject to the approval of Major League Baseball or its clubs.