A's overwhelm Red Sox with downpour of runs
Six-run third highlights rout; Colon unfazed by soggy conditions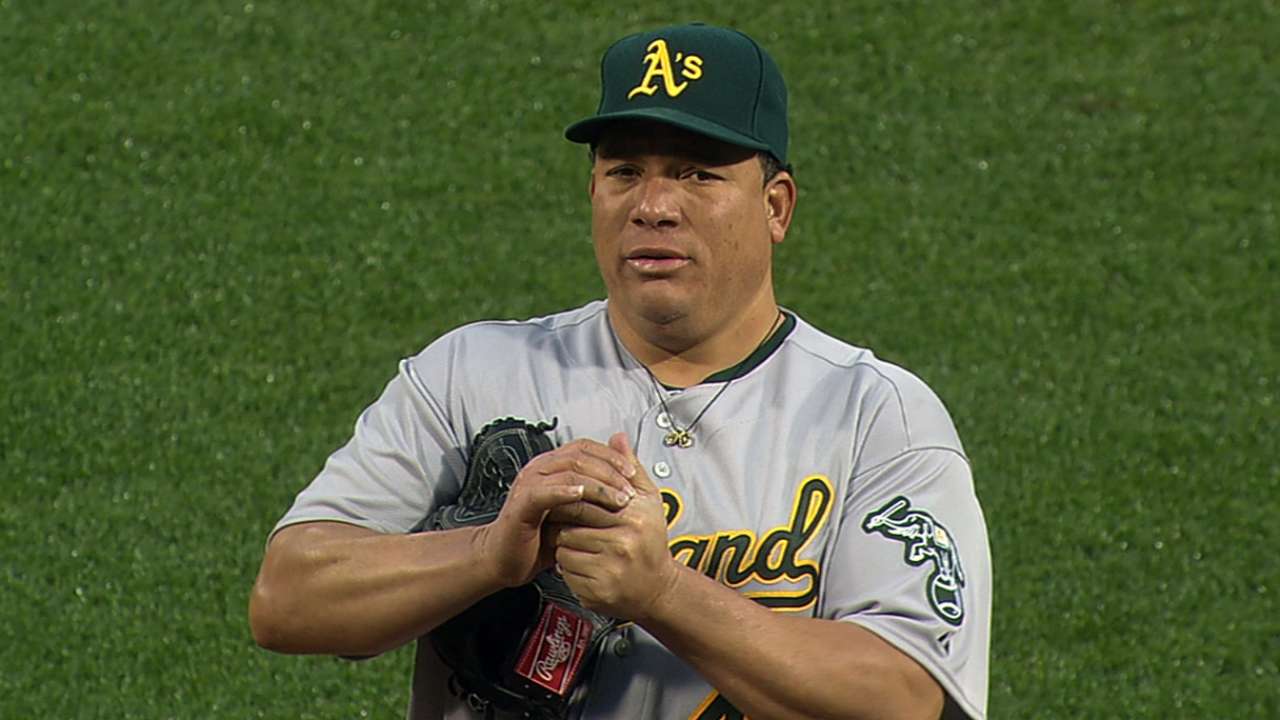 BOSTON -- It was as if Bartolo Colon was roaming around his own little private island of sorts, untouched by the dreary, wet conditions surrounding it.
For there he was, donned in short sleeves, throwing nothing but strikes as pitching coach Curt Young looked on from more than a hundred feet away in the A's dugout, where he hid by a heater amid temperatures in the 30s.
"We all know Bartolo," Young said, "and he proved that the weather was no issue for him."
Nothing ever seems to be for the veteran, who took to the mound for the 385th time in his 16-year career on Tuesday and blanked the Red Sox over seven innings of three-hit ball while his teammates took batting practice off Boston's pitchers in a 13-0 rout that halted a four-game losing streak.
A constant rainfall stopped the game after seven innings, but by then the 39-year-old Colon had already fanned seven and walked just one -- his only walk of the season, spanning 26 innings -- in his third win of the season. The A's are 4-0 in games he's started.
"If you're going to have someone you want on the mound for a night like tonight where conditions are bad, it's a strike thrower like Bartolo," A' manager Bob Melvin said. "You look up and he was always throwing strikes.
"That's who he is and he doesn't change. You know you're going to get strikes, and you know you have to beat him because he's not going to beat himself. He has a very good idea of what he's doing. That's what happens when you have that kind of experience."
The righty threw 67 strikes out of his 94 pitches, nearly all of them fastballs. It wasn't until the final few innings that he played around with a changeup with catcher John Jaso.
"I was really cold and every time I caught the ball, it hurt my hand," Jaso said, "but it didn't seem to faze him at all. He's probably played in worse conditions. He's a guy that doesn't complain. He's just going to go out and do his thing."
Opposing hurler Alfredo Aceves, meanwhile, didn't fare so well in his brief -- though seemingly lengthy -- time on the mound, as he was responsible for seven earned runs and as many hits, along with four walks, two balks and a botched defensive play, in just 3 1/3 innings.
The A's, who were the sloppy ones in Monday's loss, took full advantage of Aceves' rickety ways, sending 10 men his way in the third, with six of them scoring.
Three were put on base via walks, but the A's also did some damage with the bat in motion, as Brandon Moss collected a two-run double and ultimately scored on Josh Reddick's base hit. Reddick advanced to second on Aceves' throwing error and he, too, scored on third baseman Will Middlebrooks' subsequent miscue.
By night's end, every member of Oakland's starting nine had reached base, with all but Jed Lowrie scoring at least one run, and it marked the eighth time in 21 games the A's have scored at least eight runs.
Seth Smith crossed home plate twice from the third hole, where he launched a two-run shot to right-center in the fourth, just moments before Aceves was mercifully pulled in favor of knuckleballer Steven Wright, who likely won't look back too fondly on what was his Major League debut.
Boston's right-hander couldn't stop Oakland's rampage. Instead, it continued in a four-run fifth, when Coco Crisp and Jaso each notched two-run hits. Jaso finished with a season-high three hits.
"It was good to get some knocks," Jaso said. "It was kind of a good spirit lifter tonight."
For Colon, it was business as usual.
"I think he's a great example for everyone that pitches for us," Young said.
Jane Lee is a reporter for MLB.com. Read her blog, Major Lee-ague, and follow her on Twitter @JaneMLB. This story was not subject to the approval of Major League Baseball or its clubs.