Aceves, Red Sox left soaked in Fenway drubbing
Righty walks three, commits error and balks twice in six-run third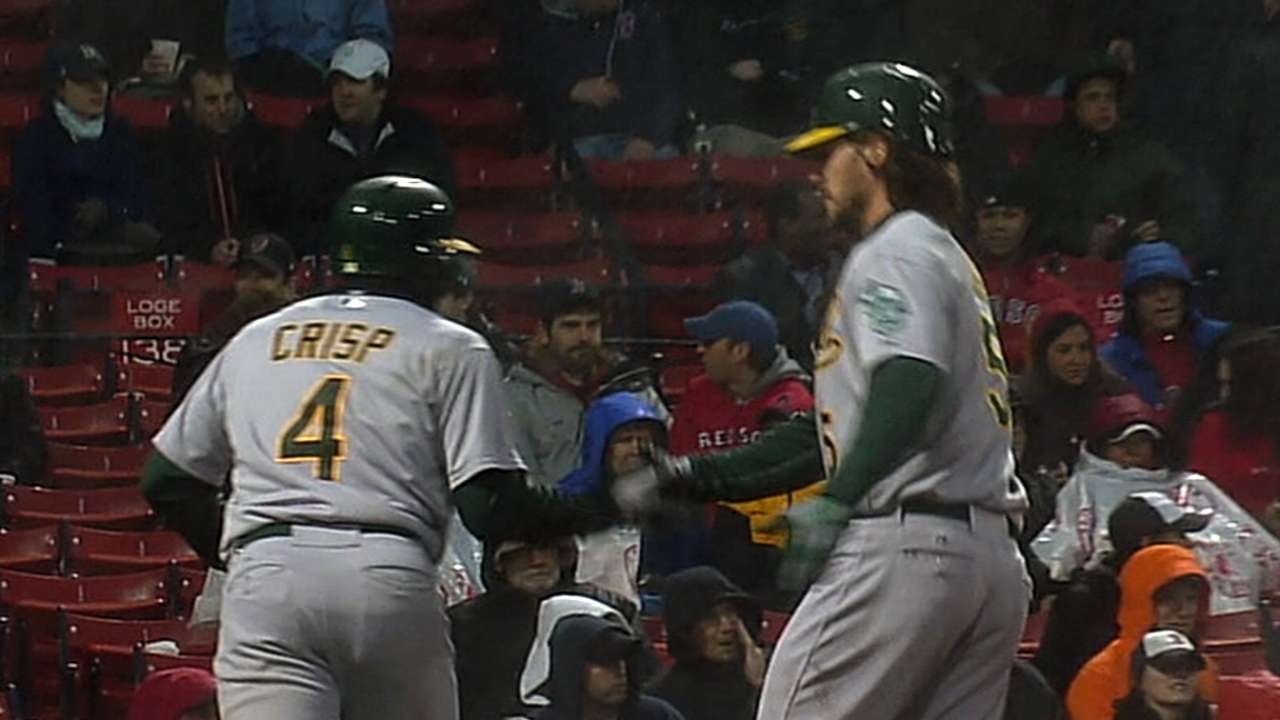 BOSTON -- Under raw, dreary and wet conditions, perhaps it was only fitting that this would be the night the Red Sox would produce what was easily their ugliest performance of the young season.
Unable to pitch or field with any kind of cohesion while the game was still in question, Boston suffered a 13-0 loss to the Oakland Athletics on a forgettable Tuesday evening at Fenway Park.
It all fell part in the top of the third, when Alfredo Aceves had a nightmarish six-run inning in which every possible thing that could go wrong did.
This wasn't a case of Aceves giving up hit after hit and not being able to adjust.
Instead, it was an unsightly combination of walks (three), balks (two) and defensive miscues (two of which were officially counted as errors).
"Nothing interesting," Aceves said. "Just a game we lost. That's it. Everything was fine. You can't do anything against the walks. Today was a bad day. That's it. We've been having better days than this. We have to continue to work and get better results."
After having a terrific first season in Boston in 2011, Aceves has been an enigma.
Quite simply, the Red Sox don't know quite what to expect on a given night. Tuesday represented your virtual worst-case scenario.
"It's varied, I will say that," said Red Sox manager John Farrell. "He's healthy. He's got the ability to manipulate the baseball, as we've seen. You'd like to think that there would be more of a known commodity in a given role, particularly in a starting role, when you've got five days to prepare for the next outing.
"His work in between starts has been consistent. His preparation today was consistent with what it was prior to the game in Cleveland. Tonight wasn't one of his better performances."
The Red Sox could say that about every element of the game.
Offensively, Boston was stifled by Bartolo Colon, who allowed three hits while walking one and striking out seven.
"If you're going to have someone you want on the mound for a night like tonight where conditions are bad, it's a strike thrower like Bartolo," said Athletics manager Bob Melvin. "You look up and he was always throwing strikes. He was the right man for the job tonight. That's who he is and he doesn't change.
"You know you're going to get strikes, and you know you have to beat him because he's not going to beat himself. He has a very good idea of what he's doing. That's what happens when you have that kind of experience."
Rain fell throughout the game and the tarp came on the field prior to the top of the eighth and play was never resumed.
Out of respect to the less-than-ideal weather conditions, the Red Sox announced that any fan with a ticket stub for the game could return to either Wednesday's or Thursday's games for free. Ticket stubs from Tuesday's game can be exchanged starting two hours prior to Wednesday's 4:05 p.m. ET contest or Thursday's 6:35 game.
The first run came in when Aceves walked Seth Smith with the bases loaded. Brandon Moss then drove two in with a single. The first balk by Aceves was costly, as it pushed runners to second and third, and set up a sacrifice fly for Josh Donaldson.
"Obviously, the weather conditions weren't ideal," said Farrell. "But to say it was a major distraction -- I don't know that we can go that far. We see what Bartolo did against us. He had very good command and, really, we didn't have many good swings at pitches that found their way to the middle of the plate."
So what happened to Aceves?
"He pitched behind in the count, combined some walks with some base hits," said Farrell. "The two balks are very uncharacteristic, didn't cover first on another play. It was an ugly inning and things kind of unraveled from there."
Even when Mike Napoli made a tremendous play at first base, making a diving stop on Josh Reddick, something bad happened. Aceves was late coming to the bag, and Reddick was safe. Moss rounded third and scored as Aceves made a wild throw home.
"Yeah, it was my fault. That's only one play," said Aceves. "It's also -- it's hard to explain to you guys. You guys just see the errors, the runs, the hits, whatever. It's really hard to -- how can I explain? -- to get through that plate. For whatever reason, the strike zone got small."
Chris Young followed with a routine grounder to third, but Will Middlebrooks one-hopped the throw to first, and another run scored.
Aceves threw 42 pitches in the inning. Remarkably, the A's got those six runs without the benefit of an extra-base hit. In fact, they only had three hits in the frame.
If Aceves had been able to settle down, maybe it could have turned into a competitive game at some point. But the A's jumped right back on him in the fourth.
John Jaso belted a one-out double and Smith hammered a two-run homer to right-center to make it 8-0.
It was quite clear that Aceves wasn't physically or mentally sharp in this one.
"I don't know if I'd go into the effort level," Farrell said. "There seemed to be a lack of focus given the way Alfredo has pitched this year for us, and in particular his last outing in Cleveland. It wasn't a good night."
Knuckleballer Steven Wright, making his Major League debut, finished out the fourth. But Oakland jumped on him for four in the fifth and one in the sixth to make it 13-0.
After the game, Wright was optioned to Triple-A Pawtucket.
"I wasn't really able to throw anything but a fastball for a strike," said Wright. "In the 'pen, I felt really good. I was comfortable. I was throwing the ball really well. But I think when I got in the game, I was trying to do a little more and lost a little bit of the feel. Obviously, at any level, when you eliminate anything but a fastball you're not going to be in a good place."
Ian Browne is a reporter for MLB.com. Read his blog, Brownie Points, and follow him on Twitter @IanMBrowne. This story was not subject to the approval of Major League Baseball or its clubs.