Four-run second holds for Orioles in slim win
Homer blemishes Gonzalez's start, but bullpen holds down the fort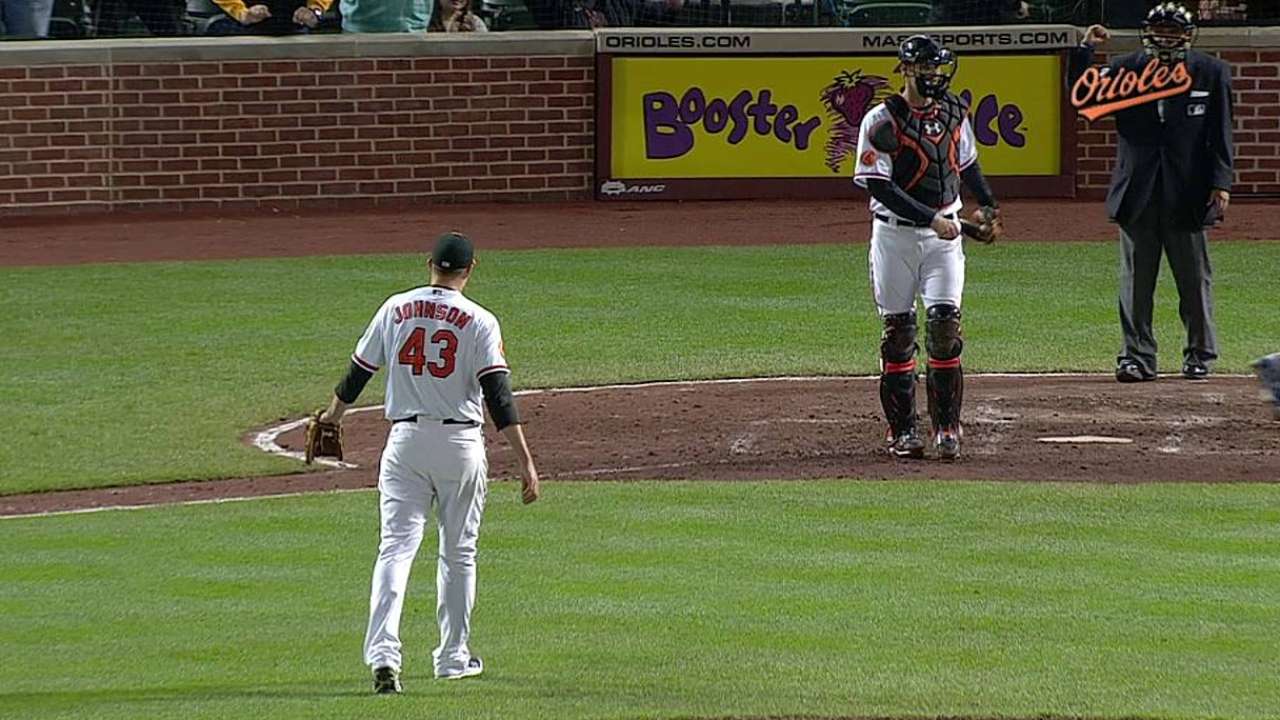 BALTIMORE -- There is work to be done and certainly room for improvement, but the Orioles' starting pitching is slowly coming around, with right-hander Miguel Gonzalez giving the team its fourth start in the last five games of at least six innings on Tuesday night.
And while Baltimore still has yet to get a starter to go seven full innings this season, a common question manager Buck Showalter can do without in postgame interviews, when the Orioles do get to the seventh with a lead they're unbeatable.
Using a bullpen that has been nothing short of extraordinary, the O's rode a four-run second inning to a 4-3 series-clinching win over Toronto in front of 13,272 fans at Camden Yards. The victory marked the 100th consecutive regular-season victory for the O's when leading after seven innings, a feat that dates back to August 8, 2011, and is the second-longest streak for any club during the expansion era.
"Last year in the beginning, people started saying it was good luck or whatever," reliever Pedro Strop, who pitched a scoreless eighth after inheriting a runner, said of an Orioles club with four series wins against American League East opponents. "People kept saying it was just one season, so we want to want to prove whoever's saying that wrong. We want to compete this year, too, and get even farther -- not just the playoffs, but make it to the World Series and compete. That's what's makes us better, trying to prove people wrong, and I think that's a big thing for us."
The Orioles, who have won five of their last six games, got big outs from Strop and Brian Matusz as they bridged to closer Jim Johnson's eighth save in as many tries. Over his last eight games, Johnson is 1-0 with six saves and a .115 opposing batting average, allowing three singles in 26 at-bats.
"It's all of us, though," Johnson, who has converted his last 29 regular-season save opportunities, said of the bullpen's success. "It's the seventh-, eighth-inning guys, too, like Darren [O'Day] and Stropy. We all want the ball, too. I think that's the big key."
Johnson added that the start of the bullpen's streak was also when the organization started turning it around.
"So we kind of point to that as maybe the beginning," he said of an Orioles club that has the second-most wins in baseball, behind only the Texas Rangers, since August 22, 2011.
"Our bullpen hasn't failed us yet," said third baseman Manny Machado, who drove in a pair of runs off Toronto's starter R.A. Dickey. "They do a good job in holding the lead. And once the ninth inning comes in, Jimmy comes out, and you know it's lights out, because you know he's going to shut the door for us."
Matusz came on after Gonzalez went six strong innings, and had a 1-2-3 seventh with two strikeouts before Strop took over following a leadoff walk to pinch-hitter Mark DeRosa in the eighth. DeRosa moved to second on a sacrifice bunt, and shortstop J.J. Hardy made a nice play on Jose Bautista's slow roller for the second out before Strop issued another walk, this time to Edwin Encarnacion, to put runners on the corners. But the right-hander held firm, striking out Melky Cabrera looking with the count full to keep the Orioles one-run lead intact.
"All the things that have been happening to me, and I still have my confidence, because I'm honest with myself and I know that I'm making good pitches," said Strop, who has been inconsistent after a dominant first half last season. "If I was making bad pitches and didn't have my stuff, I might be worried and maybe my confidence would be down, but my confidence is up, because I know I'm making good pitches.
"When the starting pitchers say that, when the game is in the seventh, eighth, ninth inning, that it's over, that means you can trust in your stuff."
The O's scored all four of their runs off Dickey, batting around in the second and capitalizing on the knuckleballer's early location problems. They opened the frame with a trio of hits, including Matt Wieters' left-field single to score Adam Jones and Nolan Reimold drove in the second run with a sacrifice fly. After Nate McLouth drew Dickey's second free pass, Machado added a two-run single to center field.
"I'm definitely not 100 percent," said Dickey, who has been dealing with a back/neck issue but made it through six innings. "I'm giving everything I can possibly give. But it feels like going to battle with a three-shooter instead of a six-shooter. You just don't have what you normally have, and you feel like what you have is good enough to keep your team in it, but it's frustrating, because you want to get more."
The Orioles would have liked to get more out of Gonzalez, who looked poised for an even deeper run after needing just 59 pitches to get through the first five innings. But a pair of two-out walks in the sixth proved costly as Encarnacion blasted the first pitch he saw over the left-field wall. It was the only blemish on a strong outing from Gonzalez, who struck out four and scattered five hits in the 93-pitch start.
"Instead of staying on my toes, I was on my heels that sixth inning," said Gonzalez, who worked with pitching coach Rick Adair in between starts on staying more balanced. "That's why I was flying open a little bit. Balls were up. Just trying to do too much when I really didn't need to."
Gonzalez used two double plays to strand a pair of baserunners in the third and fourth and improved to 2-1 in handing the reigning National League Cy Young winner Dickey his third loss.
"There's no magic approach you take to those guys," Showalter said of facing Dickey. "How many balls did we square up off him? We were fortunate. I think our guys will be the first to tell you that.
"You just hope you get out of it with everybody not getting in any bad habits for the next day. We were fortunate. We got a well-pitched game. We talked about it before the game today. In order to compete against him, you've got to have a well-pitched game."
Brittany Ghiroli is a reporter for MLB.com. Read her blog, Britt's Bird Watch, and follow her on Twitter @britt_ghiroli. This story was not subject to the approval of Major League Baseball or its clubs.