Blast makes it close, but Blue Jays edged
Encarnacion mashes three-run shot after Dickey hiccups in second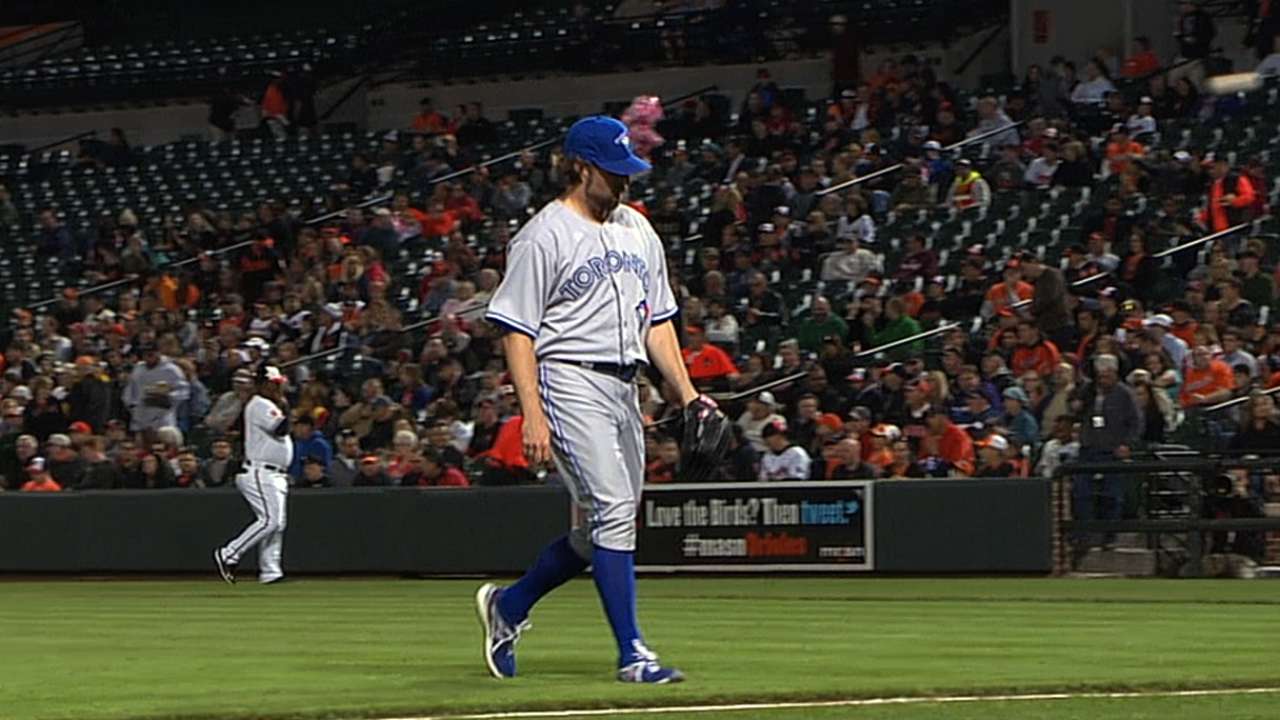 BALTIMORE -- The Blue Jays are 21 games into their season, but they still find themselves waiting for signs of life from the offense.
Toronto's lineup once again struggled to mount any type of prolonged attack on Tuesday night. Outside of a rally in the sixth inning, the club managed to put just two runners in scoring position en route to its fourth loss in five games.
Knuckleballer R.A. Dickey battled through an upper-back injury for six innings while Edwin Encarnacion homered, but in the end, it wasn't enough as the Blue Jays lost, 4-3, to the Orioles at Camden Yards.
"The guys, they're battling, just not happening right now but they're competing and that's all we can ask for," Blue Jays manager John Gibbons said.
Toronto has scored three runs or fewer in 13 of its 21 games this season, including eight of its past 11. That has contributed to a poor record in close ballgames as well, with the Blue Jays just 2-5 in one-run games and 2-6 overall against the American League East.
It's not the type of production the club envisioned after an offseason in which Melky Cabrera and the now-injured Jose Reyes joined a batting order that already included Jose Bautista, Encarnacion and Brett Lawrie.
Gibbons experimented with his lineup prior to Tuesday's game by inserting Adam Lind into the No. 2 spot. While the designated hitter managed to reach base twice in three plate appearances, it still wasn't nearly enough.
"We didn't win with it, but I thought it had a good feel to it," Gibbons said.
The problems with the offense were apparent early as the Blue Jays were unable to string any hits together against Orioles starter Miguel Gonzalez. Toronto had only three hits and one walk while sending just two batters over the minimum to the plate through the first five innings.
There was a glimmer of hope in the sixth, when Gonzalez issued a pair of two-out walks. That set the table for Encarnacion, who sent the first pitch he saw into the left-field seats to mark his third homer of the season.
Gonzalez finishing the inning, but he didn't come back out for the seventh. He was charged with all three runs on five hits while striking out four en route to his third quality start of the year.
"We were fortunate, we got a well-pitched game," Orioles manager Buck Showalter said. "In order to compete against [Dickey], you've got to have a well-pitched game. We got that from Miggy except for one inning.
"A little frustrating, because he had the makings of an even better outing than he had. But it's easy to critique the walks. You're walking Bautista and [Lind], you can't fault him for it."
The Blue Jays did have an opportunity against Baltimore's bullpen when pinch-hitter Mark DeRosa led off the eighth with a walk. Gibbons then opted to pinch-hit for Lind in favor of Rajai Davis, who ended up bunting.
Bautista then grounded out to shortstop, and two batters later, Cabrera struck out to strand runners on the corners. The move backfired, but Gibbons got the opportunity he was looking for with putting a runner in scoring position for the heart of his order.
The move centered around wanting to avoid Lind hitting against Brian Matusz, who has limited lefties to a .215 batting average during his five-year career.
"We figured we get the [Nos.] 3-4 hitters coming up to the plate in a one-run game, because they're due," Gibbons said. "But thinking there, get Rajai to bunt him over to take our chances, still just the eighth inning there, but Matusz is so tough on lefties. DeRosa, he'll draw a walk, he'll make those guys work, and he got on and we got into a position to do something. It just didn't happen."
Dickey got the start despite being somewhat questionable earlier in the week because of tightness in his upper back and neck. It was a physical battle all night long for the veteran, who had trouble locating his pitches in the strike zone and has experienced a drop in velocity because of the injury.
Despite the discomfort, it was only the second inning in which Dickey experienced any type of major difficulty. He allowed four hits and two walks in the frame as the Orioles sent nine batters to the plate. The biggest blow came with a two-run single by Manny Machado but none of the balls were extremely well hit.
"I'm definitely not 100 percent," said Dickey, who was charged with four runs on six hits and a season-high five walks. "I'm giving everything I can possibly give. But it feels like going to battle with a three-shooter instead of a six-shooter.
"You just don't have what you normally have, and you feel like what you have is good enough to keep your team in it, but it's frustrating, because you want to get more."
Dickey might not be at his best, but he said there is no thought of potentially missing an upcoming start. He'll continue to search for ways to receive treatment and relieve some of the pain, but there's no intention on shutting things down.
That's one positive the Blue Jays can take away from the loss. Toronto can ill afford to lose its No. 1 starter with runs coming at a premium and the starting rotation needing to pick up the slack.
"You certainly contemplate how can you eradicate what's going on back there, but I get paid to be on the field and I take a lot of pride in that," Dickey said. "I feel like my team needs me and if I can be out there, I'm going to be out there."
Gregor Chisholm is a reporter for MLB.com. Read his blog, North of the Border, and follow him on Twitter @gregorMLB. This story was not subject to the approval of Major League Baseball or its clubs.