Arcia's first career homer lifts Twins in Game 1
Correia pitches seven strong innings, leads team to fifth straight win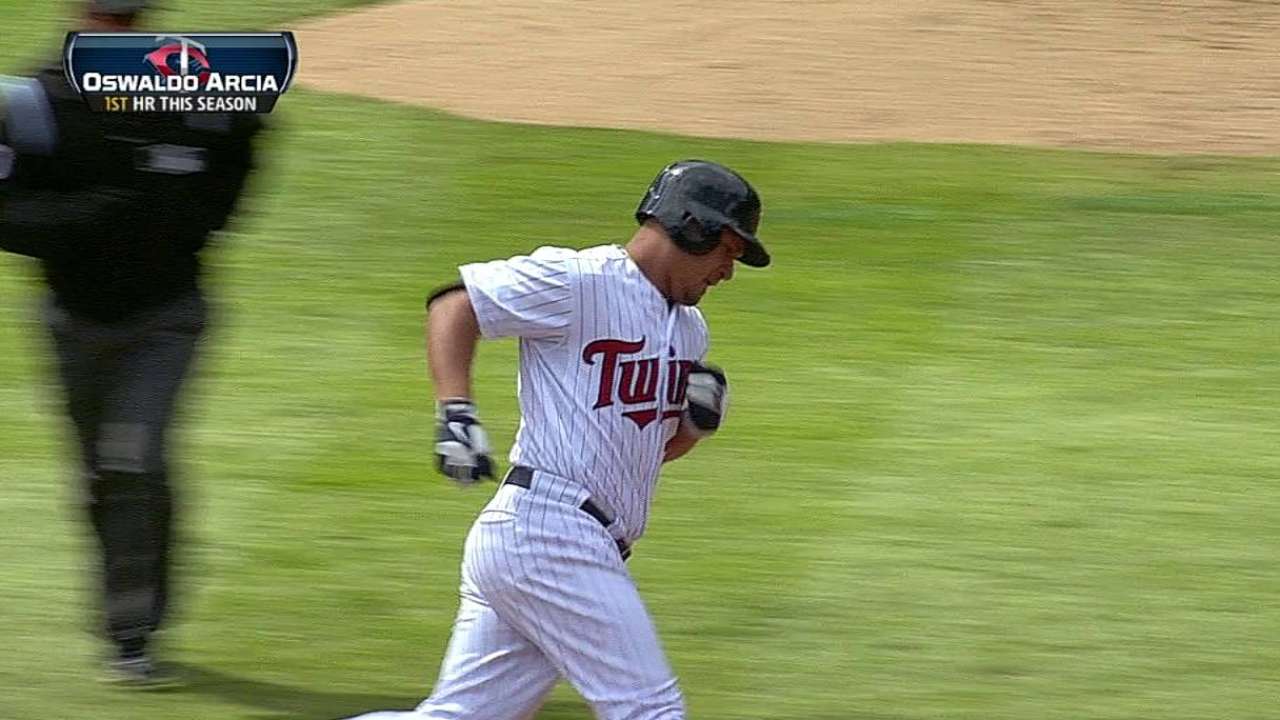 MINNEAPOLIS -- Even though it was only his 12th plate appearance as a big leaguer, Oswaldo Arcia had a good idea of what to expect from fellow rookie Jose Fernandez in his second at-bat on Tuesday.
He saw Chris Parmelee and Trevor Plouffe both single on first-pitch fastballs, so he figured Fernandez would come at him with a first-pitch changeup to mix it up.
Arcia was right, and he blasted the changeup for his first Major League homer to lead the Twins to a 4-3 win over the Marlins in the first game of a doubleheader at Target Field. It was Minnesota's fifth straight win.
His three-run blast, which landed on Target Plaza in right field, proved to be the difference, and helped the Twins retake the lead after the Marlins scored twice in the top of the fourth.
"It was just three pitches off a really good pitcher," Twins manager Ron Gardenhire said. "I think we saw when Fernandez reached back, he was pumping it up there at 95-96 mph. But it was just three swings in a row with Parmelee, Plouffey and the kid. So it happened quick and that's the way you're supposed to answer."
Arcia also made a bit of history with his homer, as he became the ninth-youngest Twins player to homer in a game, at 21 years, 11 months and 14 days. He was also the youngest Twins player to homer since Joe Mauer (21 years, one month and 18 days) did so on June 6, 2004.
"It feels good," Arcia said through translator Wilkin Ramirez. "But it's time now to get ready for the next game. But I'm going to relax and enjoy the moment."
The three-run shot made a winner out of right-hander Kevin Correia, who continued his strong start to the season. Correia gave up two runs on five hits over seven innings to improve to 2-1 with a 2.86 ERA. He's pitched at least seven innings in all four of his outings this year.
"It's nice to get off to a good start," Correia said. "I'm sure I'm going to have some outings where I don't get through seven so it's nice to get off to a good start and get those innings piled up. That's kind of the goal for me."
Correia gave up a two-run single to Joe Mahoney with two outs in the fourth after Greg Dobbs singled and Justin Ruggiano doubled.
He outpitched Fernandez, who fell behind early, as Brian Dozier led off the first inning with a triple and eventually scored on an RBI groundout from Justin Morneau. Dozier finished 3-for-4.
Fernandez settled down after the first, but surrendered four runs on six hits and two walks over five innings for his second loss of the season.
"We just had a chance to win, and I just kind of blew it up," said Fernandez, who was making his fourth career start. "It doesn't feel good. I like to go out there and do my job to help the team win. It was pretty hard today to give up that [home run]. It was like, three pitches, three runs. It's kind of hard. It was like, 'Boom, boom, boom,' and we were 4-2 down."
The Marlins threatened in the eighth, loading the bases with one out against reliever Jared Burton, but came up with only one run on an RBI groundout from Dobbs. Twins closer Glen Perkins tossed a scoreless ninth to pick up his sixth save and struck out the side in the process.
"Burton was having trouble feeling the ball with his two-seamer sailing on him," Gardenhire said. "But Perk came in and shut it down pretty good."
With the win, the Twins extended their winning streak to five games entering Game 2 against the Marlins on Tuesday night. The five-game win streak is the club's longest since also winning five in a row from June 30 to July 3, 2012.
"Some good things happened and so it was a good win in the first one," Gardenhire said. "We'll wait around and see what the temperature is for the second one."
Rhett Bollinger is a reporter for MLB.com. Read his blog, Bollinger Beat, and follow him on Twitter @RhettBollinger. This story was not subject to the approval of Major League Baseball or its clubs.