Fernandez surrenders first homer, Marlins lose Game 1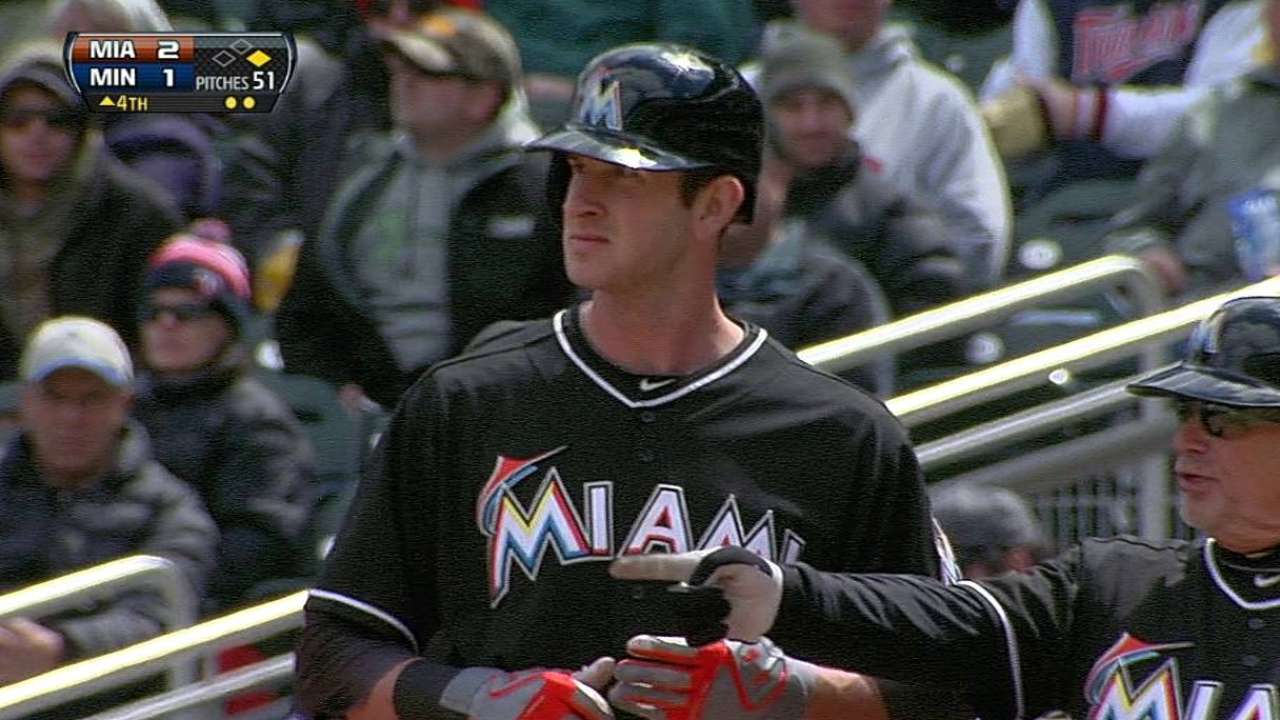 MINNEAPOLIS -- Switching starting pitchers on Tuesday didn't reverse the Marlins' luck.
Jose Fernandez, informed in the morning that he was pitching Game 1, surrendered his first big league home run, and it was a turning point.
Oswaldo Arcia belted a three-run homer in the fourth inning that lifted the Twins to a 4-3 win over the Marlins in front of 25,716 at Target Field.
In the span of three pitches, Fernandez watched a 2-1 lead turn into a two-run deficit that Miami wasn't able to overcome.
"It was hard. I go out there, and after giving up the three-run home run," said Fernandez, the 20-year-old making his fourth big league start. "We just had a chance to win, and I just kind of blew it up. It doesn't feel good. I like to go out there and do my job to help the team win.
"It was pretty hard to give up that [home run]. It was like, three pitches, three runs. It's kind of hard. It was like, 'Boom, boom, boom!' and we were 4-2 down."
Miami has now lost three straight and five of its last six.
The offense scratched out three runs on six hits, and had a chance to pull even in the eighth inning. Miami loaded the bases with one out off reliever Jared Burton.
The Marlins didn't catch any breaks either, as Greg Dobbs ripped a liner that deflected off Burton's glove for an RBI groundout. But instead of a single to center, which may have tied the game, the inning ended with Miami down a run.
"In that situation, all I can do is focus on process, and have a good at-bat, and get the ball in the air," Dobbs said. "I did that. The results, you can't necessarily dictate."
The way he struck the ball, Dobbs' initial reaction was that he had a hit.
"For sure," he said. "Absolutely, but like I said, a lot of things can happen. Just roll with the punches. What doesn't kill you makes you stronger."
Ricky Nolasco was scheduled to start the first game, with Fernandez going in Game 2. But the club reconsidered in the morning and flipped the right-handers. Fernandez was informed early to head to the park for the start, while Nolasco, in the lineup when he arrived at the stadium, went back to the hotel.
"They called me about 9:30 and told me, 'You're pitching the first game,'" Fernandez said. "I said, 'Great, I'm on my way to the stadium.'
"I got here. I did my routine perfect, and did everything normal."
The game-time temperature was 38 degrees, matching the fifth-coldest game in Marlins history. It also was the chilliest game for the franchise since Sept. 22, 2000, at Colorado, which also started with the temperature reading 38.
The Marlins' coldest game was 29 degrees on April 8, 1997, against the Cubs at Wrigley Field.
Minnesota right-hander Kevin Correia also cooled off the Marlins, allowing two runs on five hits with five strikeouts in seven innings.
"I was able to get ahead to a majority of guys and pitch my game," Correia said. "I didn't have to give in to the hitters."
Fernandez (0-2) worked five innings, giving up four runs on six hits with two walks, a hit batter and two strikeouts. He also had his first Major League balk in the second inning.
After the game, the rookie, who made the leap to the big leagues without pitching past Class A ball, spent about 30 minutes with pitching coach Chuck Hernandez watching video.
"I was looking at location and what I was doing," Fernandez said. "Some of the pitches that were hit were bad location. That's why they got hit. Then, I threw good pitches, and they got some good hits. I just like to watch film every time I go out and each start."
Miami strung together three straight two-out hits in the fourth and claimed a 2-1 lead on Joe Mahoney's two-run single to right.
The lead was short-lived, as the Twins pounced on Fernandez for three runs in the bottom of the inning. Chris Parmalee and Trevor Plouffe singled to lead off the inning, and on the first pitch, Arcia crushed a three-run shot to right. The blast, estimated at 401 feet, was the left-handed hitter's first big league homer.
Fernandez allowed only two home runs in 138 1/3 Minor League innings, and his first big league home run allowed came in his 19th inning.
In the eighth inning, Miami received a scare when Burton plunked Giancarlo Stanton on the left hand with a pitch. Burton actually hit two straight players, grazing Placido Polanco's jersey before Stanton was pegged. The training staff checked on the slugger, who remained in the game, and also started Game 2.
In the ninth inning, Glen Perkins struck out the side in order for his sixth save, while handing Fernandez his second career loss.
"[Fernandez] pitched well enough to get us a win," manager Mike Redmond said. "We didn't score him many runs. We've been doing the same thing, day in, day out. It seems like, five hits, two runs, almost every single night. Six hits, three runs, maybe. That's not enough to win.
"You're going up against a good lineup with veteran hitters. You're going to give up a couple of runs. We're just not able to overcome two or three runs."
Joe Frisaro is a reporter for MLB.com. He writes a blog, called The Fish Pond. Follow him on Twitter @JoeFrisaro. This story was not subject to the approval of Major League Baseball or its clubs.