Heyward in 'good spirits' after smooth appendectomy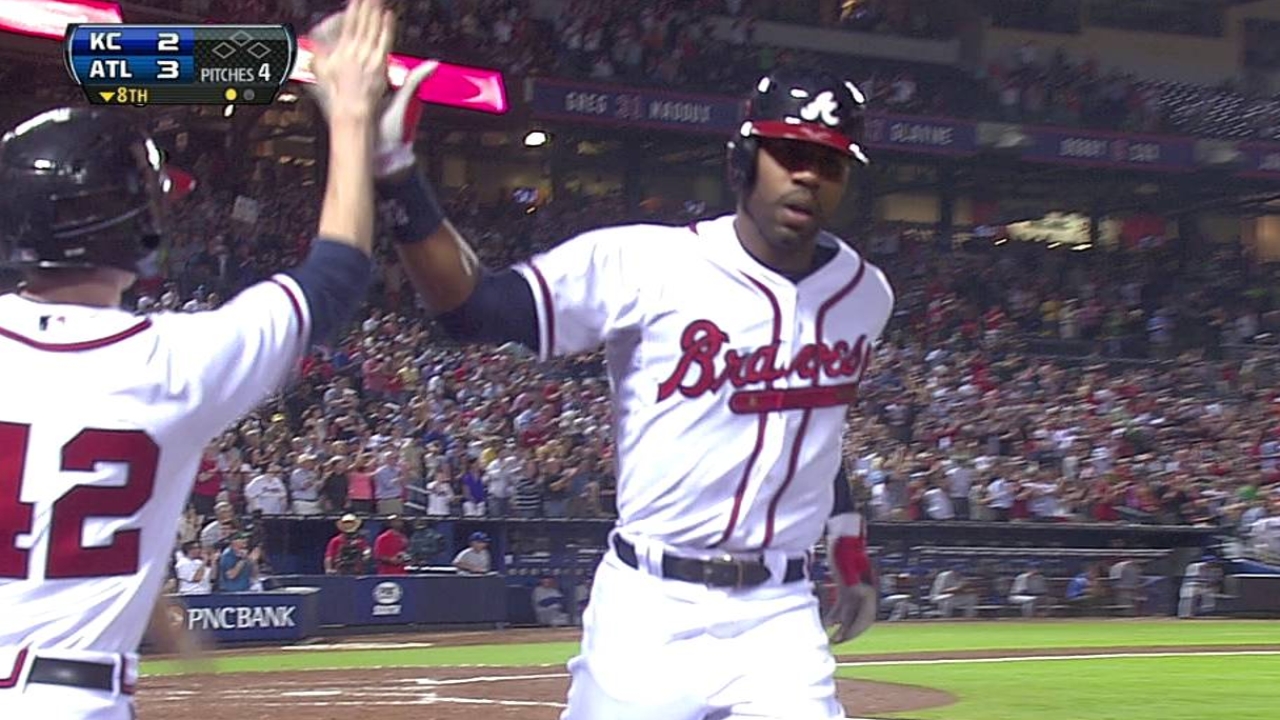 DENVER -- On a snow-induced off-day Monday, Braves right fielder Jason Heyward went into Rose Medical Center in Denver and onto the disabled list following a successful appendectomy.
"Everything went well," manager Fredi Gonzalez said. "Dr. [Joe] Chandler was here, our doctor, and he did a terrific job. The doctors from the Rockies helped out. They got him into the hospital, did all the checkups -- it was the appendicitis thing -- and they got him in and got him out in about 45 minutes."
Heyward had been feeling poorly since the weekend series in Pittsburgh, going 0-for-3 in Saturday's loss and sitting out Sunday's series finale with stomach pain.
"A couple days ago in Pittsburgh, he felt like he had a stomach virus going, and then it just kept getting more localized, moving to the right side of the body," Gonzalez said Tuesday morning. "Yesterday he called our trainer and sad, 'Boy, this really hurts.' Joe Chandler, our team doctor, saw him a few times during the course of the morning and early afternoon yesterday, and they just decided to look at the CAT scan and the blood work just to be sure that's what it was, and it was. Those procedures, if you get them before they rupture, you're in good shape."
The snow day may have helped the Braves to an extent, as Heyward likely wouldn't have been available Monday, even without the surgery. The day's delay allowed the Braves to bring infielder Tyler Pastornicky up from Triple-A in time for Tuesday's first game of a day-night doubleheader, giving them a full roster.
"We got back [to the hotel] around 5 after the game got called," Gonzalez said, explaining the timeline of the events leading up to Heyward's surgery. "Some of the guys stayed here and hit. I was going into the lobby at 5, and he and the doctor were leaving. He left the lobby, and he had surgery. Boy, it couldn't have been more than three, three-and-a-half, four hours.
"I spoke to him just before he went in, and he said, 'Skip, they're rolling me in.' And lo and behold, 45 minutes later, Doc Chandler called me and said, 'He's out, he's recovering.' Wow! If they catch it early enough, it's arthroscopic, three little holes. Get it out of there and it's not an issue. If it erupts, that's when it becomes a real big issue."
Heyward was put on the disabled list retroactive to Sunday, making him eligible to come off May 6 in Cincinnati. Catching the appendicitis before it progressed to rupture should lead to a timely return. There are cases of players coming back from appendectomies in six and nine days without going on the DL, but the Braves prefer to give him ample recovery time without rushing him.
"I saw him this morning," Gonzalez said. "I got up early and went over there and spent about 20 minutes with him. He's in good spirits. Beat up, as you would expect a little bit from the surgery, just getting drained a little bit, but give him a couple weeks and he should be ready to go."
Heyward has struggled at the plate in April, hitting .121 (7-for-58) with a pair of homers and five RBIs.
Gonzalez said he expects Heyward to be released from the hospital sometime Tuesday, and he should fly home to Atlanta in the next few days, whenever the doctors say he's ready to fly.
Owen Perkins is a contributor to MLB.com. This story was not subject to the approval of Major League Baseball or its clubs.