For Detwiler, tough loss as Nationals blanked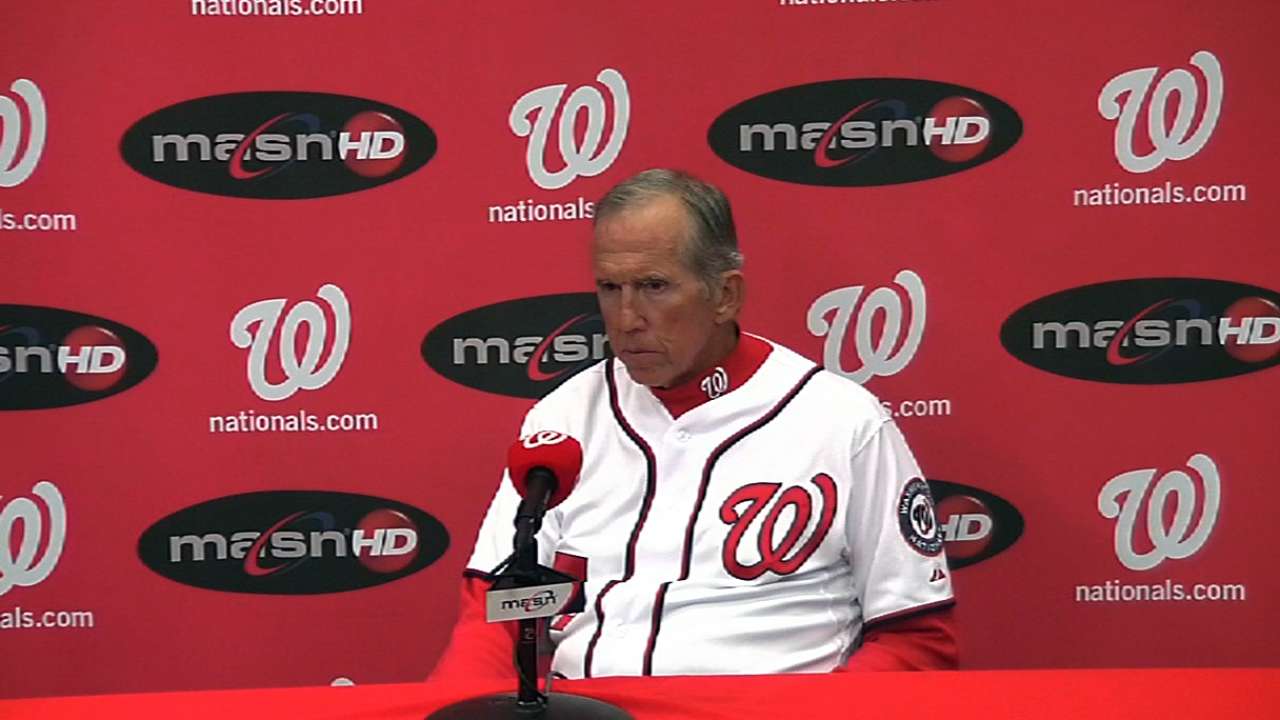 WASHINGTON -- The frustration on manager Davey Johnson's face was clearly visible before the skipper said one word in Tuesday night's postgame media conference.
Johnson's been watching his Nationals struggling on offense the last several days, and he's running out of patience in a hurry. Washington just isn't coming through at the plate, wasting scoring chances time and again, and that's a big reason the losses are piling up.
This game saw St. Louis right-hander Adam Wainwright throw 8 1/3 shutout innings en route to a 2-0 victory over the Nationals before 29,986 at Nationals Park. The loss saw Washington drop to .500, something that many prognosticators thought wouldn't happen 20 games into the season.
Last year, the Nationals (10-10) never had a losing record. In fact, they slipped to .500 just once -- at 2-2 in the first week -- and were 14-6 after 20 games. The success Washington found last year is a big reason many said this team might be baseball's best in 2013, but the offense is not carrying its weight so far, and Johnson isn't happy -- to say the least.
"I'm usually pretty patient … [but] it's just frustrating," Johnson said. "We're just not hitting the ball like we're capable of. We've just got to pick it up a notch, got to get mad."
Johnson has stuck with a similar lineup for much of the first 20 games, but he said that there's going to be some changes for the series finale Wednesday. He's going to try and shake things up now.
The numbers in this game tell a good part of the story. Washington went 0-for-6 with runners in scoring position and left six on base. The Nationals sometimes weren't patient enough against Wainwright (4-1), who threw strikes with fastballs, cutters and breaking balls, often painting the black when he needed to and keeping Washington's bats quiet.
Sometimes, the Nationals helped Wainwright, swinging very early in the count. He needed just four pitches to get out of the fifth and five more to retire them two innings later.
The right-hander gave up a first-inning single to Bryce Harper and then retired 13 in a row. Washington loaded the bases with two outs in the sixth, but Wainwright fanned Adam LaRoche to stop the threat.
"My stuff was good tonight," said Wainwright, who struck out nine and walked just one while scattering five hits. "I felt good early, and I just tried to command what I was doing. A very, very solid lineup over there, and they've got some numbers off me in the past."
The Nationals just couldn't do much in this game. Wainwright struck out four in a row at one point and 12 of the 13 outs in the aforementioned stretch didn't make it out of the infield.
"He was just working the corners well, he was just living on the corner," said Washington second baseman Danny Espinosa, who finished 0-for-3 with a strikeout. "He wasn't making a mistake in the middle of the plate. He didn't make [many] mistakes tonight."
LaRoche was one of the players who's frustrated. He struck out all four times at bat, including that one with the bases loaded and two outs in the sixth, ending the Nationals' best scoring threat. At game's end, LaRoche's average dropped to .172.
"The whole team is frustrated," LaRoche said. "I don't know what to tell you. [I'm] just inconsistent. Needless to say, they had my number tonight. Punched out four times and left 100 guys on base."
The hitting problems wasted another solid effort from a starter. Ross Detwiler (1-1) gave up just two runs on eight hits in six innings. St. Louis really caused trouble just twice against the left-hander.
Defense helped Detwiler throughout those six innings. The Nationals turned four double plays in the first five innings -- all of which were different and three of which were inning-enders -- to keep the Cardinals (12-8) quiet.
St. Louis scored its two runs thanks to a four-hit rally that started the top of the fourth. Allen Craig's RBI double made it 1-0, and Carlos Beltran's RBI single later added the insurance run.
That proved to be enough on this night. Other than that bases-loaded situation with two outs in the sixth, the Nationals didn't put two runners on base the rest of the game.
The Nationals now have scored only two runs in the last three games, thanks to a pair of shutouts. In addition, Washington's lost eight of its last 11 games and scored only 10 runs in those losses.
Those numbers are why Johnson and his players are clearly frustrated at this point of the season. The question now is what can they do from here? Can they get mad, and if so, what will that do for them?
"We're just not playing well right now," Detwiler said. "We know it's going to turn. We just have to force it to turn, grind it out a little bit."
Jeff Seidel is a contributor to MLB.com. This story was not subject to the approval of Major League Baseball or its clubs.