Wainwright dominates as Cards blank Nats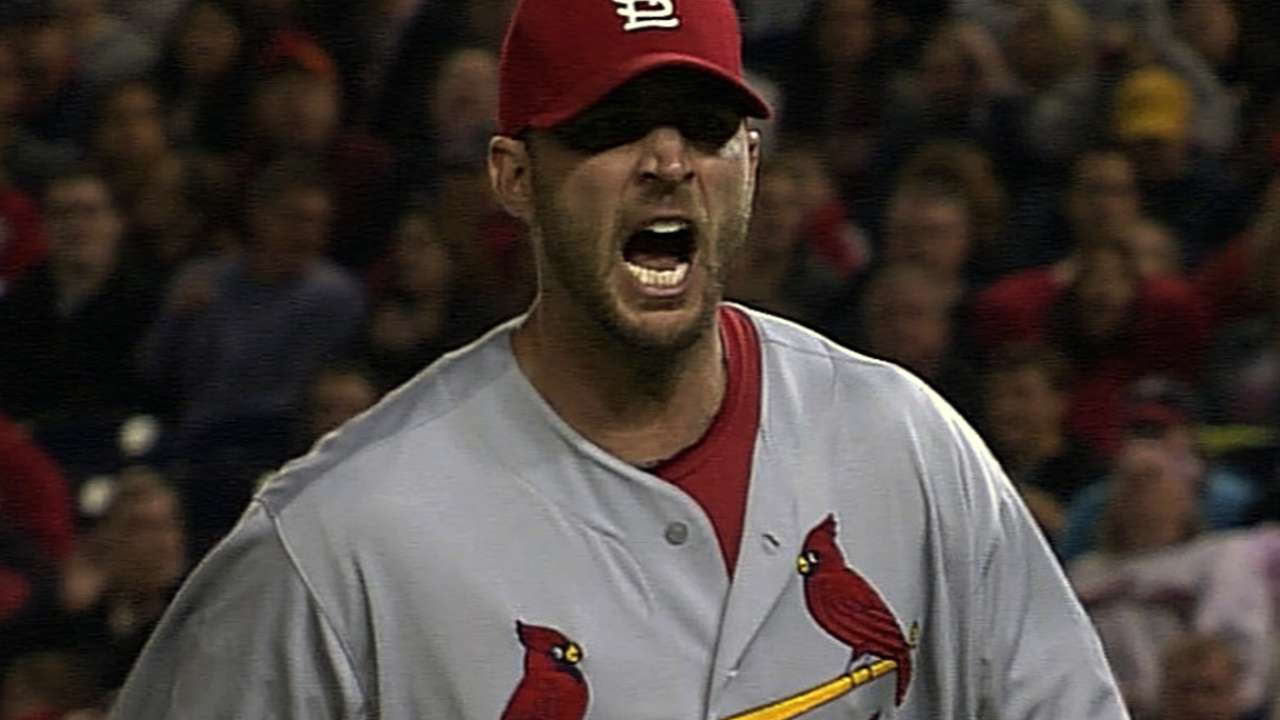 WASHINGTON -- The same struggles against the Nationals that Adam Wainwright let simmer as motivation all offseason were not forgotten by Yadier Molina. The Cardinals' catcher took them personally, believing he could do a better job setting his pitcher up for success.
And so Molina, along with backup catcher Tony Cruz, arrived at the ballpark earlier than usual on Tuesday to dissect film of Wainwright's starts against Washington in 2012. They discovered tendencies and took those to Wainwright, who turned around to then expose the Nats' lineup as he pitched the Cards to a 2-0 win in front of 29,986 fans at Nationals Park.
"I don't want to say I don't do this every day, because I do," Molina said of the pregame video work. "But I was so focused to beat those guys, because I know last year [Wainwright] had a hard time facing the Nationals, so I wanted to do something different."
Doing something different entailed throwing only one changeup and incorporating elevated four-seam fastballs into Wainwright's repertoire. The latter is a pitch that Wainwright chose to focus on this spring, knowing that it would make his curveball -- which is delivered from the same release point -- even more effective.
Wainwright nearly rode the game plan to his second shutout in five starts this month and settled for 8 1/3 scoreless innings. New closer Edward Mujica polished off the win with his third save in six games. Getting the final two outs required a mere three pitches.
"My stuff was good tonight," Wainwright said. "I felt good early and I just tried to command what I was doing. A very, very solid lineup over there, and they've got some numbers off me in the past. You could go two ways with it. You either remember those [bad] games, give them too much credit and you go out there defeated already. Or you say no, I'm a good enough pitcher to get anyone out if I just execute my plan. That's what I chose to do."
Indeed, this outcome was in stark contrast to his pair of appearances at Nationals Park in 2012, both of which ended with Wainwright being chased before finishing three innings. He served up six runs in a 2 2/3-inning regular-season start before giving up another six in a 2 1/3-inning postseason outing.
He had combined to allow 16 hits in those two games. On Tuesday, the Nats would finish with five.
"He was just living on the corner," Washington infielder Danny Espinosa said. "He wasn't making a mistake in the middle of the plate. You hit mistakes, that's what you do. He didn't make [many] mistakes tonight."
It was a continuum of Wainwright's early-season dominance. He's now on a personal four-game winning streak, during which he's allowed five earned runs in 32 innings. Wainwright opened Tuesday by retiring 15 of the first 16 batters he faced. Six of those outs came via strikeout. That total would climb to nine by night's end, giving him 37 in 38 innings this season.
None was bigger than fooling Adam LaRoche into chasing a nearly shoulder-high, 94-mph fastball to end the sixth. The Nationals had loaded the bases with two singles and a two-out walk -- the first free pass Wainwright had issued all season -- to get to their cleanup hitter.
LaRoche worked the count to 2-2, at which point Molina visited the mound to let Wainwright know he planned to call a curve. Wainwright countered with suggesting he go back to that elevated fastball. Molina obliged. LaRoche fouled off the first. He missed the second.
"He's so confident with the fastball that I just follow him," Molina said. "He's smart. Whenever he wants something, I just follow him."
"That could have been a huge turning point right there," added manager Mike Matheny.
Wainwright stranded a runner in scoring position to end the eighth. And after Bryce Harper led off the ninth with a double, Wainwright answered by striking LaRoche out for the fourth time in as many at-bats. With Wainwright's pitch count sitting at 113, Matheny turned to Mujica.
"[Wainwright] had a lot of stressful situations there that usually kind of amplifies that pitch count," Matheny said. "I liked what he had going into the inning, but as hard as he had to work to get LaRoche right there, that takes a lot out of them when they're that beat down already."
Mujica brought no drama to the ninth, saving the Cardinals' fifth shutout of the season.
"I'm disappointed I didn't finish it, but at the same time, I knew I threw a quality game and we won the game," Wainwright said. "So I can't really hang my head."
Though Wainwright has a shot to end April with five wins, he won't make that next start with the chance to set the franchise record for most consecutive innings without a walk to open the season. His streak ended at 34 2/3 innings, when he pitched around Harper to get to LaRoche in the sixth. That keeps Slim Sallee's mark of 40 walk-free innings (set in 1913) safe.
"I wasn't going to go the whole season without walking someone," Wainwright said. "I wanted to let the game dictate when that was OK to do. Right there, I thought that pitching him tough, even though I'm loading the bases for a tough hitter in LaRoche, Bryce Harper can hurt you in a lot of different ways."
The Cards scored both their runs within a four-batter span in the fourth. Allen Craig followed Shane Robinson's leadoff single with a run-scoring double, pushing his team-best RBI total to 15. Matt Holliday moved Craig to third with a single, and Carlos Beltran drove him home with his first hit of the night.
The previous three innings had all ended with Nats starter and St. Louis-area native Ross Detwiler inducing a double play.
With consecutive wins to open this three-game series, the Cardinals have guaranteed themselves a winning nine-game road trip. The team had last won back-to-back games on April 12-13.
Jenifer Langosch is a reporter for MLB.com. Read her blog, By Gosh, It's Langosch, and follow her on Twitter @LangoschMLB. This story was not subject to the approval of Major League Baseball or its clubs.