Braves bring heat to Denver, power out victory
Club belts three homers to halt skid in coldest MLB game in Colorado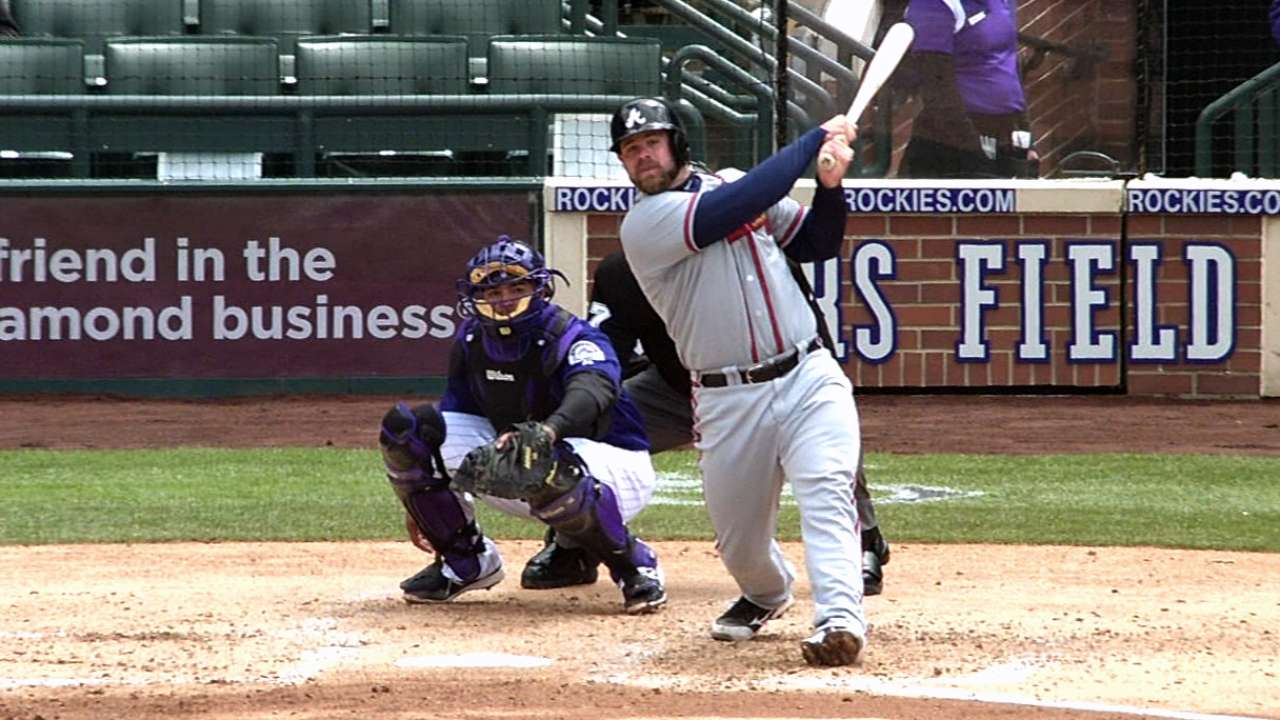 DENVER -- In the coldest Major League game played in Colorado, the ball was flying like a balmy midsummer slugfest. Atlanta scored all of its runs on a trio of long balls, besting the Rockies, 4-3, in a game where the temperature never climbed out of the 20s.
When the Braves weren't peppering the warning track with long flyouts, they sprinkled the seats beyond the fences with souvenirs, adding to their tally for a Major League-leading 32 home runs.
"Are they hot now?" manager Fredi Gonzalez asked, laughing off an offense that scored a total of three runs in their past three games, all losses to the Pirates, but heated up on a day when the game-time temperature was 23 degrees, the lowest temperature on record for a Major League game, according to Stats Inc., which began tracking temperatures in 1991.
Atlanta got to Colorado starter Jeff Francis early, with Justin Upton launching a solo shot to the center-field bleachers with two outs and a full count in the first -- his MLB-leading 10th -- and Dan Uggla dropping a two-run blast into the snowy pines beyond the 415 mark in center to give Atlanta a 3-0 lead in the second.
"You know you're going to have to get the ball in the zone," Upton said of facing Francis. "He stays on the corners really well. He mixes his pitches well. Our game plan was to get him up and over the plate and get some good pitches to hit."
Colorado came back in the bottom half of the inning, as Troy Tulowitzki coaxed a walk out of Braves starter Mike Minor and Michael Cuddyer doubled to center to put a pair in scoring position. Wilin Rosario plated a run with a grounder to second, and Jordan Pacheco singled through the middle to bring the second run home.
The Rockies caught up when Dexter Fowler led off the third with a triple to right and came home when Josh Rutledge singled on a slow roller to second, but as Minor settled down and stifled the Colorado lineup, the Braves kept the pressure on.
"Any time you lose three in a row you want to jump on the next team you play," Upton said. "We jumped out to an early lead. And we kept pressing."
The Braves kept their homer-only offense going as Evan Gattis drilled a thigh-high 77-mph changeup into the left-field seats, putting the Braves back on top, 4-3.
"I always hit a changeup when my mom shows up," Gattis said with his mother, aunt, twin sisters and several friends from Texas all watching him play in the big leagues for the first time.
The 26-year-old rookie has homered in each of the five parks he's played in since homering in his big league debut in the second game of the season.
"I didn't even know," Gattis said. "That's kind of cool. No pressure."
The Rockies got only two more hits in the game, one off Minor, who retired 10 of the last 11 batters he faced, and one off closer Craig Kimbrel.
"I just pretty much battled through it," Minor said of his start. "I didn't have a whole lot of good stuff today. I threw a lot of off-speed stuff, and then I mixed in a fastball in just to throw them off. A lot of changeups, curveballs. Whatever I could do to get some outs."
Minor pitched in short sleeves, saying he feels "weird" and "restricted" wearing sleeves, and warmed his skin up before the game by rubbing Red Hot gel on his arms, legs and back.
"The biggest thing was the grip, just being cold and dry," Minor said. "Other than that it was pretty good."
Minor was effective in handcuffing Colorado, which entered the game with an MLB-best .282 average. Minor's quality start kept the Rockies to three runs on five hits and two walks in six innings, while he struck out five.
"Mike did a nice job," Gonzalez said. "Six innings, three runs, in this ball park, in this weather? He did a nice job. He did a terrific job pounding the strike zone, fighting the elements ... and then our bullpen did a terrific job."
Luis Avilan and Eric O'Flaherty pitched a pair of 1-2-3 innings before Kimbrel came on for his eighth save of the season. He gave up a single to Rosario on a first-pitch curve, but Gattis caught him stealing second to end the game.
"I had him going there," Rockies manager Walt Weiss said of his catcher. "Kimbrel wasn't paying a whole lot of attention. We tried to sneak one and Gattis made a good throw."
It was a close play, but Rosario's jump wasn't as good as he'd hoped for, costing the Rockies a key out and stopping a ninth-inning rally in its tracks.
"When I was standing there, I lost a little bit of my balance, and maybe I was a little late or short with my lead," Rosario said. "If I got a better lead from first I'd have gotten second."
Rosario has three steals this season, taking advantage of a lack of expectation for a backstop on the bases.
"I was kind of surprised that they ran," Gonzalez said. "We knew they had a possibility of doing it. They did it last year in September against Kimbrel. It was a nice change on Gattis' part."
Though he didn't figure in the scoring, Reed Johnson set a career best with three doubles and tied a career high with four hits as he started in place of Jason Heyward, who went on the disabled list earlier in the day after a Monday night appendectomy.
"We all know Reed can play," Upton said. "He's a great guy to have come off your bench and a guy that can step in and play multiple games in a row like he's going to have to do. It was good to see him swinging the bat well."
Owen Perkins is a contributor to MLB.com. This story was not subject to the approval of Major League Baseball or its clubs.