Homers haunt Francis as Rox drop twin-bill opener
Starter serves up three dingers in coldest MLB game played in Denver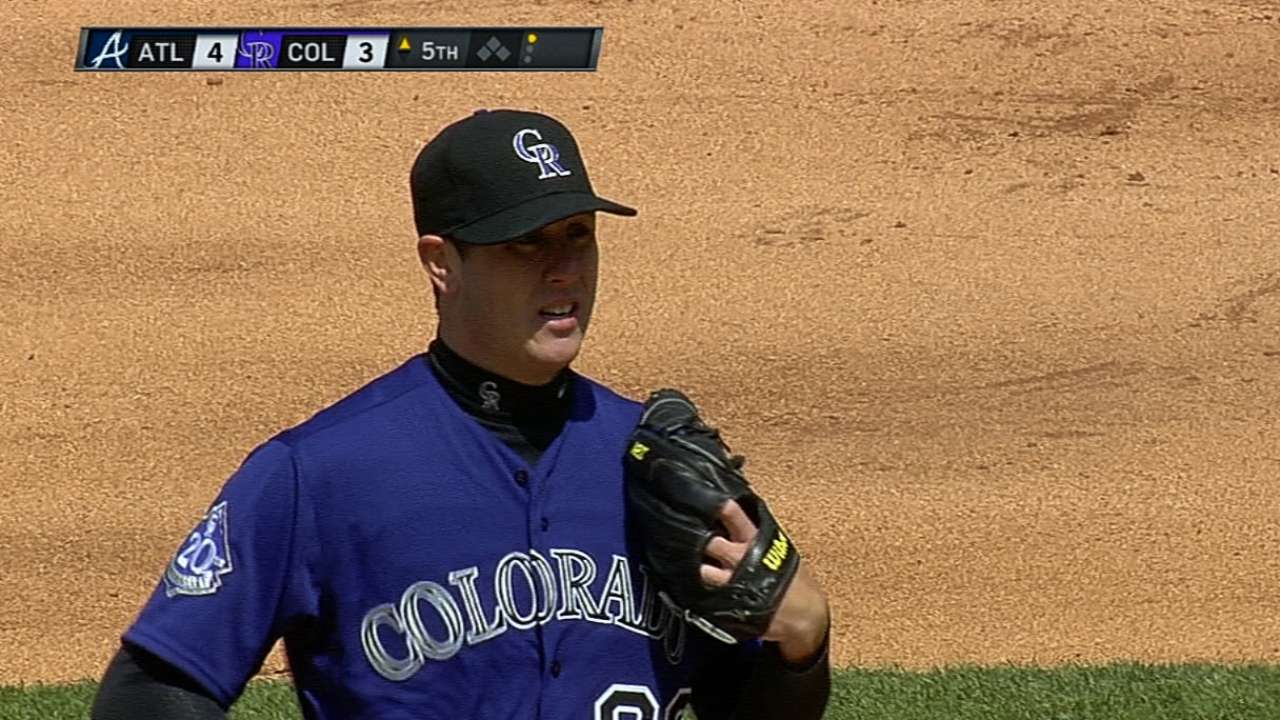 DENVER -- The 23-degree first-pitch temperature made the Rockies' 4-3 loss to the Braves in the opener of a doubleheader at Coors Field on Tuesday the coldest Major League game ever in Denver.
Go down a few more degrees, you'll find left-handed starter Jeff Francis.
Justin Upton, Dan Uggla and Evan Gattis took turns clubbing home runs off Francis, who went just four innings -- the third straight time he has not managed five frames. If nothing else, at least it got him off the mound earlier on a day when the starting temperature was five degrees lower than that of the previous record, shared by Thursday's game against the Mets and a contest against the old Montreal Expos at Coors on April 12, 1997.
According to The Associated Press, STATS Inc. reported that Tuesday was the lowest game-time temperature since STATS began tracking the stat in 1991.
The Braves' trio of homers, with Uggla's being a two-run shot in the second inning, accounted for all four runs and half of the six hits off Francis (1-2) before manager Walt Weiss pulled him after 75 pitches.
With the Rockies not having a day off until May 2, there is a chance Francis could pitch on short rest Saturday at Arizona. Maybe that will be one less day to think about his struggles. Since a strong six innings while defeating the Padres in the home opener, Francis has coughed up a 12.60 ERA, as well as 22 hits in 10 innings.
Even though Francis' last two games were pitched in extreme cold, he doesn't blame the weather.
"It's the same for everybody," Francis said. "There's no excuse to say it's too cold to pitch or hit or whatever."
Francis said Upton's homer, his Major League-leading 10th this season, was a pitch in the location he wanted it. The others, not so much. The narrowing difference between his offspeed pitches -- the changeup and the curveball, with which he had trouble because the cold weather made the ball hard to grip -- and his fastball was not as great as it was in his successful start.
"I've been through it before," Francis said. "It's nothing new. The obvious thing is I have to go out and make better pitches consistently. My preparation to do that won't change."
Weiss, who warned before the game that the Braves' power must be reckoned with, doesn't doubt Francis.
"I have confidence he'll come out and do the things he's done," Weiss said. "He's got a plan out there, and he knows how to execute it. It's just a matter of executing it."
Upton went deep to center with two out in the first, and Uggla's shot came in the second for a 3-0 lead. In the Rockies' second, Troy Tulowitzki drew a walk from Mike Minor (3-1) and went to third on Michael Cuddyer's double. Wilin Rosario's fielder's-choice grounder and Jordan Pacheco's single cut the difference to 3-2, and the Rockies already had matched the run total Minor had given up in his first three starts.
"I didn't have a whole lot of good stuff today," Minor said. "I threw a lot of offspeed, and then I mixed in a fastball just to throw them off -- a lot of changeups, curveballs, whatever I could do to get some outs."
Dexter Fowler's leadoff triple and Josh Rutledge's infield single allowed the Rockies to tie the game in the third, but Francis served up Gattis' sixth homer of his rookie season to open the fourth. Gattis has homered in all five of the parks in which he has played.
Gattis salted away the victory and Craig Kimbrel's eighth save by catching Rosario stealing -- which Weiss said he authorized -- for the final out. Chris Nelson swung through the pitch, but Rosario didn't make it to second.
"Rosario's a catcher, but he's got three stolen bases this year," Braves manager Fredi Gonzalez said. "Kind of surprised that they ran. We knew they had a possibility of doing it. They did it last year in September against Kimbrel. I think it was first and third in the eighth, and they were successful stealing a bag."
The Rockies stayed in the game because of the bullpen. Righty Rob Scahill, recently called up from Triple-A Colorado Springs, struck out two and gave up one hit in three scoreless innings, and Edgmer Escalona struck out two in two scoreless innings.
"With a lineup like that, you've got to be so conscious to execute your pitch," Scahill said. "If you make a mistake, they're going to hit it and hit it hard."
The Braves' Reed Johnson had three doubles during a 4-for-4 game.
Thomas Harding is a reporter for MLB.com. Read his blog, Hardball in the Rockies, and follow him on Twitter @harding_at_mlb. This story was not subject to the approval of Major League Baseball or its clubs.