Bullpen mishaps, ninth-inning blast sink Angels
Hamilton goes 4-for-4 vs. former team; Blanton pitches into seventh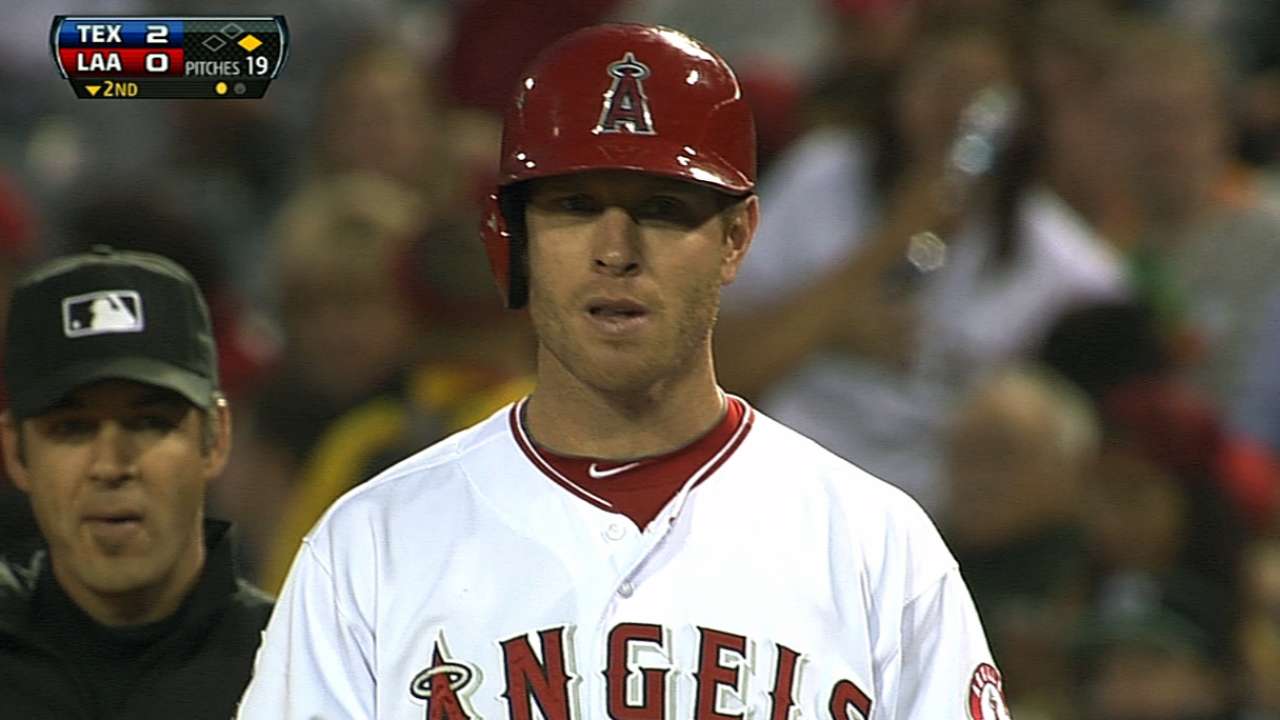 ANAHEIM -- Ernesto Frieri held his head high and even offered up the occasional smile late into Monday night. Minutes earlier, he had served up the game-winning homer to Rangers catcher A.J. Pierzynski -- a man they still boo loudly around these parts -- but the Angels' closer felt little reason to get down on himself.
He got beat with his best pitch, the two-seam fastball that has almost singlehandedly made him a Major Leaguer. And when that's the case, he can live with the results.
"If I'm going to get beat," Frieri said, "I'm going to get beat like that -- using my best stuff."
Pierzynski's solo homer, which sailed just over the tall right-field wall and came on the first pitch with two outs, propelled the Rangers to a 7-6 win, snapping the Angels' three-game winning streak and capping a rather eventful night at Angel Stadium.
Joe Blanton somehow pitched into the seventh inning, despite giving up seven hits in the first three frames, Josh Hamilton notched four hits on a day he was dropped to fifth in the lineup, Mike Trout made a rare misplay to give the Rangers a run in the sixth, the bullpen allowed three runs to tie the game in the seventh and Peter Bourjos was stranded on first base in the bottom of the ninth.
"It was one that got away," Angels manager Mike Scioscia said, his club now 7-11. "You have to turn the page."
But the takeaway will be Pierzynski, who's still reviled by fans who vividly remember that dropped third strike in the 2005 American League Championship Series. Back then, he played for the White Sox.
Now -- fittingly, perhaps -- he's a member of the Angels' most heated rival.
"I love to play here," said Pierzynski, who went into the final at-bat 0-for-3 lifetime with a couple of strikeouts against Frieri. "It's a tremendous atmosphere. The fans here are awesome, they are passionate and energetic, and anytime that Rally Monkey comes up, the place really gets going."
Despite a three-run seventh inning that saw Blanton, Michael Roth, Dane De La Rosa and Scott Downs let the Rangers back in it, and that ninth-inning Frieri fastball, the Angels had an ideal situation in the bottom of the ninth.
One of the fastest men on the planet was on first base, and three of the most dangerous hitters in baseball were due up.
But nothing happened. Trout flied out to right field, Albert Pujols hit a flare into the glove of second baseman Ian Kinsler and Mark Trumbo -- Sunday's hero with a walk-off homer -- struck out, capping a day in which the three of them combined to go 0-for-13. Nathan's slide step -- a "super-slide" as Scioscia called it -- kept Bourjos from hardly moving at first base.
"I was looking for the opportunity [to steal second base] and it never really came about," Bourjos said. "He stayed quick to the plate throughout the three at-bats and we weren't able to capitalize on anything."
Prior to that, the Angels capitalized on run-scoring opportunities against Rangers lefty Derek Holland, using clutch hitting from Howie Kendrick, Chris Iannetta and Luis Jimenez to plate three runs in the fourth and sixth.
To start the seventh, they had a 6-3 lead and Blanton, who has given up at least one hit in each of his 23 innings this season, had only thrown 89 pitches. But Blanton gave up a leadoff single to Elvis Andrus, Roth gave up a single to Lance Berkman and De La Rosa loaded the bases with a walk to Adrian Beltre. Pierzynski then hit an RBI single to left field and Nelson Cruz beat out a double-play ball to make it a one-run game. Downs came in to face David Murphy, who hit a chopper down the third-base line that was bobbled by Downs, allowing the Rangers to tie the game at 6-6.
"I was just a little too amped, worrying about other things I can't control," De La Rosa said. "With guys on first and second, I was trying to do too much and not really going with the plan I usually have -- attack and go right at the batter."
If there was a glaring negative for the Angels in Monday's series opener, it was Scioscia once again being tasked with having to bridge the gap with a bullpen that in the past two weeks has added four new, relatively inexperienced faces -- De La Rosa, Michael Kohn, Michael Roth and David Carpenter.
"It's part of what you find out about guys," Scioscia said. "The reality is, if guys are going to have a role on our team, they're going to be tested. If they're going to have a role in our bullpen, they're going to be tested."
If there was a glaring positive, it was that Hamilton had his first four-hit game in an Angels uniform, raising his batting average from .176 to .222. Two of them were infield singles, two of them were hard shots, and two of those came against a left-handed pitcher -- he was just 1-for-19 against lefties heading into the game.
"It felt good," Hamilton said. "But like I said before, I'll give up hits for wins any day."
Alden Gonzalez is a reporter for MLB.com. Read his blog, Gonzo and "The Show", and follow him on Twitter @Alden_Gonzalez. This story was not subject to the approval of Major League Baseball or its clubs.