Pierzynski's ninth-inning blast caps Rangers' rally
Scheppers, Nathan provide strong relief in fourth straight victory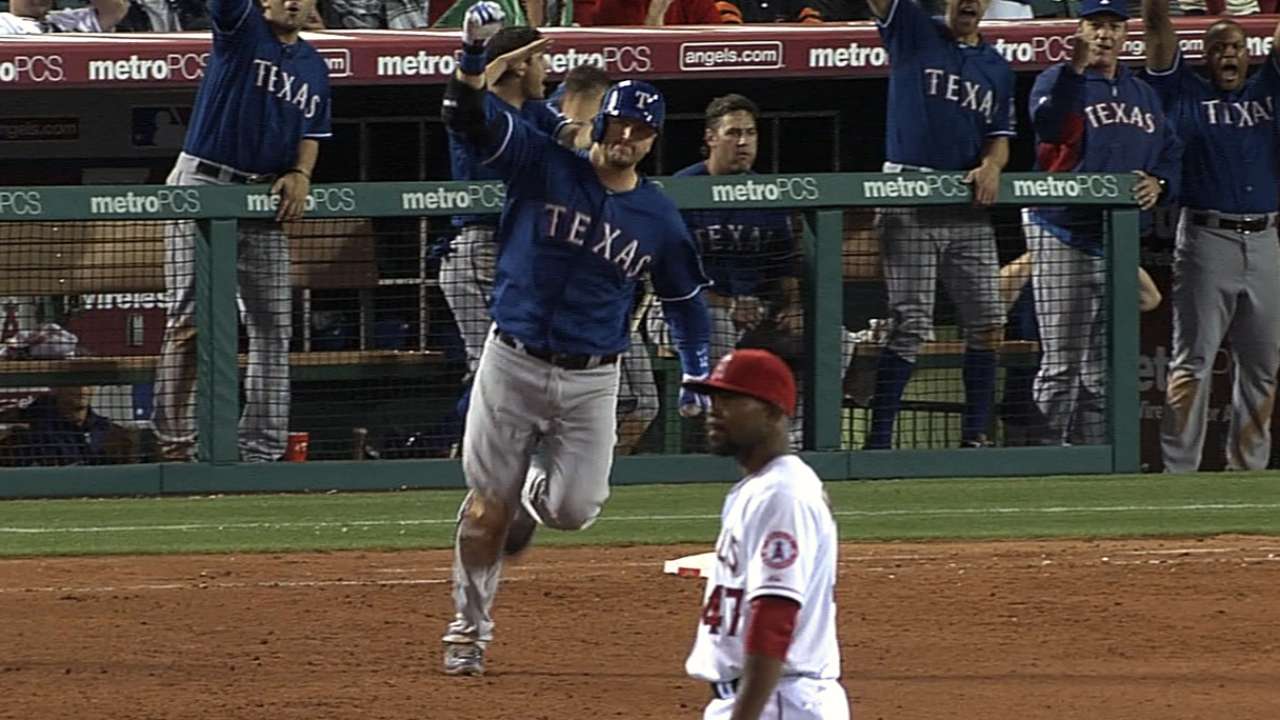 ANAHEIM -- The fans at Angel Stadium love to boo Rangers catcher A.J. Pierzynski. They still remember him being involved in a few controversial plays that went against the Angels while he was playing for the White Sox during the 2005 American League Championship Series.
It doesn't bother Pierzynski. In fact, he said he loves playing at Angel Stadium.
"I love to play here," Pierzynski said. "It's a tremendous atmosphere. The field is great, the weather is great and the fans here are awesome. They are passionate and energetic and anytime that Rally Monkey comes up, the place really gets going."
The Rally Monkey came up short on Monday night. The Rangers were the ones who staged the big rally and Pierzynski finished it off with a two-out home run off of reliever Ernesto Frieri in the ninth inning for a 7-6 victory. The Rangers, who had a season-high 15 hits on the night but still had to mount a late comeback, trailed 6-3 after six innings before scoring three in the seventh.
"I just felt like we had a chance to win that ballgame all night and fortunately we were able to come through in the end," Rangers manager Ron Washington said.
The Rangers led 2-0 after three innings but Derek Holland couldn't take advantage of it. Instead he struggled with his control and ended up allowing six runs in 5 2/3 innings. The pitching hero for the Rangers was Tanner Scheppers, who pitched two more scoreless innings to earn his second win of the season.
"Tanner Scheppers did a great job tonight against their right-handed hitters," Washington said. "He has been throwing the ball extremely well."
Scheppers has not allowed a run in 10 2/3 innings over his first nine appearances.
"Things are feeling good," Scheppers said. "A.J. and I are on the same page and he does a great job of controlling my emotions and keeping me focused."
Josh Hamilton was 4-for-4 with four singles for the Angels but he was stranded on deck when Joe Nathan finished off the top of the Angels lineup to earn his sixth save. Nathan gave up a leadoff single to Peter Bourjos, then got Mike Trout on a fly to right and Albert Pujols on a soft liner to second. That brought up Mark Trumbo, who Nathan struck out to end the game.
"The bullpen did an outstanding job," Pierzynski said. "Scheppers was amazing and Nathan going up against the top of the lineup was great."
The pivotal inning was the seventh with the Rangers down by three against Angels starter Joe Blanton, who was 0-3 with an 8.59 ERA in three starts coming into the game. Blanton gave up a leadoff single to Elvis Andrus and left-handed reliever Michael Roth allowed a single to Lance Berkman.
Right-hander Dane De La Rosa took over and walked Adrian Beltre to load the bases. Pierzynski's single brought home a run and Nelson Cruz's grounder to short brought home another as the Angels couldn't turn it into a double play.
Instead the Rangers had runners on the corners with one out. After left-hander Scott Downs came into pitch, Jeff Baker pinch-hit for David Murphy. He hit a high chopper off the plate that Downs fumbled for an error, allowing Beltre to race home from third with the tying run.
"There were a lot of good things on the field, and I think overall, we're moving forward in a lot of the areas that are important to us," Angels manager Mike Scioscia said. "But in the end, it comes down to holding leads. We have to nail down some games. This one got away from us tonight."
Frieri took over for Downs in the ninth, getting Berkman and Beltre on fly balls to left. But he couldn't keep Pierzynski in the park. Instead Pierzynski jumped on a first-pitch fastball and lifted it over the right-field wall to give the Rangers their fourth straight win.
"I made my pitch," Frieri said. "It was a little bit up, outside, but yeah, I wanted to go outside, maybe a little bit low. But like I said, he made a good swing on the ball and it went out."
The Angels had a three-game winning streak snapped after sweeping the Tigers over the weekend.
"That guy is good," Pierzynski said. "He's 95-96 [mph] with giddy-up. I was just trying to get the bat on the barrel. I didn't think I got enough of it but fortunately it did just get over the wall. I left a small village on base in my first three at-bats. It was frustrating going up there with all those guys on base like I did and not get it done."
In the end, the Angels fans were the ones who were frustrated and left the park with one more reason to boo the Rangers catcher.
T.R. Sullivan is a reporter for MLB.com. Read his blog, Postcards from Elysian Fields, and follow him on Twitter @Sullivan_Ranger. This story was not subject to the approval of Major League Baseball or its clubs.