Peacock exits early, bullpen solid as Astros fall
Righty exits after 4 1/3 frames as Cisnero, Veras are solid in relief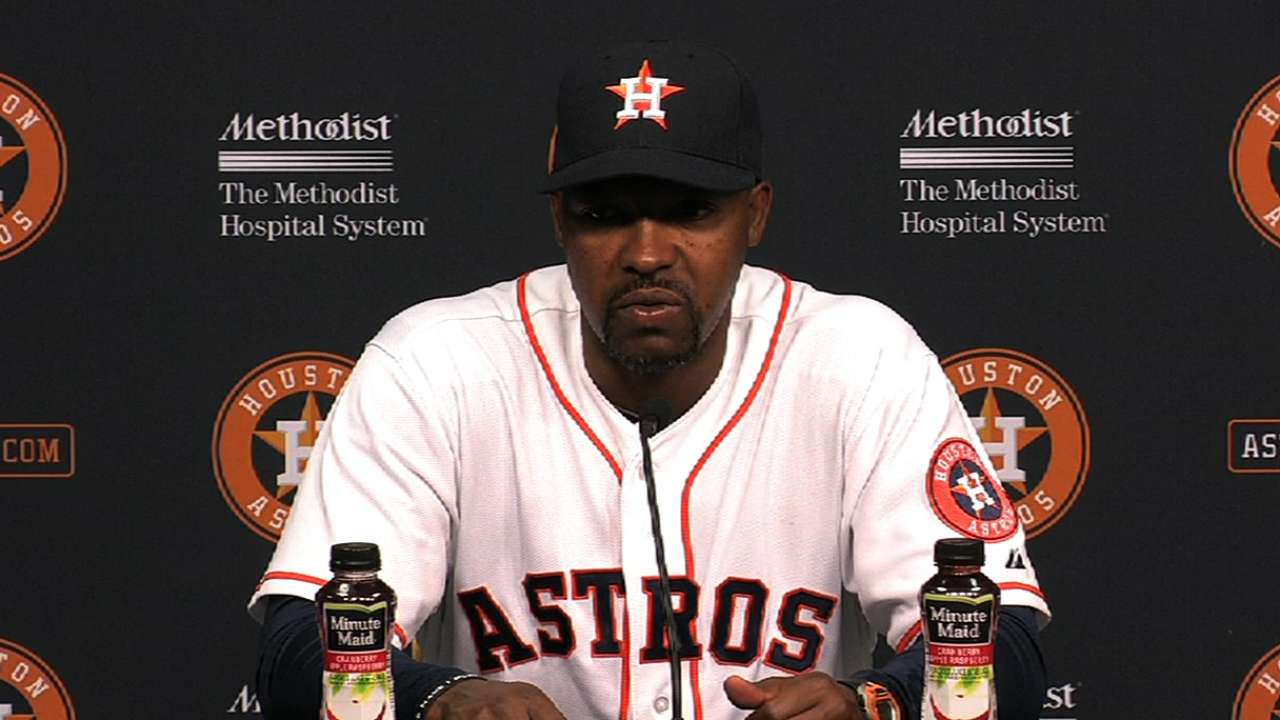 HOUSTON -- Another abbreviated outing by a starting pitcher put the Astros in a precarious position Monday night, especially when Mariners ace Felix Hernandez had some of his best stuff on his way to career win No. 100.
The Mariners tagged right-hander Brad Peacock for seven runs and nine hits, including three home runs, in 4 1/3 frames, and rode six scoreless innings and nine strikeouts from King Felix to send the Astros to a 7-1 loss at Minute Maid Park.
"Felix was good, as usual," Astros manager Bo Porter said. "He's one of the better pitchers in our league, but we didn't pitch well, and when you don't pitch well and you put yourself in a hole against a guy of his caliber, you're going to be fighting a pretty tough uphill battle."
Peacock became the sixth Astros pitcher in the past seven games to not pitch beyond the fifth inning, which general manager Jeff Luhnow said prior to the game had wreaked havoc on the organization, as it has shuffled starters from Triple-A to eat innings in long relief.
Porter said he's not yet considering making any changes in the rotation, but was encouraged that Jose Cisnero was able to throw 3 2/3 scoreless innings in his Major League debut to rescue the bullpen. Jose Veras worked the ninth.
"I think the fact we made it through tonight's game with the starter, one long guy and one bullpen guy [was good]," Porter said. "Actually, Cisnero -- pitch count-wise, he could have finished the game, but I decided to give Veras an inning, because I don't like the closer sitting for more than three days without getting any work. Moving forward, we should be in good shape with Bud [Norris] going tomorrow and the whole bullpen completely rested."
Peacock (1-2) has pitched 4 1/3 innings in three of his four starts this year, and it took him 90 pitches to get there on Monday. A third of those came in the first inning, when Peacock labored to get three outs and gave up an RBI single to Justin Smoak.
"I didn't have it tonight," Peacock said. "I didn't have my stuff and was getting behind in counts, and I have no excuses. Just gotta keep working."
The Astros have lost eight out of nine games since a three-game winning streak, which included a pair of wins in Seattle. The team is in the early stages of a grueling 17-game stretch without a day off, with a road trip to Boston and the Yankees on the horizon.
"We take pride in what we do, there's no doubt about that," first baseman Carlos Pena said. "However, if we want to go where we want to go, which is improve the situation here in Houston and become the team we want to become, we must learn how to roll with the punches and stand up back even after we get hit hard."
Kyle Seager homered into the upper deck in the third inning to make it 3-0, and Jesus Montero blasted a tape-measure shot high over the left-center-field wall in the fourth inning to stretch the lead to 5-0. Kendrys Morales led off the fifth with a homer, and Peacock couldn't survive the inning.
"Too many deep counts," Porter said. "That's something Brad is going to have to work on. When you find yourself in deep counts, your pitch count is going to spike real high. And when you have a lot of deep counts, hitters are hitting in good hitter's counts. The more times hitters hit in good hitter's counts, they're normally going to put their better swings on pitches."
Hernandez (2-2) came out firing, striking out three batters in the first round around a Jason Castro double off the left-field wall. He had five strikeouts through two innings and allowed one hit in the third, fourth and sixth innings.
"My last three starts, I was trying to win, too," Hernandez said. "But this one, it was like, you've got to do it tonight. I can't wait one more time. I had to go out there and have a good game."
Rick Ankiel got the Astros on the board in the seventh with a homer into the first row of the Crawford Boxes, but it wasn't nearly enough for an Astros team that's scuffling.
"We know we're talented, but we want to execute on a daily basis and hopefully by executing, it will translate into some wins sooner or later," Pena said. "I'm confident it's going to happen, and I like the character of this ballclub. If we want to be champions, you can't have a glass jaw. You have to be able to take some punches."
Brian McTaggart is a reporter for MLB.com and writes an MLBlog, Tag's Lines. Follow @brianmctaggart on Twitter. This story was not subject to the approval of Major League Baseball or its clubs.