Moore silences Yanks in Rays' fourth straight win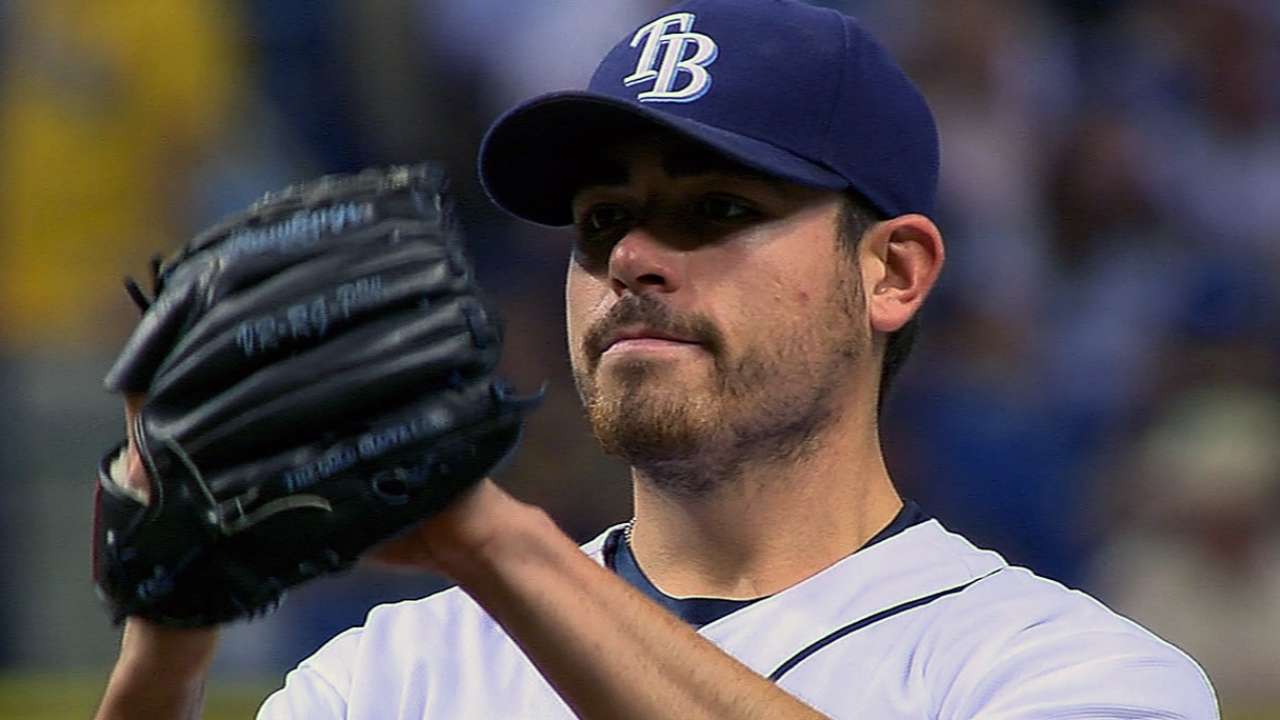 ST. PETERSBURG -- Nobody would have been surprised if told that a Rays left-hander would have four wins with a 1.04 ERA in April. The surprise would have come when told that the left-hander was Matt Moore and not David Price.
Moore notched his fourth victory of the season to lead a 5-1 Rays win over the Yankees on Monday night at Tropicana Field, with 15,331 watching. With the victory, the Rays extended their winning streak to four games while moving to 9-10 on the season, while the Yankees fell to 10-8. After enduring a brutal nine-game road trip that saw them win just two games, the Rays are 4-0 on their current six-game homestand.
Moore allowed just two hits while striking out nine and walking three -- watching his ERA actually rise from 1.00 to 1.04, while Price, the reigning American League Cy Young Award winner, is winless in April.
Rays manager Joe Maddon allowed himself a chuckle about the situation.
"Yeah, it's one of those baseball moments, but [Price] is going to do the same thing," Maddon said. "So it's encouraging."
Moore became the first starter in Rays history to win his first four starts of a season. The last AL pitcher 23 years old or younger to go 4-0 in his first four starts of a season was Jered Weaver of the Angels in 2006.
"I think that I was able to get ahead with my fastball and just really use my offspeed pitches the way they were meant to be used," Moore said. "I felt just as good -- if not better -- out there in the seventh and eighth innings than I did in the first and second."
Moore threw 105 pitches through seven innings, so the biggest surprise of the night came when Maddon allowed him to pitch the eighth.
"Yes, I was surprised, but I was very happy about it," Moore said. "It was nice to get out there and feel that tempo, even in the eighth inning."
Maddon explained that the eighth inning just "lined up nice" for Moore, who proceeded to retire the side in order while reaching a career-high pitch count of 117.
"[Moore] was good," Vernon Wells said. "He gave you opportunities to hit a pitch, and if you missed it, you were going to be walking back to the dugout. He's got great stuff, a quality arm, can overpower you, can beat you with his offspeed stuff. He's good."
Moore received some early run support when Ryan Roberts hit a solo homer off CC Sabathia with one out in the first. One out later, Evan Longoria singled to right, then scored on Sean Rodriguez's triple to right-center. Yunel Escobar followed with a two-run homer to put the Rays up, 4-0.
Moore noted that getting the early run support can have a profound effect on how a pitcher goes about his business.
"It's really hard to get into right here, but if you're talking about certain counts to certain hitters where you're going to throw a changeup to them or challenge them with a two-seamer here," Moore said. "I think it's hitter to hitter and situation to situation. You don't want a situation to get too big on you. We were able to keep them out of scoring position tonight."
Roberts added a second home run to lead off the third to push the Rays' lead to 5-0.
Tampa Bay has now homered in eight straight games (16 total) after recording just four home runs through its first 11 games.
"Honestly, it's so fun to watch," Maddon said, "because the guys have been trying so hard. Early in the season, we had a lot of bad luck. Things weren't falling our way, and they stayed with it. All of a sudden, it's coming back to us because we have not quit. And we won't quit."
Moore did not allow a hit until Robinson Cano homered with one out in the fourth to cut the lead to 5-1. Meanwhile, Sabathia allowed three home runs for only the ninth time in his 388 career starts while seeing his three-game winning streak snapped as his career record at Tropicana Field fell to 3-6.
"It's a different lineup every time," Sabathia said of facing the Rays. "It's just one of those things where I haven't pitched really good against them."
Historically, Moore has been a slow starter, even in the Minor Leagues. Last April, he went 0-1 with a 4.68 ERA in four starts. Maddon had a twinkle when asked about the turnaround.
"Probably because we've talked about it so much; we made such a big issue about it, he wanted to prove us wrong," Maddon said. "Which, you know, most of your children always want to do."
Bill Chastain is a reporter for MLB.com. This story was not subject to the approval of Major League Baseball or its clubs.