Four-run first does in CC against Rays
Ace completes seven, but Cano's two hits all Yanks manage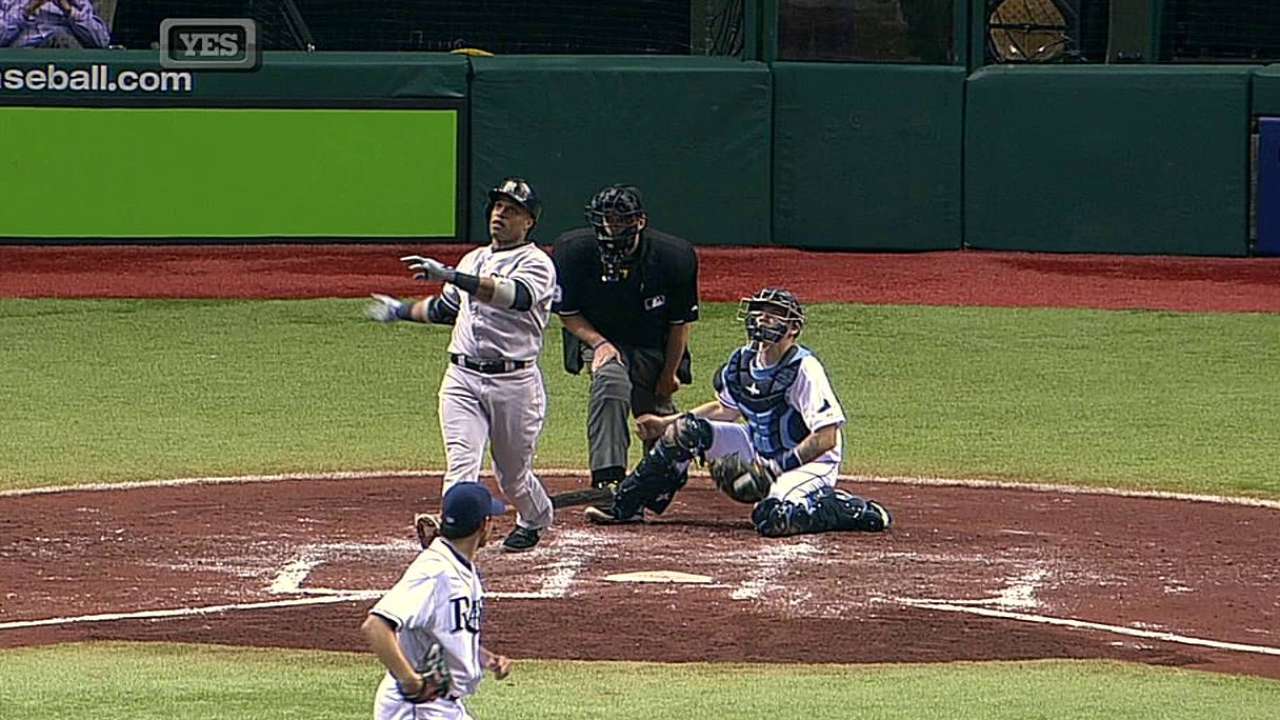 ST. PETERSBURG -- There has been a great deal of attention paid to CC Sabathia's diminished radar-gun readings, and the left-hander has essentially responded with a shrug. As he reasons, veteran power pitchers are supposed to lose a few ticks of velocity sooner or later.
But Sabathia was taking angry cracks at himself in front of his locker on Monday, about two hours after a few of the Rays also got in their share of good swings. He wasn't pitching with fire out of the gate and the results showed, as the Yankees took a 5-1 loss at Tropicana Field.
"I think it was just not being aggressive from the start," Sabathia said. "I was just telling myself to be nice and easy, and I think that took some of my aggressiveness away in coming after guys and letting the ball go."
Sabathia served up three homers -- two off the bat of Ryan Roberts, who cleared the fences in the first and third innings. The Rays' four-run first was plenty, as Matt Moore held the Yankees to a run on two hits over eight frames.
"CC's been a guy that seems to get stronger as the game goes on," Yankees manager Joe Girardi said. "He kept us in the game. We just weren't able to do much off Moore."
Robinson Cano's fourth-inning homer accounted for New York's only run of the contest, as Moore became the first pitcher in Rays history to win his first four starts of a season.
"Matt was really the story of the night," Rays manager Joe Maddon said. "Stuff-wise, that's what we've been looking for -- the good delivery, the command of the fastball. Everything else is working off the fact that the fastball is being thrown for a strike."
Cano also had an infield single in the sixth inning as he claimed both of the Yanks' hits of the evening against Moore, who walked three and struck out nine.
"He was good -- he gave you opportunities to hit a pitch, and if you missed it, you were going to be walking back to the dugout," Yankees outfielder Vernon Wells said of Moore. "He's got great stuff, a quality arm, can overpower you, can beat you with his offspeed stuff. He's good."
The commanding performance ensured that the Yankees would not be able to take Sabathia off the hook from his shaky first inning.
Fielding a lineup that lost Kevin Youkilis approximately 50 minutes before first pitch due to lingering back pain, the Yankees went quietly against the 23-year-old Moore, who received a standing ovation as he ended his fifth career start against New York.
"This is nice," Moore said. "It's definitely something. I can't say enough about the defense and the run support that I've been getting."
Riding a three-start winning streak, Sabathia came out flat in the first inning, according to catcher Francisco Cervelli, and Sabathia agreed that he wasn't able to lock in.
"I felt like I was trying to place the ball and be too fluid, and worrying about my delivery," Sabathia said. "That's for the work days, side days. When I go out there and pitch, I need to let everything out of my mind and just go out there and battle and worry about the other team."
Sabathia grooved an 0-2 slider that Roberts belted into the left-field seats to put Tampa Bay on the board.
With Evan Longoria aboard, Sean Rodriguez ripped a run-scoring triple into the gap in right-center field, setting up Yunel Escobar to jump on a first-pitch fastball for a two-run homer into the right-field seats.
"He wasn't aggressive," Cervelli said of Sabathia. "When you fall behind in the count, like ball one, it's hard to go in. When he started mixing pitches, and showed pitches in, he was better."
If there was one positive to take from the outing for Sabathia, it was that his velocity -- mostly 89-90 mph in his first four starts of the season -- kicked up a bit against the Rays, sitting around 91 mph with his four-seam fastball and topping out at 93 mph.
"That is encouraging," Girardi said. "We feel that it's going to go up some. We're not going to see 96 and 97, but it's going to go up."
Sabathia saved the bullpen by providing seven innings of work, but he has never enjoyed much success under The Trop's white roof and catwalks, which created an odd moment in the sixth when Cervelli caught a Shelley Duncan popup that struck a walkway -- ruled a dead ball under the building's ground rules.
Sabathia rallied to strike Duncan out, rendering that incident a footnote, but the lefty now owns a 3-6 record and a 4.07 ERA in 15 career starts at Tropicana Field -- his lowest winning percentage of any current Major League ballpark.
"We talked about it last year; I don't [know why]," Sabathia said. "It's a different lineup every time. It's just one of those things where I haven't pitched really good against them."
Bryan Hoch is a reporter for MLB.com. Follow him on Twitter @bryanhoch and read his MLBlog, Bombers Beat. This story was not subject to the approval of Major League Baseball or its clubs.