Valbuena's homer not enough; Cubs fall in extras
Third baseman rips two-run shot in 13th; Reds rally in bottom half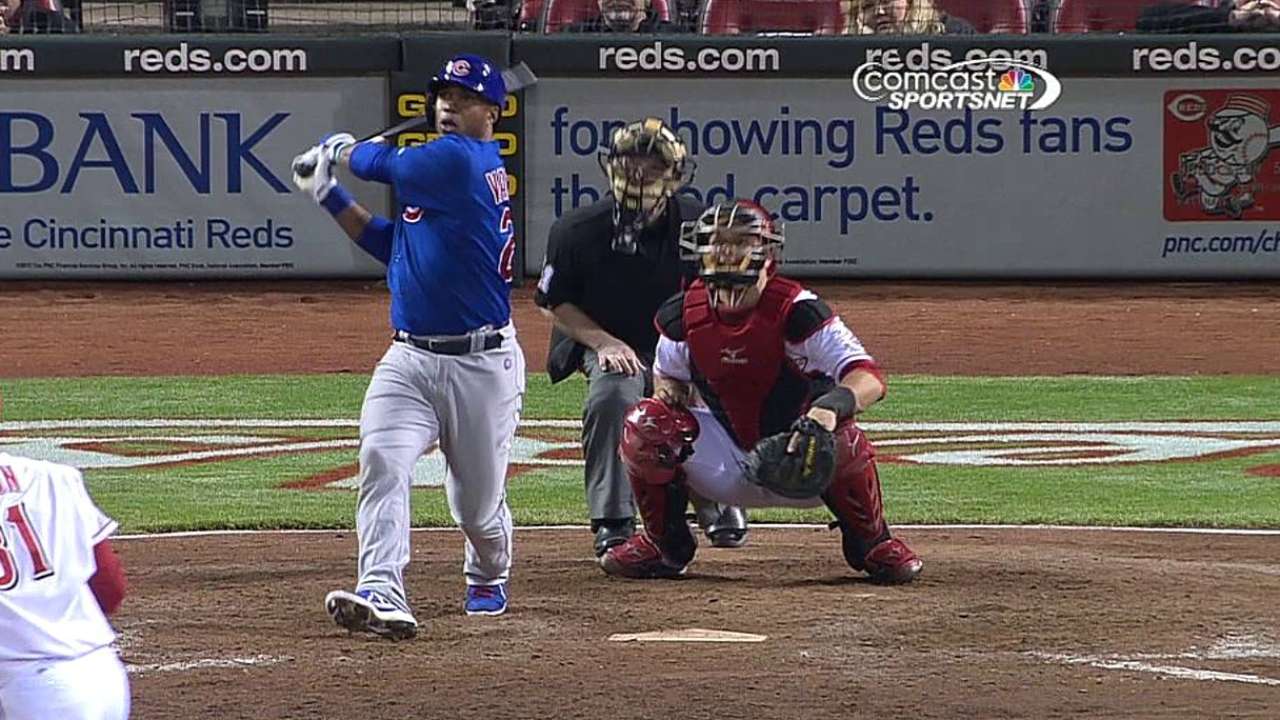 CINCINNATI -- Every loss is tough to take, but Monday hurt a little more for the Cubs because they did nearly everything right.
Cesar Izturis' walk-off single with two outs in the 13th gave the Reds a 5-4 come-from-behind victory over the Cubs, who had taken a two-run lead in the top of the inning on Luis Valbuena's two-run homer.
"We battled all game," Chicago starter Travis Wood said. "They're a good ballclub over there and their guys did what they needed to do to pull out a win."
Valbuena connected off Alfredo Simon in the 13th, scoring Welington Castillo, who reached second on an error by third baseman Todd Frazier. For once, it looked as if the Cubs could capitalize on another team's mistakes.
But Xavier Paul singled to lead off the Reds' 13th against Michael Bowden, and advanced to third on a double by Brandon Phillips that right fielder Dave Sappelt couldn't snag.
"In my mind, I knew I had to make a web gem to win the game," Sappelt said. "I came up short."
Paul and Phillips both scored on Jay Bruce's double into the gap in right center. Did Cubs manager Dale Sveum consider walking Bruce?
"I did," Sveum said. "I didn't want to put the winning run on the base and he hadn't been swinging that good anyway."
Two batters later, Izturis lined a single over shortstop Starlin Castro for the game-winner.
"I'm proud of the way they played today," Sveum said. "They had good at-bats all night long, played good defense, pitched, and came up short. [The Reds] hit the ball hard the last inning. Besides the one blooper that fell in and changed things, other than that, they swung the bats there. No walks -- they swung the bats to beat us."
The Cubs had opportunities, but stranded 12 runners. In the 10th, both Anthony Rizzo and Alfonso Soriano reached on errors, but Sam LeCure struck out Nate Schierholtz to end the threat. Chicago loaded the bases with two outs in the 11th, but J.J. Hoover got Castro to line out to right.
"[Castro] had a great at-bat that one at-bat with the bases loaded -- he hit that missile to right field," Sveum said. "Those kind of things bust games open, but when things aren't going good they go right at people, too."
Cincinnati had runners at second and third with two outs in the 10th, and Carlos Marmol continued his dominance of Joey Votto, striking him out to end the inning. Votto now is 1-for-15 with nine K's against Marmol.
"I'm worn out from thinking," Reds manager Dusty Baker said. "We were double-switching and trying to keep the pitcher in the game as long as we could. We were about to run out of them. That was a good one to win. It was a great one to win. That's one of the great comebacks I have ever seen. That's what you call a reverse takedown. That was some victory."
David DeJesus got things started for the Cubs with his 13th career leadoff home run, lining a 1-1 pitch from Cincinnati's Mike Leake down the right-field line. Chicago made it 2-0 in the third when Darwin Barney singled, moved to second on Wood's sacrifice and, one batter later, scored on Castro's single that extended hit hitting streak to 14 games.
Wood located his pitches well and held the Reds to two hits over six scoreless innings, then served up Bruce's leadoff homer in the seventh. Two batters later, Chris Heisey singled to chase Wood.
"That's a great ballclub all the way around over there," Wood said of the Reds. "To keep them at one run for six-plus innings, it felt good. We had the one-run lead, and unfortunately, we weren't able to hold onto it. We have to figure out a way when we're right there to either hang on to it or pull it out."
Reliever Shawn Camp took over for Wood, and was called for a balk during Devin Mesoraco's at-bat, and Heisey moved up. After Mesoraco flew out, James Russell entered to face Jack Hannahan, who lined a triple into the right-field corner to score Heisey and tie the game. Looking at replays postgame, it appeared that a fan reached over and interfered with the ball.
Cubs starting pitching has been the most consistent aspect of the team, and now boasts a 3.10 ERA. This was the 10th quality start by a Chicago pitcher, but they only have three wins in those games.
"It's hard to be down," Wood said about the loss. "It's easy to be down, but also hard to be down. It's not like we're getting blown out every game. We're right there. We just have to come together as a team and figure out how to pull them out."
Fifteen of the Cubs' 18 games now have been decided by three runs or less, and the Cubs are 4-11 in those games.
"They are tough just because you know you're doing everything you can and for some reason the ball isn't going our way," Wood said. "You just have to hang in there and ride it out. Tides will turn."
Carrie Muskat is a reporter for MLB.com. She writes a blog, Muskat Ramblings, and you can follow her on Twitter @CarrieMuskat. This story was not subject to the approval of Major League Baseball or its clubs.