Izturis' walk-off single gives Reds improbable win
Bruce doubles in two during three-run rally in 13th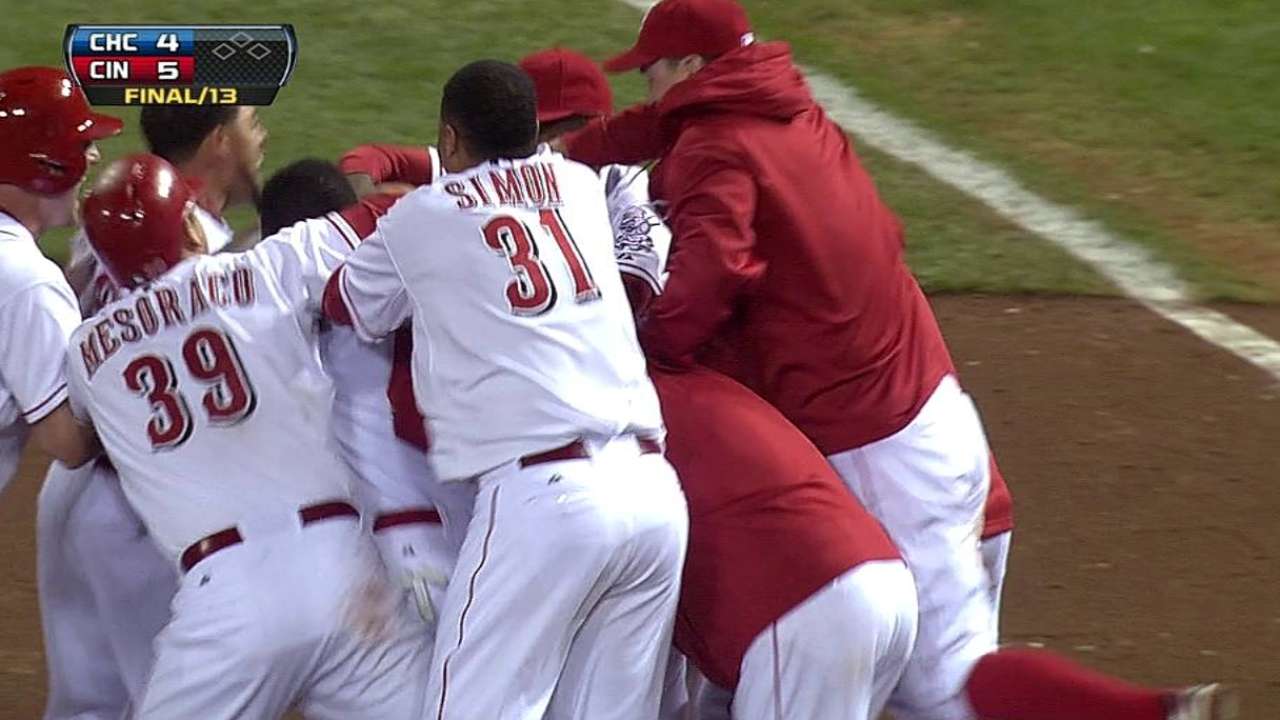 CINCINNATI -- The Reds have tasted wins of various flavors during a strong homestand thus far -- from crisply pitched games to routs, to extra innings and even a suspended game that had to be picked up the following day.
But Monday's 5-4 victory over the Cubs in 13 innings required an added dash of fortitude. Struggling Chicago, now 5-13 and without a road win since April 4, broke a 2-2 tie on Luis Valbuena's two-run homer in the top of the 13th only to see Cincinnati win it in the bottom half with three runs.
It was all capped by Cesar Izturis' walk-off single that scored Jay Bruce with two outs.
"It almost had our hearts torn out in the top of the 13th. We'll take it," Reds manager Dusty Baker said. "That's just a team that keeps fighting back and fighting back. I kept telling them after that home run, 'We haven't lost this game yet.'"
The 4-hour, 35-minute game had the Reds beating themselves at times, especially after three late errors -- though a pair of two-out miscues in the top of the 10th did not come back to haunt. But then Welington Castillo led off the top of the 13th against Alfredo Simon with a routine grounder to third that went right between the legs of Todd Frazier.
Next up was Valbuena, who attacked a 2-0 pitch over the heart of the plate and sent it over the fence in right for a two-run homer.
"We didn't play a pretty game. It was an ugly game, really," Baker said.
In the bottom of the 13th, Xavier Paul lined a leadoff single to right against Cubs reliever Michael Bowden. Brandon Phillips flared a one-out double just out of reach of sliding right fielder Dave Sappelt to put runners on second and third.
Bruce, who led off the seventh with his first home run of the season, lined a two-run double through the gap in right-center field to give himself three RBIs and re-tie the game.
"I was waiting for a pitch I could handle," Bruce said. "You have an idea what he throws and an idea of what he was trying to do to me."
Cubs manager Dale Sveum had considered walking Bruce with first base open.
"I didn't want to put the winning run on the base and he hadn't been swinging that good anyway," Sveum said.
Frazier's check-swing groundout to second advanced Bruce to third. On a 1-1 pitch, Izturis lined an outside fastball for a single into left field to end it. As Bruce crossed home plate, teammates mobbed Izturis near first base.
"I was just thinking up the middle and trying to get a base hit," Izturis said. "It was a long night for everybody. It was a good moment."
The win put the Reds at 7-1 on their homestand with two games remaining against Chicago. It was also their second 13-inning win in three days.
"To have the wind out of your sails a little and come back and not give up, that says a lot about our team," Bruce said. "It was huge. These things never get old. The walk-offs and everything like that are always a ton of fun."
One constant the Reds have gotten throughout the recent stretch is quality pitching. Mike Leake made it seven quality starts in eight games for the rotation, as he gave up two runs over seven innings.
In the ninth inning, Aroldis Chapman struck out the side. J.J. Hoover inherited a bases-loaded, two-out jam from Sam LeCure and escaped with a lineout in the 11th, and returned to strike out the side in the 12th.
Cincinnati's pitchers combined for 16 strikeouts, which gave the staff at least 10 strikeouts in five-straight games -- the first time the team has achieved that feat since 1900.
However, the Reds were faced with a dilemma had the game remained tie. Baker had burned through most of the bench and had exhausted most of his bullpen. Starter Homer Bailey was poised to pinch-hit for Simon in the 13th had the ninth spot in the order come back up.
"I'm worn out from thinking," Baker said. "We were double-switching and trying to keep the pitcher in the game as long as we could. We were about to run out of them. It was a great one to win. That's one of the great comebacks I have ever seen. That's what you call a reverse takedown. That was some victory."
Mark Sheldon is a reporter for MLB.com. Read his blog, Mark My Word, and follow him on Twitter @m_sheldon This story was not subject to the approval of Major League Baseball or its clubs.