Pettibone's strong MLB debut backed by Rollins
Hit-by-pitch, RBI single lift offense over Pirates; rookie K's six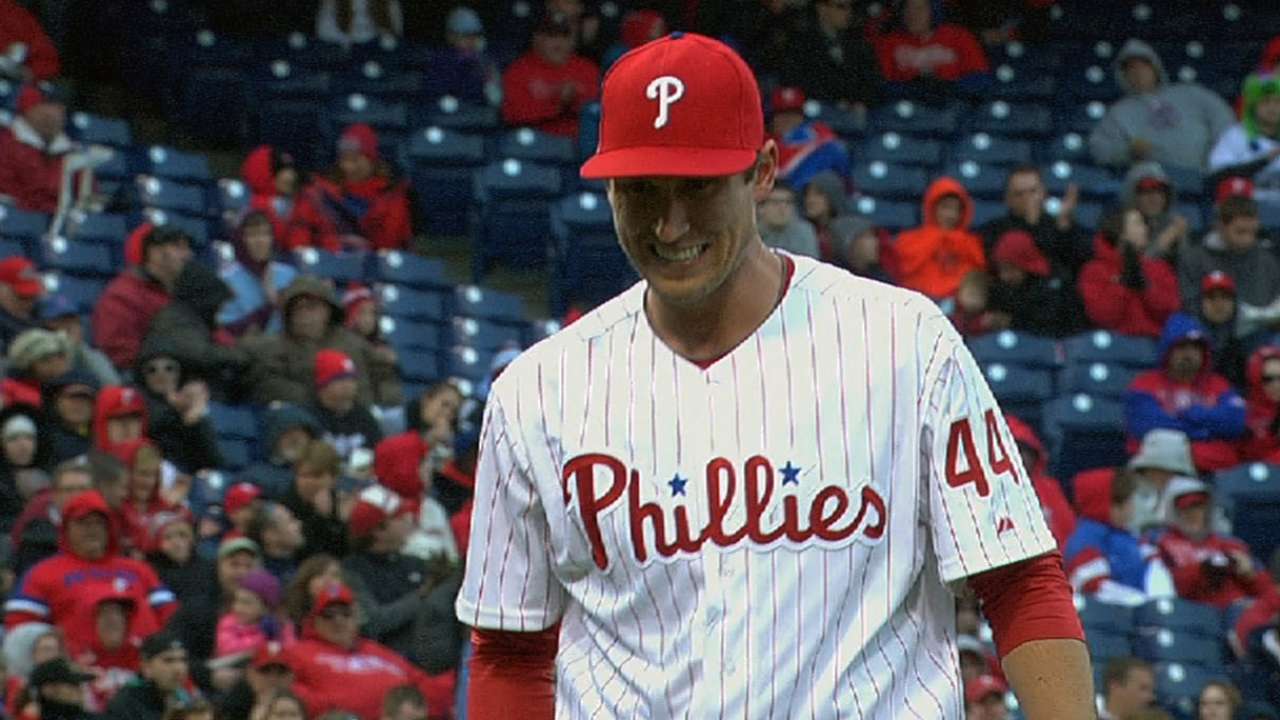 PHILADELPHIA -- Jonathan Pettibone figured he had a chance to make his big league debut Monday at Citizens Bank Park, but until the call came Sunday afternoon, it was just a hunch, the possibility based on simple arithmetic.
The Phillies have five starters in Triple-A Lehigh Valley, which meant he had at least a 20 percent chance to replace injured left-hander John Lannan in the rotation.
"As a staff up in Lehigh, we all kind of joked around with it," Pettibone said following a 3-2 victory over the Pirates, which improved the Phillies to a 9-11 record. "Like, 'Oh, it's going to be you,' or, 'No, it's going to be you.' But no one really had an idea."
Pettibone turned out to be correct.
The right-hander most likely earned another start with a solid performance against the Pirates, although Phillies manager Charlie Manuel declined to announce anything.
"Man, I don't know," Manuel said. "Let me think about it."
Pettibone allowed six hits, two runs and struck out six in 5 1/3 innings in a no-decision. No Phillies pitcher had struck out more in his big league debut since Cole Hamels struck out seven on May 12, 2006.
"Nerves were definitely flying," Pettibone said. "Leading up to the day, I was told yesterday afternoon-ish. From that point on, there are mixed emotions going everywhere. Once I got on the mound, the first couple of innings the nerves were going a little bit, and then I kind of settled down and got into a nice little rhythm and went from there."
It hadn't been particularly easy for Pettibone to this point. He wasn't particularly sharp in Spring Training and allowed 15 hits, 10 earned runs, five walks, one home run and struck out eight in 9 1/3 innings in his first two starts (9.64 ERA) with Lehigh Valley.
But Lehigh Valley left-hander Adam Morgan, who had been pitching the best of anybody in the IronPigs rotation, had thrown five innings and 100 pitches Wednesday, the same day Lannan injured his left knee in Cincinnati. Morgan (1.42 ERA) could not pitch Monday as a result, leaving the Phillies to choose among Pettibone, Tyler Cloyd (7.65 ERA), Ethan Martin (8.10 ERA) and B.J. Rosenberg (5.52 ERA).
"Those first couple starts weren't horrible," Pettibone said of his starts in Lehigh Valley. "A couple of bad breaks that didn't go my way. Got a little wild, walked guys and fell behind. So I kind of made it a point to fix that and go after them [Monday]. Get that first-pitch strike. Early on I wasn't doing that, but once I fell into a groove it was easier."
Pettibone allowed a home run to Pedro Alvarez in the second and a homer to Russell Martin in the fifth, but otherwise stayed out of trouble. Starling Marte hit a leadoff double in the first, but did not score. Clint Barmes also reached second with one out in the fifth, but couldn't score.
"Very competitive. Firm," Pirates manager Clint Hurdle said. "The changeup played for him, the slider played for him. He used his fastball both sides of the plate.
"He wasn't a young man going out there hoping to do well. He went out there to do well. He's got to be happy with his outing. I'm sure they are as well."
Pettibone also helped the Phillies score their first run in the third, when he worked a leadoff walk in his first big league plate appearance. He stood on third three batters later, and Pirates right-hander A.J. Burnett uncorked a wild pitch with Chase Utley at the plate to allow him to score. The Phillies took a 2-1 lead in the fourth, when Burnett hit Jimmy Rollins with a pitch with the bases loaded and two outs.
It could have been much worse for Pittsburgh, but the Phillies were 1-for-10 with runners in scoring position through four innings, and they are 2-for-15 with the bases loaded for the season.
They finally got a hit when it mattered, when Rollins singled to right with runners on first and second with two outs in the sixth. Erik Kratz scored to give the Phillies a 3-2 lead.
It was the 800th RBI of Rollins' career.
Pettibone's parents, brother and sister made the last-minute trip from Southern California to watch him pitch. He got to see them before he left for the park in the afternoon, and he would reunite with them after the game to celebrate.
What's next for Pettibone? He could start Saturday against the Mets at Citi Field. That's the hunch anyway, based on the decent numbers he posted Monday.
"I'm just going to continue to do my daily routine, and whatever happens, happens," Pettibone said.
Todd Zolecki is a reporter for MLB.com. This story was not subject to the approval of Major League Baseball or its clubs.