Two homers, Burnett's effort not enough in tight loss
Alvarez, Martin go deep; Righty strikes out seven in five frames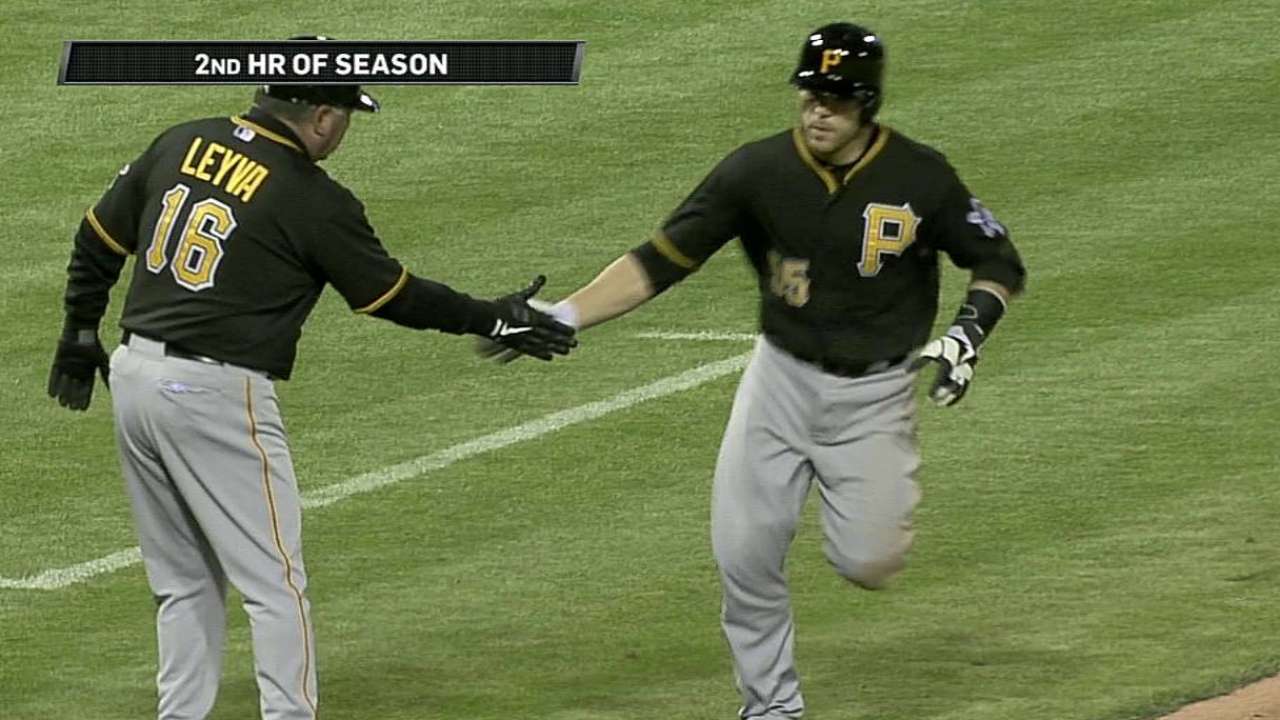 PHILADELPHIA -- A.J. Burnett did some things really well against the Phillies at Citizens Bank Park on Monday night. At times he was dominant. At times he lacked command. Through it all, the Pirates starter kept his team in the game.
"He threw everything but the kitchen sink at them," said Pirates manager Clint Hurdle. "After the first inning, it was a wrestling match. It's a sign of a pretty good pitcher when he doesn't have his best stuff and he doesn't do that well, and he leaves the game and it's 2-2 in the fifth. More often than not, you're a bunch of runs behind when that happens."
The lesson, Hurdle suggested, was that it's a long season. The decisive run came against reliever Jared Hughes in the bottom of the sixth on a two-out RBI single by Jimmy Rollins.
The three-game winning streak is over, but Hurdle still liked a lot of what he saw, especially from Burnett.
"At this point of the season, it didn't make any sense for him to go back out there. Nine three-ball counts on the night and 101 pitches. That pretty much sums it up for me," Hurdle said. "Houdini. He was Houdini. It was good to see. He gave us what he had, and he left the game and we were tied. We want to keep him for the long haul, so there was no sense of pushing him further."
Burnett wanted to pitch at least another inning, but allowed himself to be convinced otherwise.
"You hate going five innings. You've got to give the bullpen more. You've got to go further in the game. And I will," Burnett said. "Skip had to calm talk me into that one. And he's right. He made all the right points and I love him to death for it. I wanted to go back out there ... but it's early and I respect the moves he makes. I had a lot of pitches and it was a grind all night.
"It was a battle for sure. They fouled some pitches. I guess the only good thing is I was able to make a few pitches when I needed to. But I hit a batter and had a wild pitch to get the two runs to come across the plate. You've got to be more effective than that."
Coming into the night, the pitching matchup seemed lopsided. Pitching for the Pirates was Burnett, a veteran with 138 big league wins, coming off a start in which he shut out the Cardinals on one hit for seven innings, lowering his earned run average to 2.62 for the season. He was averaging 13.1 strikeouts per nine innings, best in the National League.
Pitching for the Phillies was 22-year-old Jonathan Pettibone. He was making his Major League debut, called up after posting a 9.64 ERA in two starts for the Triple-A Lehigh Valley IronPigs. He relies on location, and he was only called up because John Lannan is expected to miss six-to-eight weeks with a strained knee.
Which proves, once again, that you never really know what's going to happen. The pitching lines canceled each other out. Both allowed two runs. Burnett pitched five innings, Pettibone 5 1/3.
The crucial inning was Burnett was the fourth. The Phillies scored only one run, but had him on the ropes. When the inning ended, Burnett had already thrown 91 pitches.
It started when Michael Young led off with an infield single and Domonic Brown followed with a walk. Burnett appeared to have retired Ben Revere on a slow roller to the right side, but home plate umpire Mike Muchlinski correctly noted that the ball had first hit Revere's foot. Given second life, Revere singled to load the bases with nobody out.
The next batter, Erik Kratz, tapped back to the mound and the throw home forced Young at the plate ... except that Muchlinski once again called the ball dead. This time, Hurdle came out of the dugout to discuss the call, but replay clearly showed that the ball bounced up and hit Kratz on the arm while he was still in the batter's box.
Burnett was on the verge of pitching out of trouble, eventually whiffing both Kratz and Pettibone and getting two strikes on Rollins, before a 94-mph sinker tailed in and nailed the shortstop, forcing in a run. Burnett avoided further trouble by fanning John Mayberry, but had thrown enough pitches by then that it was obvious he wasn't going to pitch deep into the game.
Neither run the Phillies scored against Burnett came on a hit, and all five hits they got against him were singles. Even the winning run was set up by a walk to Kratz and an infield hit after two were out.
The walk bothered Hughes more than what followed.
"Without a doubt," Hughes said.
Then the Phillies got a break. Pinch-hitter Ezequiel Carrera hit a grounder toward second so softly that he was able to beat it out for a hit. That set the stage for Rollins to single cleanly to right, his second RBI of the game.
"It's frustrating, but it's one of those things," Hughes said. "When they're not hitting the ball hard -- speaking for myself -- you've got to get ahead in the count. You just really have to attack the hitters."
"They scored one more run than us. That's kind of the way it played out," Hurdle said.
Paul Hagen is a reporter for MLB.com. This story was not subject to the approval of Major League Baseball or its clubs.