Steady Markakis comes through with winner in ninth
Outfielder delivers walk-off win with bases-loaded single against Jays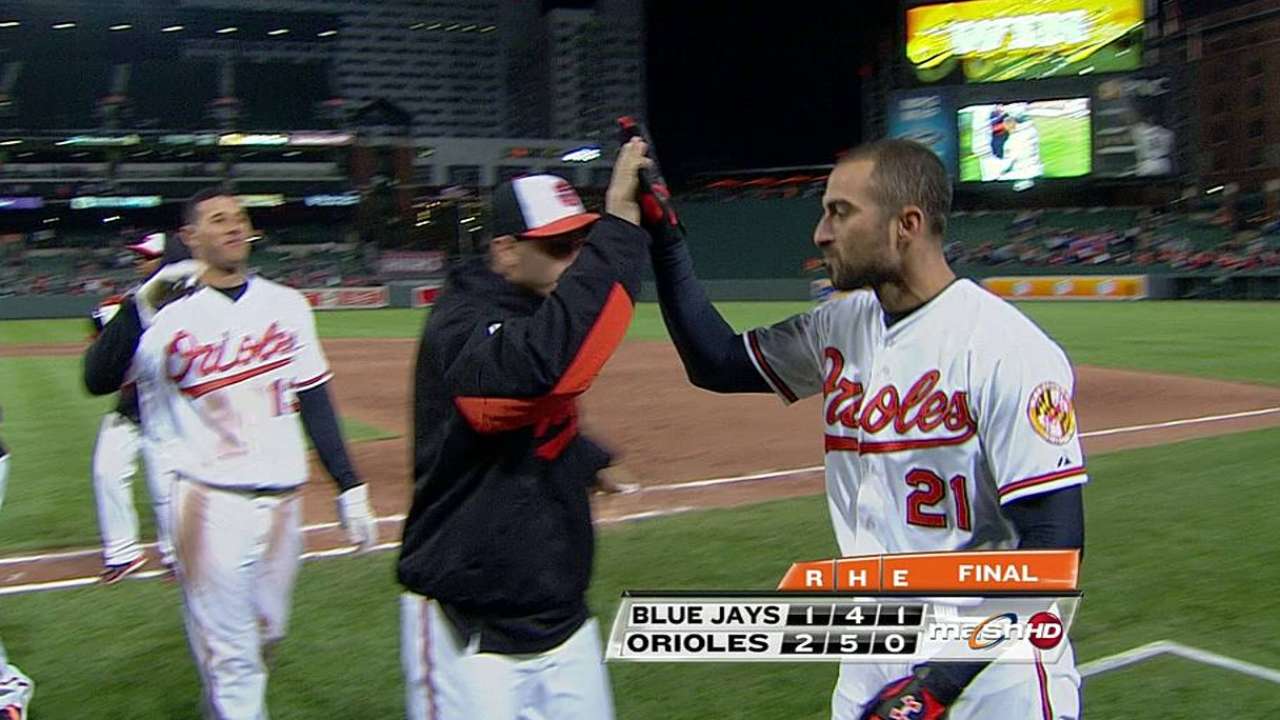 BALTIMORE -- Orioles right fielder Nick Markakis has been the team's most consistent hitter, a steadying force in a lineup that too often has been feast or famine.
So when a critical error loaded the bases and extended the bottom of the ninth inning Monday, it wasn't surprising that No. 21 would be the one to end it, punching a ball into left field off Toronto lefty Aaron Loup to seal a 2-1 walk-off win for Baltimore.
"The way he battles and the way he can hit any pitch, he's the right guy to have at the plate," catcher Matt Wieters said of Markakis, who fought back from an 0-2 deficit for the game-winning single. "That's not an easy guy for a lefty to face. I can only imagine."
Markakis, who has hit safely in 16 of the team's 19 games, went 2-for-5 and posted his seventh multi-hit games of the Orioles' 10 home games, raising his batting average to .439 (18-for-41) in Baltimore. After watching No. 9 batter Alexi Casilla reach base on an error, Markakis, who wanted to take the first strike, went into "battle mode" after Loup threw a quick pair of strikes.
"He may not wear it on his sleeve, but there's a real fire in there," manager Buck Showalter said of the quiet Markakis. "He likes to compete. Does someone like to be in that position? You talk about that all the time. It's just that you don't shrink from it. We don't look for things that test us in life necessarily, but the key is that he doesn't shrink from it. He goes, 'OK, let's go.'"
Markakis' RBI single, which scored Chris Davis, gave the Orioles a series-opening divisional win in front of 11,168 on an unusually chilly April night at Camden Yards. Loup hit Davis with his first pitch, starting an Orioles rally that advanced Davis to second on J.J. Hardy's sacrifice bunt. Davis moved to third after Loup, who intentionally walked Nolan Reimold, was let down by his defense as shortstop Munenori Kawasaki's key two-out error put Casilla on base.
"They got a break there, and then he got the big hit," Toronto's manager John Gibbons said after Kawasaki's rushed throw skipped by first baseman Edwin Encarnacion. "They have a good ballclub over there. They showed it last year in those tight ballgames. They win those one-run, two-run ballgames and they're confident. Markakis with two outs came through when he needed it."
The clutch hit also ensured Orioles starter Chris Tillman's effort wouldn't go to waste. Tillman, who turned in an impressive 6 2/3-innings outing, came within one out of becoming the first Orioles starter to complete seven innings this season, holding Toronto to one run over 103 pitches.
"He had four pitches he could throw for strikes, and we really didn't break out the cutter until late in the game, which is nice," Wieters said of Tillman, who did not throw more than 5 1/3 innings in three previous starts. "When you can have his fourth pitch stay in the bag, so to speak, till the third time in the lineup, gives you a lot of weapons to use late in the game."
The 25-year-old Tillman needed just 59 pitches to get through the first five innings and used a pair of double plays and some impressive defense behind him to work around a trio of walks.
"I was able to get ahead with my pitches early, and my secondary stuff was there for me," said Tillman, whose main issue has been working from behind in the count. "I was able to pound the strike zone early and kind of make the pitches when I needed to."
Tillman took the mound in the seventh having allowed just one hit, in the second inning, and after striking out a pair of batters on either side of an Encarnacion single, Tillman surrendered another hit to J.P. Arencibia. Colby Rasmus followed, tying the game on a single to right-field to end Tilman's night.
Reliever Darren O'Day, who threw 1 1/3 scoreless innings, entered and walked Brett Lawrie to load the bases before striking out Emilio Bonifacio keep Tillman's line intact.
"If you asked Chris, he probably didn't pitch the way he wanted to pitch the first couple of times," Markakis said. "But today he definitely made up for it, especially with a lineup like this. He attacked the zone. He was using all his pitches. I know he had a couple walks, but he kept us in the game, and that's all you can ask for from your starting pitching."
Toronto starter J.A. Happ matched Tillman's effort, holding the Orioles to one run via Davis' sixth-inning sacrifice fly before exiting in favor of Steve Delabar after walking Steve Pearce to start the seventh.
Third baseman Manny Machado, who made a fantastic barehanded stop and throw for the second out in the sixth, got things started in the bottom of the frame with a bloop single. Adam Jones followed, shooting a ball just past Lawrie's glove at third base, and the pair advanced on Happ's wild pitch. After Wieters grounded out, Davis' fly ball to right field was deep enough to score Machado, but that's all the O's would get off Happ, who scattered four hits and struck out six.
"That's the beautiful thing about home-field advantage," Markakis said. "You get the last out of the ballgame, and it came down to the last strike there. That was a big win, the first one [of the series], especially against a team like that."
Brittany Ghiroli is a reporter for MLB.com. Read her blog, Britt's Bird Watch, and follow her on Twitter @britt_ghiroli. This story was not subject to the approval of Major League Baseball or its clubs.