Asdrubal rallies Tribe, Masterson past White Sox
Delivers two-out, two-run single in eighth; righty improves to 4-1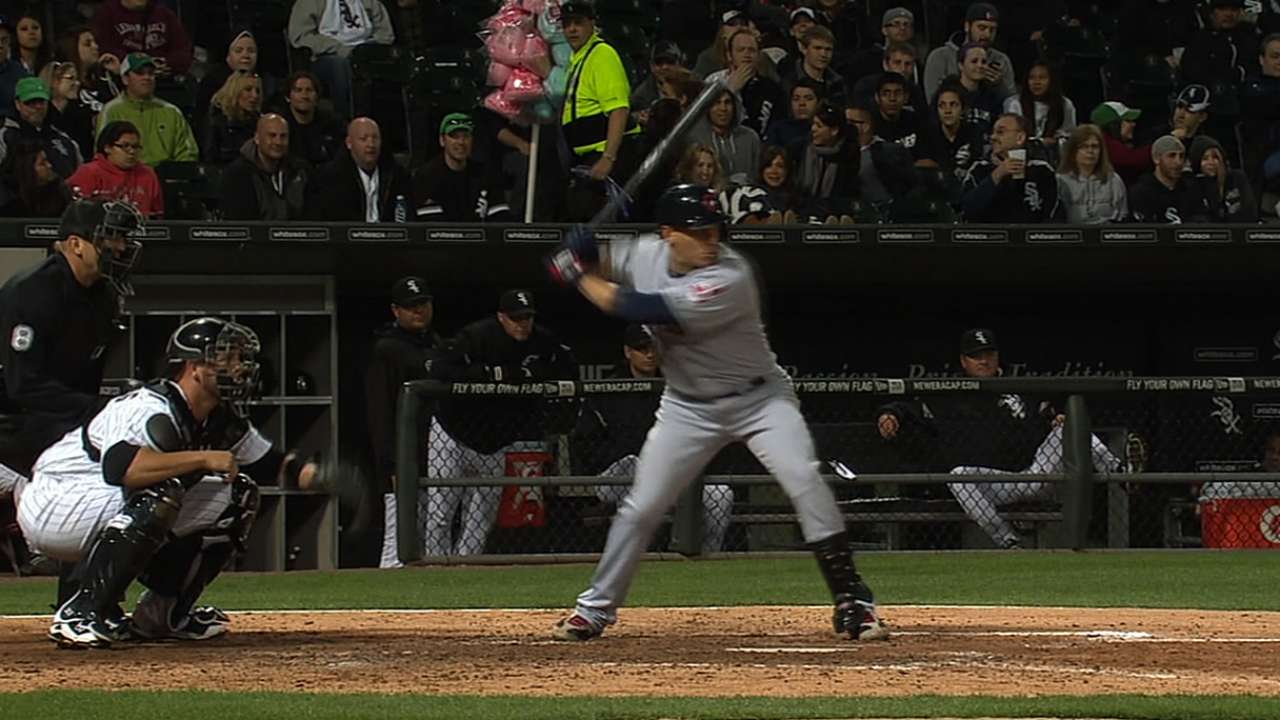 CLEVELAND -- The Indians were struggling to make their own breaks on Monday night. Cleveland was in need of a mistake from the White Sox, one that could put the Tribe in a position to squeeze just enough offense out of a lineup gone cold.
The Indians got what they needed in the eighth inning.
White Sox lefty Matt Thornton spun on the mound and threw wildly toward second base in an ill-fated attempt at picking off Drew Stubbs. The baseball bounced into center field, setting the stage for a 3-2 comeback victory in which Asdrubal Cabrera played the role of hero and starter Justin Masterson walked away a winner after another solid performance.
"That was perfect," Cabrera said of Thornton's mistake. "That's what I was thinking when I was waiting. That was the perfect time for winning the game."
Cleveland's rally was ignited when Stubbs chopped a pitch from Thornton down the third-base line and raced to first for a one-out, infield single in the eighth. With Chicago clinging to a 2-1 lead, Stubbs promptly stole second base. Thornton followed with a walk to Michael Brantley and then, with the fleet-footed Stubbs a threat to swipe third, the lefty tried to catch the runner napping.
Instead, Stubbs and Brantley each advanced easily to third and second, respectively, with Jason Kipnis at the plate.
For a brief moment, Thornton appeared on the verge of an escape act when he struck Kipnis out. Cabrera, however, had other plans. Mired in an early-season slump, the Tribe's All-Star shortstop (hitting .156 on the year) opted for an aggressive approach, hacking at the first pitch. Cabrera lined it into center, plating both Stubbs and Brantley to push Cleveland ahead for good.
After the game, Cabrera's sore left wrist -- hurt during a fall on the dugout steps on Saturday in Houston -- was wrapped in ice. The shortstop sat out Sunday to rest his hand, and then made the most of his return to the lineup.
"I love those situations," he said.
The Indians (8-10) have now won three games in a row for the first time this season.
"Catching a little break here, that's part of the game," Masterson said. "Catching some breaks. That's kind of what we needed at that time, especially for us to keep this streak that we started in Houston [this past weekend]. We've put together some good games."
Of course, it did not hurt that Masterson turned in another strong outing.
Masterson improved to 4-1 on the season and lowered his ERA to 1.85 behind seven solid innings. The big sinkerballer scattered four hits and was charged with two runs, finishing the evening with five strikeouts and four walks. Masterson's sinker was high in the zone at times -- leading to more fly balls than usual -- but he played damage control, and held Chicago to an 0-for-4 showing with runners in scoring position.
The White Sox (7-12) broke through in the form of a solo home run from Conor Gillaspie in the second inning and a run-scoring double by Hector Gimenez in the fourth. Gimenez's two-base hit carried deep to left field, where Brantley crashed into the wall trying to make the catch.
Brantley came up empty, but Masterson was still impressed.
"Michael Brantley was running into a wall for me," Masterson said. "Those are the incredible things that you like to see on this team."
Masterson was also quick to praise catcher Carlos Santana, who noticed that pinch-runner Blake Tekotte was inching off second base with no outs in the seventh inning. Santana alerted the Tribe's middle infielders, and then the catcher threw down to Cabrera for a critical pick-off. One pitch later, Masterson induced an inning-ending double play off the bat of Alejandro De Aza.
"We really needed a play," Masterson said. "[Santana's pick-off] was like a momentum swing for us, because then it was the next inning where we scored the couple runs. Cabby had a real clutch hit for us. I was just happy. That was nice to see."
Cleveland has enjoyed seeing such a strong turnaround from Masterson, who labored throughout last season.
"I was convinced in Spring Training," Indians manager Terry Francona said. "He's good, and he's backing it up. That's the biggest thing in our game, is being consistent and he's backing it up at a pretty high rate."
The Indians struck first against White Sox starter Dylan Axelrod, who gave up a single to Jason Giambi and later issued a two-out walk to Mark Reynolds in the second inning. Lonnie Chisenhall followed by slicing a pitch from Axelrod into left field, where the ball took an unusual bounce and quickly skipped by De Aza in left field, resulting in an unlikely double.
As De Aza and Chicago shortstop Alexei Ramirez chased down the ball, the 42-year-old Giambi lumbered home from second base to put the Indians ahead, 1-0.
The Indians went quiet against Axelrod for the remainder of his outing. The White Sox right-hander surrendered three hits, walked two and ended the night with four strikeouts. Axelrod was in line for the win until Thornton's gaffe created Cleveland's window of opportunity.
"I gave the game away," Thornton said.
Jordan Bastian is a reporter for MLB.com. Read his blog, Major League Bastian, and follow him on Twitter @MLBastian. This story was not subject to the approval of Major League Baseball or its clubs.