Red Sox roll over A's thanks to Napoli's heroics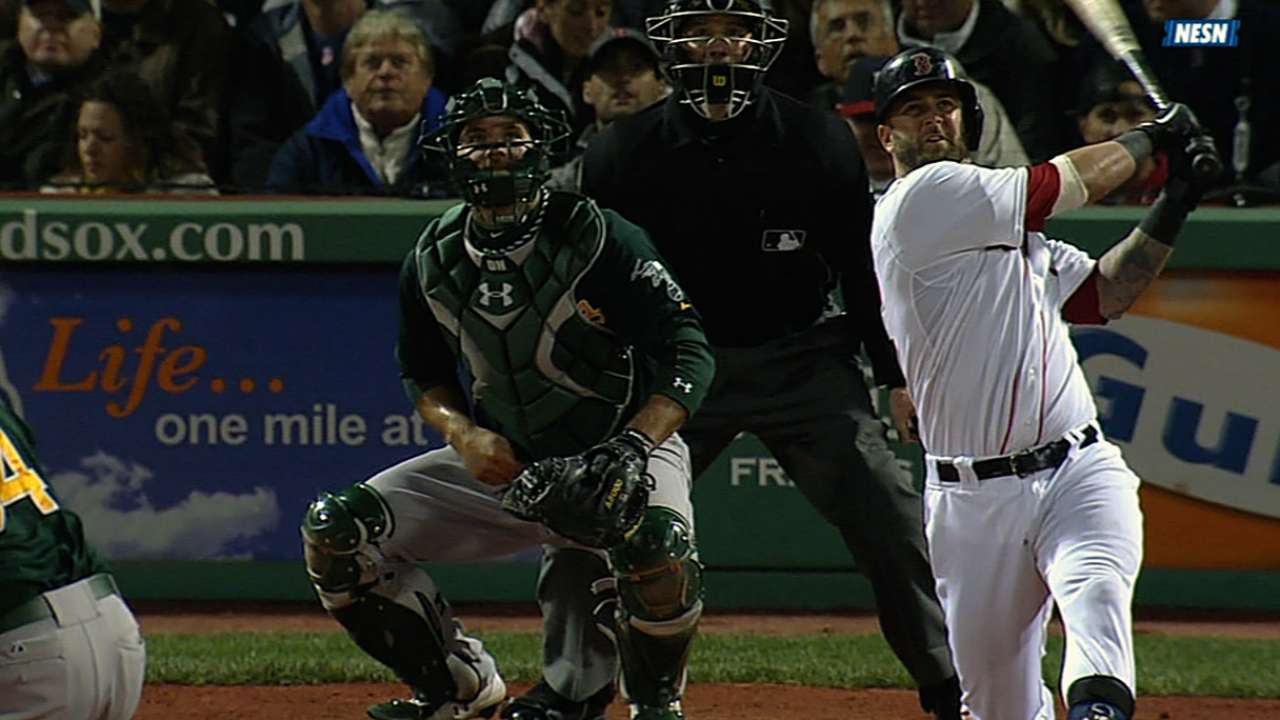 BOSTON -- The reason the Red Sox coveted Mike Napoli over the winter -- even after discovering the hip condition that reduced his original three-year agreement to one year -- is that they were pretty sure he would fall in love with Fenway Park.
Three weeks into the season, it has already happened. Napoli banged a grand slam over the Green Monster on Monday night to lead Boston to a 9-6 romp over the Athletics.
When Napoli stepped to the plate with the bases loaded and no outs in the fifth, it was still a close game, at 4-3. But that changed with one swing by Napoli, who leads the Major League in RBIs, with 25.
This is exactly what the Red Sox envisioned, right?
"He's a very good hitter," said manager John Farrell. "He's got a long track record of extra-base and RBI production, but what he's done in this ballpark over the course of his career, those things are beacons when you look to select a player, and he's a very good fit here."
Napoli is thriving in his new environment, taking aim at all areas of Fenway. Last Monday he banged a walk-off double off the Monster. This time he cleared it for his fourth career slam.
"It was an exciting moment," Napoli said. "I was down, 0-1. I was just trying to drive something, get a sac fly, just put a ball in the air out there. I just got a pitch to drive, and I hit a grand slam."
Earlier in the contest, he smashed an RBI double down the line in right.
"The last 10 games, his swing has become much more compact," said Farrell. "With David [Ortiz] hitting in front of him now ... I'm not going to say that makes opposing pitchers pitch differently to him, but he feels very comfortable in this ballpark. That's proven over time. And the fact we're here 19 games into the season and he's got 25 RBIs, he's doing exactly what we had hoped he would do, and it's great to see that production in the middle of the order."
It's a good thing the Red Sox eventually stretched the lead to six runs, because the A's came back to make a game of it in the eighth, scoring three runs against Clayton Mortensen.
That inning could have been worse if not for a fine running catch in right field by Shane Victorino to rob pinch-hitter Eric Sogard of a two-run double.
"It was a great catch," said catcher Jarrod Saltalamacchia. "That was a game-changer."
Though it was a bitterly cold night, the Red Sox looked comfortable at the plate. Will Middlebrooks also cleared the Monster, belting a three-run homer that signified he might be ready to break out of a prolonged slump.
"I felt good, I hit the ball solid. I'm still not where I want to be, but I felt like I put some better swings on balls today and stuck to my approach throughout the game," said Middlebrooks.
Perhaps it was Middlebrooks' fresh haircut that helped change his fortunes.
"Absolutely," he said. "Wore different shoes, ate different. Anything you could think, I tried to flip-flop it. It worked."
With all that offense at his back, Felix Doubront went 6 2/3 innings for the win, his second of the season. The lefty gave up three hits and three runs. He walked five and struck out eight, throwing 113 pitches.
"I feel good. I was throwing the ball real good. My arm feels a lot easier throwing the ball," said Doubront.
The A's actually jumped out first. After a double by Josh Donaldson put runners on second and third with one out in the second, Jed Lowrie scored on a wild pitch. Josh Reddick followed with an RBI single up the middle to make it 2-0.
In the bottom of the second, Boston came out swinging. Ortiz led off with a double off the Monster. Then it was Napoli's turn, and he belted a double to left that cut Oakland's lead to one run.
"He's hot right now," said Middlebrooks. "He's the guy we want at the plate with guys on base, and it seems like he's always coming through for us."
It was a night to forget for Athletics right-hander A.J. Griffin, who got himself into trouble in the fourth when he hit Napoli with the bases empty and two outs.
"It got me, like, in the inside of my bicep," said Napoli. "It was weird, I never got hit there before. And my arm went numb, so I was kind of freaking out a little bit. I got the feeling back. It's sore, but I was able to keep going."
Daniel Nava came up next and belted a double. Up stepped Middlebrooks, who unloaded for a three-run homer into the Monster seats. That one swing turned a one-run deficit into a two-run lead.
"I didn't feel like I made bad pitches," Griffin said. "The worst one, I thought, was the one to Middlebrooks, a hanging cutter. I was just trying to get back into the count, and he tagged that one pretty good."
Doubront had an ugly fifth inning, walking three, but he minimized the damage, giving up just a run.
And in the fifth, the Sox erupted. Victorino, returning after missing two games with a strained back, got things rolling with a leadoff single. Boston then got a break when Dustin Pedroia hit a grounder to third and second baseman Andy Parrino dropped the throw for an error. Following a walk to Ortiz, Napoli took the swing that changed the entire complexion of the game.
The Red Sox expect there will be many more moments of that sort this summer.
"[Napoli's] incredible," said Saltalamacchia. "Strong as can be. He hits things with one hand. It's nice to have him in our lineup. He's got a great idea at the plate. There's pitches that look like they are going to be balls, and he still hits them. That's a tough guy to pitch around. I know -- we tried for years."
Ian Browne is a reporter for MLB.com. Read his blog, Brownie Points, and follow him on Twitter @IanMBrowne. This story was not subject to the approval of Major League Baseball or its clubs.