Griffin, A's have night to forget in Boston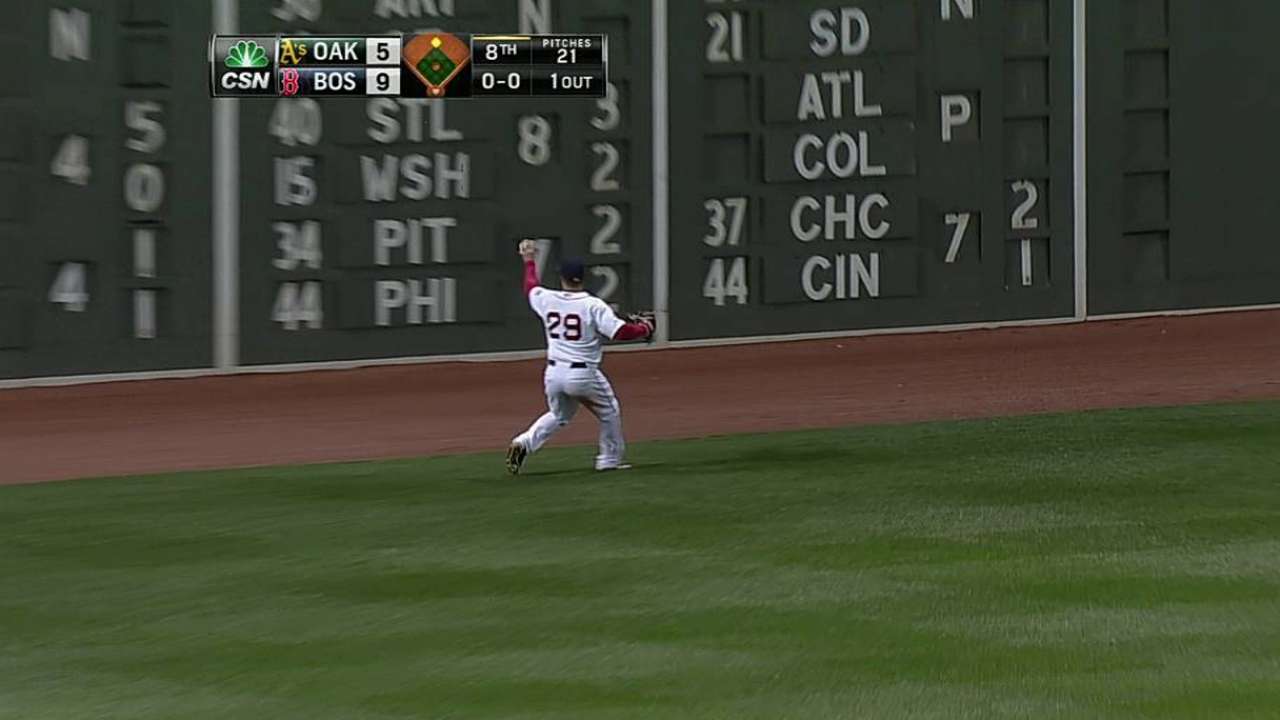 BOSTON -- For some in the clubhouse, this was simultaneously a day to be remembered and a day to be forgotten.
That was especially the case for Josh Reddick, whose morning was spent sharing smiles with a young bombing victim in a children's hospital, and whose night concluded in a two-hit performance in the middle of an alarming slump.
"You could see the confidence on his face after that second hit," manager Bob Melvin said. "His demeanor, it said it all."
But in the end, Reddick's team was handed its fourth straight loss, a 9-6 deficit to the host Red Sox, marking the first time the A's have dropped this many since their nine-game skid last May.
That's the part nobody wants to remember.
Oakland has yet to look at ease in the company of non-division foes, sporting a 1-6 record while being outscored, 46-18, away from the cozy confines of the American League West. And for much of Monday, minus a late comeback attempt, they looked simply dreadful.
Playing in Boston for the opener of a three-game set, having already been swept away in St. Petersburg over the weekend, the A's showcased sloppy play on defense and couldn't do enough to offset that at the plate, unable to relieve the pain felt by an uncharacteristically poor pitching performance from right-hander A.J. Griffin.
Never mind that their previously AL-best 12-4 record is now 12-8. The Red Sox now stand atop the league with a 13-6 mark.
Unusual pitching struggles have plagued the A's at times this year, and the bug finally got to one of their best in Griffin, who had yet to lose a game this season -- after losing all of one last year, with the A's going 15-3 in his previous 18 career starts.
The righty gave up a career-high seven earned runs (nine total) on eight hits, six of the extra-base variety, and a walk next to three strikeouts.
"It looked like he was rushing just a bit," Melvin said, "and balls that are usually at the knees for him were more mid-thigh."
Griffin proved hittable from the start, compiling loud outs before being touched for a run in the second on back-to-back doubles off the bats of David Ortiz and Mike Napoli to erase a two-run lead gained by Oakland in the top half of the inning against lefty Felix Doubront.
Having allowed just three extra-base hits combined in his first three starts, Griffin gave up his third of the night in the third inning, though he left it unscathed. That wasn't so much the case in the fourth -- he surrendered a three-run homer to Will Middlebrooks -- or the fifth, when the Red Sox sent 11 men to the plate and scored five runs.
"I felt like I was making my pitches, and they were just being aggressive," Griffin said. "I was trying to get ahead, and they were putting good swings on them. They had good approaches and stayed on the ball all night."
"We knew Griffin was going to come in with a high strike percentage," Red Sox manager John Farrell said. "I thought our guys did a great job of going early in the count and squaring him up."
Napoli's grand slam proved to be the biggest blow, but Griffin wasn't the only one who looked out of sorts in the fifth. The blast could have been avoided altogether had Andy Parrino not bobbled a potential double-play ball two batters prior. That was followed by another error, this one from Brandon Moss, to put a runner on for reliever Chris Resop.
That's when left fielder Chris Young dropped an ensuing fly ball from Middlebrooks, though he recovered to get the forceout at second base. But Jarrod Saltalamacchia's double brought in another run, leaving the A's down by six.
Rather than back down, Oakland plated three in the eighth against Boston's relief corps on back-to-back doubles from Josh Donaldson and Reddick, but that's where the comeback attempt would stop -- or, rather, pause.
"We should be able to take the at-bats, certainly at the end of the game, into tomorrow," Melvin said. "Maybe not our best game, but in a game like that, there's no one play you can say cost you the game. There were a lot of things."
"It's something to build off of," Reddick added. "For us to come back after being down by so many so early was good for us. To not just lie down, especially with a losing streak, was huge."
That, too, they can tuck away in the memory bank.
Jane Lee is a reporter for MLB.com. Read her blog, Major Lee-ague, and follow her on Twitter @JaneMLB. This story was not subject to the approval of Major League Baseball or its clubs.