Walk in 10th gives KC rare twin-bill sweep of Sox
Cain draws bases-loaded pass for go-ahead run; bullpen solid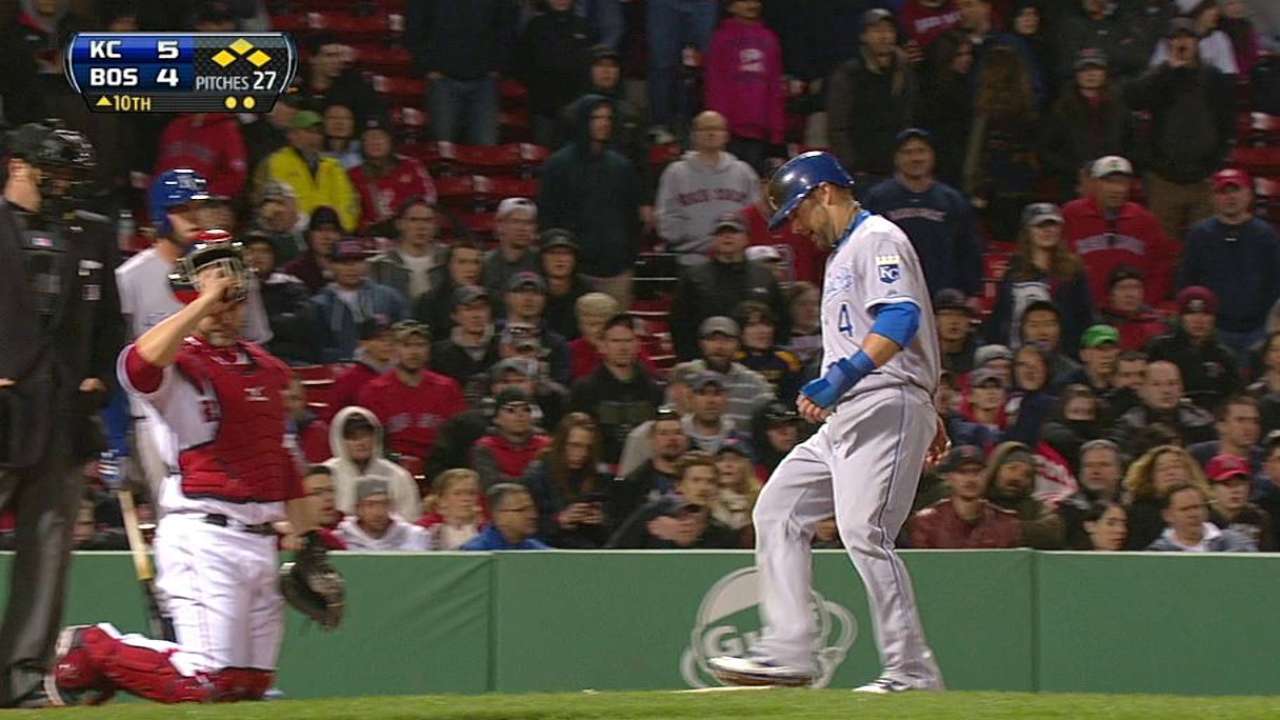 BOSTON -- How rare was this for Kansas City? A doubleheader sweep at Fenway Park?
Until the Royals completed it on Sunday night, a 10-inning, 5-4 victory following a 4-2 win in the afternoon opener, they hadn't swept a doubleheader here in 42 years -- since May 31, 1971. Heck, they hadn't taken a twin bill from the Red Sox at all since Aug. 12, 1986, at Kansas City.
"Any time you can sweep a doubleheader with any big league team, especially Boston -- at Boston, it's huge," Royals outfielder Alex Gordon said.
The Royals did it against a team that had won seven straight games and was riding an emotional wave associated with the horrors that struck the city at the Boston Marathon on Monday, and escalated again with a deadly manhunt that ended on Friday.
"They've got a great team and a great group of guys over there, and we just have to do our thing as well. We play hard and we never give up until the end," Royals catcher George Kottaras said.
Gordon and Kottaras each homered in the fifth inning against Red Sox right-hander Allen Webster, making his big league debut. Butler's blast in the eighth off reliever Koji Uehara pulled the Royals even at 4.
They Royals had four homers in the doubleheader after having just six in their first 15 games.
"The home runs were big to put us on the board with one swing," manager Ned Yost said.
Yet, the winning run in the 10th came on a bases-loaded walk to Lorenzo Cain. On just four pitches, too.
"It was a great at-bat right there," Yost said of his .368 hitter. "He laid off of four pitches to plate the winning run. Lot of times, guys get anxious in those situations and try to do too much, but Lorenzo's seeing the ball real well right now."
Red Sox left-hander Andrew Miller was trying to keep the score at 4-4, when Gordon got a one-walk single, Alcides Escobar walked and, after Butler fanned, Eric Hosmer got an infield hit. Two out and the bases jammed for Cain.
"Swing at a strike, that was my main focus," Cain said. "He threw me a first-pitch ball and I was expecting a strike, but he came with the slider, down and in, so I took that one. Two-and-0, I was taking all the way."
And, obviously, on 3-0 as well. Miller didn't even come close on that one and Gordon trotted home with the deciding run. Mike Moustakas rolled into the third out, but the Royals were ahead.
"I felt good tonight, so I felt like my stuff was there and like, generally, I was ahead of guys except for those two hitters," Miller said. "I lost the guy with the bases loaded on four pitches. It's tough and I've got to do a better job, and I'm working on it."
Royals starter Jeremy Guthrie dodged some trouble, but not others, and gave up four runs in his six innings. He surrendered two run-scoring hits to Mike Napoli, including a homer.
"Guthrie wasn't his sharpest but he did a great job of keeping us in the game," Yost said.
So did relievers Luke Hochevar, who worked one scoreless inning, and Kelvin Herrera, who added two more. Then, for the bottom of the 10th, out of the bullpen came closer Greg Holland for the second time on Sunday.
"I was wondering how his stuff would be after saving the first game, and he came out and had dynamic stuff in the second game," Yost said.
Sure did. Holland struck out all three batters he faced for his second save of the day and his fifth of the season after a rough beginning. He's the first KC reliever to get saves in both ends of a doubleheader since Roberto Hernandez on July 15, 2002, against Texas.
"I knew it wouldn't be a long process before I got back to getting outs the way I know I can," Holland said.
This has been a strange but rewarding trip. After losing the first game at Atlanta, the Royals bounced back to snap the Braves' 10-game winning streak. After a day off at Boston, Friday night's game was postponed because of the police action. On an emotional return to baseball on Saturday, the Red Sox took the series opener.
"It's tough to play here. It's a good team and it's hot," Guthrie said.
But then came Sunday's sweep by Kansas City after which both teams remained in first place -- the Royals in the American League Central, the Red Sox in the East. Now, on Monday, the Royals have another off-day, in Detroit.
"Every game this road trip, we've been playing good teams and had a chance to win every game, so it's been good to see," Gordon said. "And I don't even think we're playing our best baseball right now. The pitching is doing great, but offensively we can do better. ... A big series in Detroit coming up, rest up after this one, and get at 'em."
Dick Kaegel is a reporter for MLB.com. This story was not subject to the approval of Major League Baseball or its clubs.