Sox drop nightcap with Royals on walk in 10th
Reliever Miller can't find zone against Cain; Webster solid in debut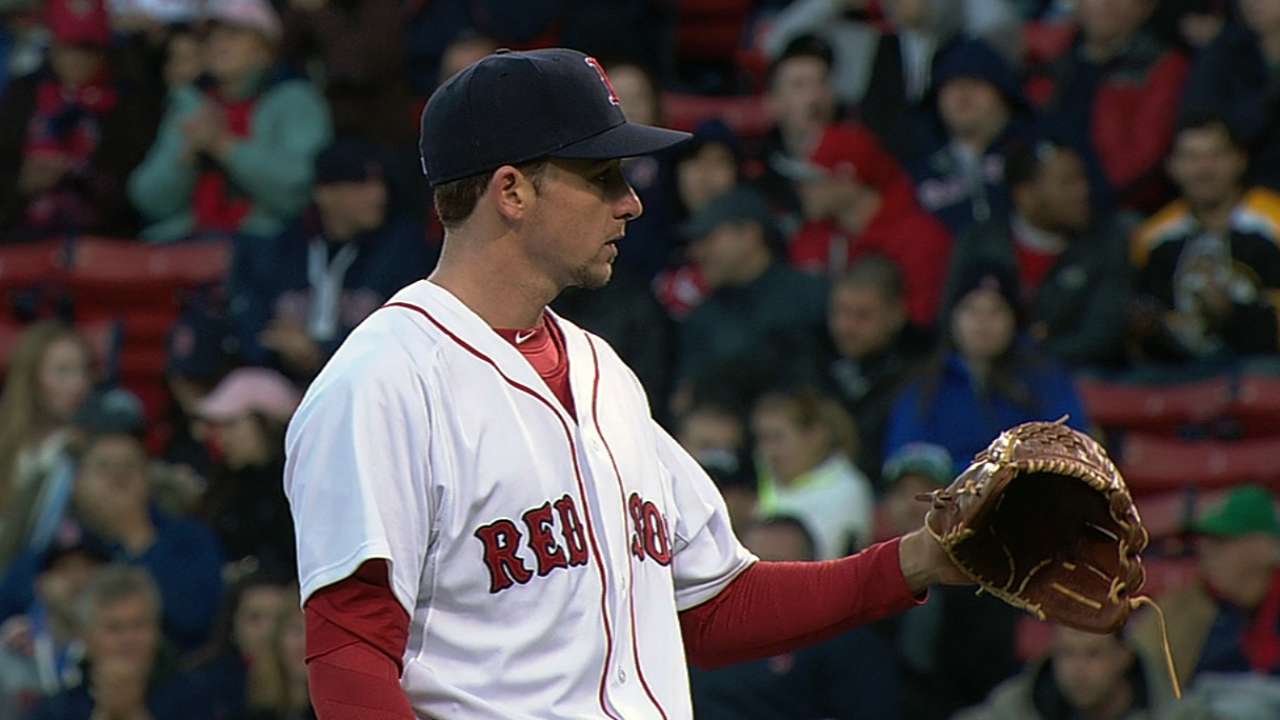 BOSTON -- Andrew Miller was the second-to-last reliever in the bullpen who hadn't yet pitched on Sunday. The only other rested reliever was knuckleballer Steven Wright, who has never thrown a pitch in the Major Leagues.
In the 10th inning of the second game of a doubleheader, Red Sox manager John Farrell left the ball in Miller's hands. Miller fully expected to get the inning to himself at that point. He just couldn't throw a strike when he needed to.
The 6-foot-7 lefty got two outs before losing control and walking home the go-ahead run on four pitches, as the Royals rallied for a 5-4 win and a twin-bill sweep at Fenway Park.
"I know that right now, the way I'm throwing the ball, guys are going to work counts and see pitches," said Miller, who has walked six batters in four innings this season. "I got to be more aggressive in the strike zone and I'm not doing it."
Miller threw 29 pitches, just 15 for strikes, to get his first loss of the season. With Franklin Morales and Craig Breslow working their way back from the disabled list, Miller has been the only lefty in the Red Sox bullpen.
Lorenzo Cain, who drew the walk to push home the go-ahead run, said he was waiting for a strike and Miller never threw one.
"He threw me a first-pitch ball and I was expecting a strike, but he came with the slider, down and in," Cain said. "So I took that one. Two-and-0, I was taking all the way."
Billy Butler first hit an eighth-inning homer off Koji Uehara to tie the game.
After Andrew Bailey pitched a perfect ninth, the Red Sox put together a rally in the bottom half.
Jacoby Ellsbury hit a one-out single and stole second base, leaving two chances for a base hit to plate the winning run.
Daniel Nava worked a seven-pitch at-bat before striking out swinging. With first base open, the Royals chose to walk Dustin Pedroia and face Mike Napoli.
Napoli launched a 100-mph fastball from Kelvin Herrera deep to center field, but the ball was just short of the wall for the third out.
Napoli finished 3-for-5 with a single, double, a home run and two more RBIs to push his season total to 19.
"I think over the past seven-10 days, we're seeing his swing start to get a little bit shorter," manager John Farrell said. "Unfortunately, that last at-bat where he squares a ball up to the track in center field, kind of somewhat of a picture of this entire day, where we missed a couple of opportunities, where we had men in scoring position, and that was the difference in the two games today."
The late-inning meltdown spoiled a positive Major League debut for Allen Webster.
The first pitch Webster threw was a 95-mph fastball that caught too much of the plate. The left-handed-hitting Alex Gordon launched the ball off the Green Monster. Gordon later scored, but Webster bounced back to log six innings, allowing just two earned runs on five total hits.
"I felt comfortable from, well, not the first pitch, but once I got through that first inning, things started getting smooth for me," Webster said.
The 23-year-old made headlines in Spring Training with a fastball that touched 99 mph and a 1.64 ERA in 11 innings. In his first two starts with Triple-A Pawtucket, Webster struck out 12 batters in 10 innings and allowed just one run on seven hits.
Webster flashed an array of powerful pitches, including a fastball that touched 97 mph, but let two of them catch too much of the plate in the fifth inning, when he allowed a pair of home runs to Alex Gordon and George Kottaras.
The pitch to Gordon was a 96-mph four-seamer on the outside edge of the plate, exactly where catcher David Ross was calling for it with a 2-2 count. Gordon just put a nice swing on it, sending it opposite-field and over the left-field wall.
"I feel so bad about that one," Ross said. "The scouting report called for it in, I probably should have gave him a change up.
"You don't ever want to catch a guy into trouble and ask a guy to do something that's a little tougher to do. We didn't throw any front-hip sinkers to lefties -- that's something he's still working on. Like that two-strike comebacker, so we kind of stayed away from that. I tried to stay mainly away. We didn't go in too much because I know how hard that is."
But Webster showed a lot on Sunday, bouncing back each time he made a mistake. He struck out five batters in his six innings, throwing 84 pitches, 57 for strikes.
Webster will be sent back to Pawtucket without a corresponding roster move because of an MLB rule that allows a 26th man for doubleheaders. But he could be back at some point this season.
"We have a really good pitching staff now as it is," Ross said. "He's on another team that's not as well off as we are and I definitely think he would be in the big leagues."
Jason Mastrodonato is a reporter for MLB.com. Follow him on Twitter @jmastrodonato.. This story was not subject to the approval of Major League Baseball or its clubs.