Tigers' skid hits four after 13-inning loss to Angels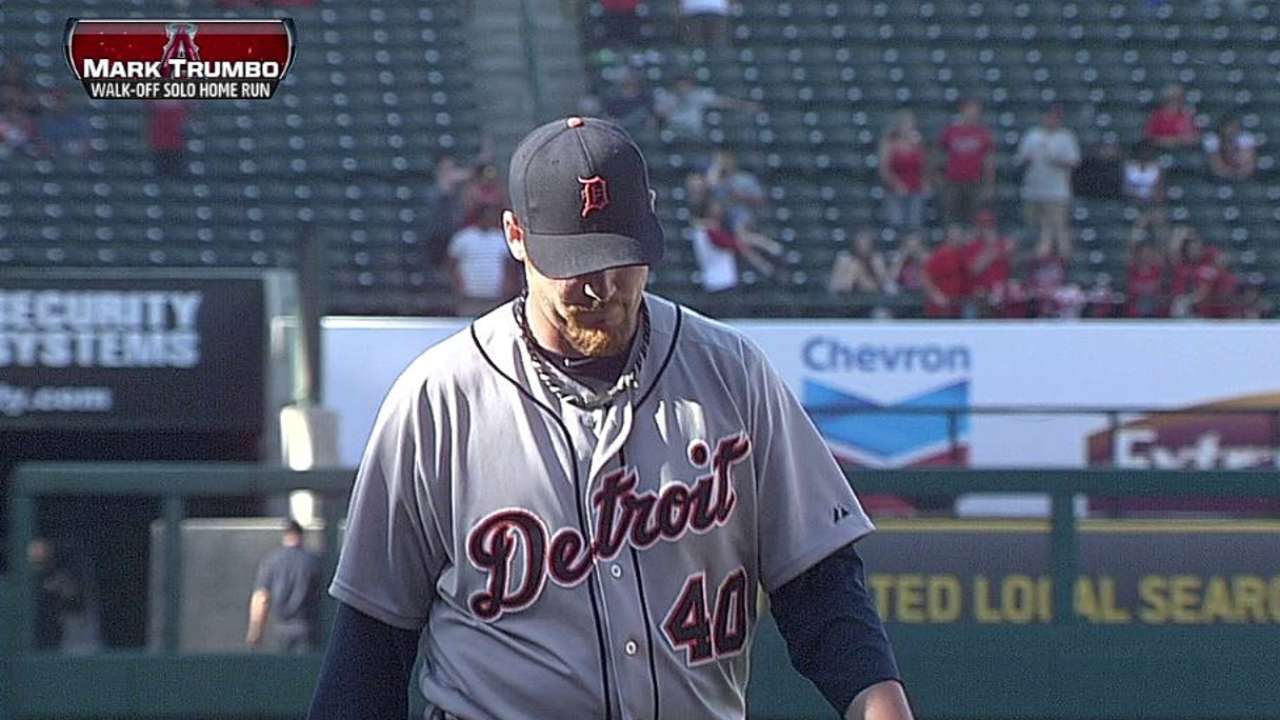 ANAHEIM -- Finally, the Tigers found the big hit they'd been seeking all weekend to get them back into it against the Angels. They could not get another one to put them over the top.
Once Mark Trumbo's home run in the bottom of the 13th sent the Angels to a 4-3 win, the Tigers were ready to find the plane and get out of town.
They bid farewell to the West Coast for the regular season with a three-game series sweep and a four-game losing streak. In the process, a road test that began with series wins in Oakland and Seattle ended with a lost weekend in Southern California.
"We had a chance to have a real good trip," manager Jim Leyland said, "and we ended up with not a bad trip. It could've been a real good trip."
Leyland didn't want to call it a bad trip, as well as the Tigers pitched for most of it. He couldn't call it a good trip, the way they hit. As lopsided as the 22-3 margin over the series sweep looked, thanks to Friday's four-run eighth inning and Saturday's nine-run first inning, Detroit had its chances, none bigger than Sunday.
After the Tigers were held to one run over three games for the first time in Leyland's tenure, as well as three runs over four games, Sunday was a mathematical improvement. After three other innings ended with the bases loaded, it was not a breakthrough.
"It was tough," Prince Fielder said. "It's baseball. I think we played well, just didn't win. Everybody's prepared, everybody played hard. If you do all that, you can go to sleep at night, because besides that, there's nothing else.
"There's no such thing as, 'Get a hit or get an out.' If it happens, it happens. If it doesn't, it doesn't. There's no formula for it."
Fielder should know. He went from winning American League Player of the Week last Monday to a 5-for-27, 12-strikeout trip to Seattle and Anaheim. His two-run home run in Sunday's fifth inning, however, seemed to be the Tigers' breakout hit, three innings after their offensive nadir.
Detroit actually took its first lead of the series in the second inning, getting Jhonny Peralta around the bases following a leadoff walk, Omar Infante's single, a C.J. Wilson balk and an Austin Jackson ground ball for a fielder's choice. It took Wilson's balk, though, to put Peralta in position.
Back-to-back two-out walks to Torii Hunter and Miguel Cabrera gave the Tigers a chance for more, but Wilson escaped by getting Fielder to hit a comebacker. It was the second consecutive inning Wilson stranded the bases loaded, having struck out Victor Martinez and watched Matt Tuiasosopo's fly ball perish on the warning track in the opening frame.
The chances of Wilson escaping another leadoff walk unpunished through the middle of the order -- even with Detroit's struggles -- seemed unlikely after he walked Hunter to lead off the fifth. Wilson struck out Cabrera, but Fielder pulled a 1-1 fastball into the right-field seats for his fifth home run of the year and his third on the nine-game road trip, tying the game at 3-3 after the Angels had pulled ahead in a miscue-fueled three-run third.
Fielder's two-run homer was the first multi-run hit for the Tigers since Cabrera's go-ahead two-run homer Tuesday in Seattle, and it topped the Tigers' scoring output from the previous three games combined. It was not enough by itself. The game remained tied into extra innings, though the Tigers had a golden chance in the ninth after Infante's leadoff single. Infante was retired on a disputed call at second on Jackson's bunt, but Jackson's third stolen base of the series put him in scoring position for the middle of the order against Ernesto Frieri. Replays suggested Infante had beaten the throw to second. Had second-base umpire Gary Darling ruled as such, the Tigers would have had two on and nobody out, rather than Jackson on first with one out. Jackson eventually stole second to reach scoring position, but the open base allowed Frieri to pitch carefully with two outs to both Cabrera and Fielder, rather than facing Fielder with the bases loaded and one out.
That put the onus on Martinez, who had a three-hit game Tuesday in Seattle but has gone 2-for-21 since. Though Martinez fouled off one fastball after another to keep the at-bat alive following an 0-2 count, he couldn't put any of them solidly in play. On the eighth pitch of the bat, Frieri got Martinez to chase a high fastball, popping it up to left field.
"I didn't hit the ball the way I wanted," Martinez said. "I was just trying to put together a good at-bat. He was a little wild. All of a sudden, I was down 0-2, and it's tough."
Detroit went 1-for-8 with runners in scoring position Sunday, and 5-for-52 for the week. The lone hit in that situation Sunday was a first-inning infield single from Fielder that Wilson fell over while trying to field, loading the bases.
"We didn't make a couple plays. That's part of the game," Leyland said. "And we didn't get a couple hits when we had opportunities. I think that pretty much sums it up."
The Tigers' bullpen gave them chances, including two perfect innings and five strikeouts from Al Alburquerque, as well as a Joaquin Benoit strikeout of Howie Kendrick to strand the potential winning run on third in the 10th inning. Phil Coke intentionally walked Albert Pujols with the bases empty to face Josh Hamilton in the 12th, striking him out.
Coke was not, however, going to walk the right-handed hitting Trumbo leading off the 13th. And with no right-handers available -- Octavio Dotel was hurt, and Brayan Villarreal had pitched the previous two days -- Coke had to face him.
Trumbo guessed changeup on a 3-1 pitch and got it.
"That's where the advantage of the home team comes in, always having the last chance," he said. "That's in the back of your mind that you're going to have the last chance."
Said Coke: "It was the right pitch. It was just two balls too high and found the barrel. If he's out there guessing, he guessed right."
Jason Beck is a reporter for MLB.com. Read Beck's Blog and follow him on Twitter @beckjason. This story was not subject to the approval of Major League Baseball or its clubs.