Seager lone bright spot as Rangers overpower Harang
Third baseman doubles, goes deep; four Texas homers too much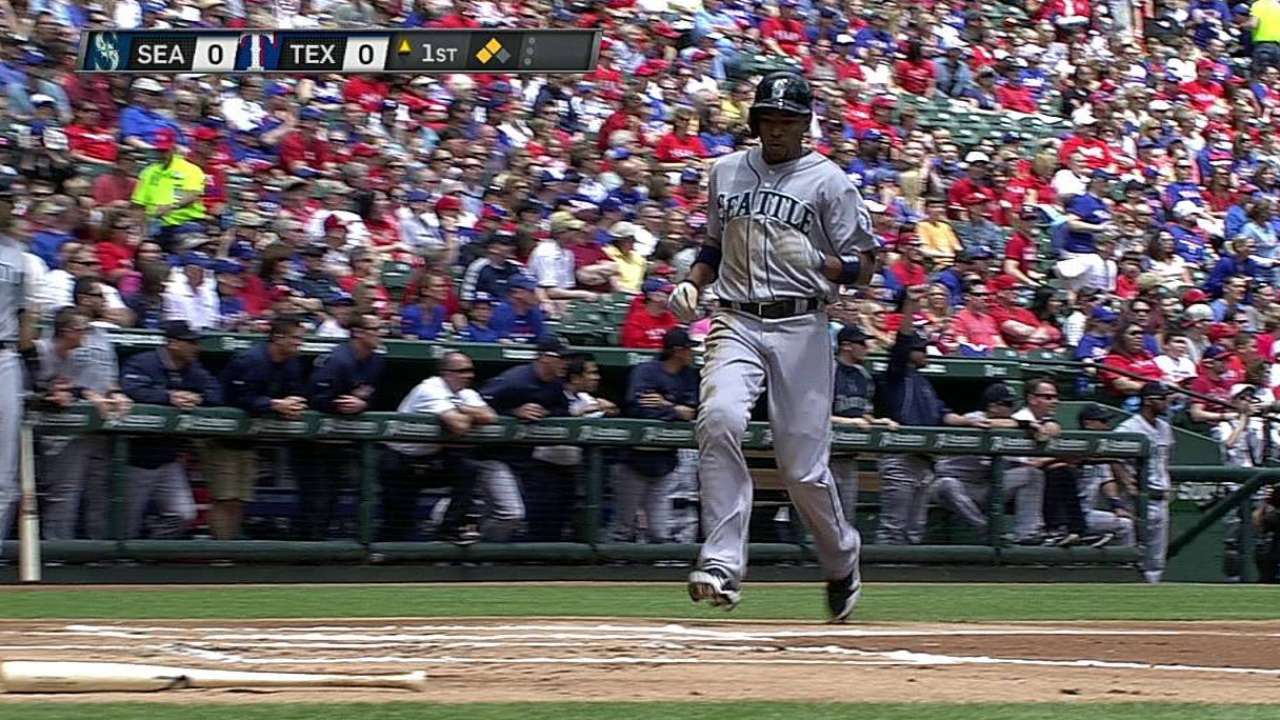 ARLINGTON -- A Mariners team looking for answers can at least hold young third baseman Kyle Seager up as Exhibit A of how things can turn around after a slow start.
But after Texas finished off a three-game sweep with an 11-3 drubbing on Sunday, Seattle needs to find those solutions in a hurry.
Seager continued his recent surge with a 3-for-4 game that included a home run and double, but that was the lone bright spot for a club that was outscored 23-3 in the series and has lost five of its last six to fall to 7-13.
"I got out of whack a little bit out of the gate," said Seager, who has raised his batting average from .147 to .268 with a career-high 10-game hitting streak. "Everybody wants to get off to a nice start. You want to get off on a good foot, but I wasn't putting myself in the best position to hit. I got back to what works with my swing and everything."
Unfortunately, he's a lone wolf in that regard for a Mariners team that went 1-for-14 with runners in scoring position on Sunday and was 1-for-24 for the series.
The Mariners struck out 11 more times in the finale, nine coming in the first six innings against rookie right-hander Justin Grimm, who made just his fourth Major League start.
"I'm upset, to say the least, with our approach with two strikes," said manager Eric Wedge. "It's something that has been addressed and something that has to be better. The strikeouts are ridiculous. We're much better than that."
Despite a .218 batting average and the lowest run production in the American League, Wedge believes the team that crushed the ball all Spring Training and showed some initial offensive spark in the first 10 games of the season is still there, hidden inside a collective group of struggling players.
"We had a pretty good stretch going with most of our guys, but they kind of all crashed together," Wedge said. "So now we have to pick ourselves up and get it going the other way. If we do, we should have a chance to do some good things."
Seager is among the believers, having rediscovered his own stroke in the past 10 days.
"We're still going to have a good offense," Seager said. "Everybody goes through their ups and downs over the course of a season. We're going to have a good offense. Nobody in here is questioning that. We look at our team and lineup and potential and feel strongly about it. If we'd got a couple big hits today, we're not worried about the offense."
The lack of timely production led to a runaway win for the Rangers, however, as Texas slugged a season-high four home runs, including three off starter Aaron Harang.
The 34-year-old right-hander, making his second start since being acquired in a trade with the Rockies, ran out of steam in the fifth inning as the Rangers scored five times -- four on Nelson Cruz's grand slam -- before Harang's afternoon ended at 105 pitches.
"I guess you could look at it as I was throwing a lot of pitches there that last inning and maybe ran out of a gas a little bit," Harang said. "But the biggest part is I got away from doing what I was doing early in the game when I was pounding the strike zone. When you're behind in the count, hitters can be a little pickier and look for one pitch, and you can't do that at this level."
After becoming the first opposing team to be shut out in back-to-back games in Texas since the stadium opened in 1994, Seattle finally ended a 19-inning scoring drought when Seager doubled in Endy Chavez in the first.
Chavez also doubled over the head of center fielder Leonys Martin in the fifth to score Brendan Ryan from first base and cut the Rangers' lead to 3-2, but Grimm then proceeded to strike out Seager, Kendrys Morales and Michael Morse to set the tone for the day.
"We had guys on base, they just did a good job pitching out of jams," said Seager. "They threw the ball well again. We just have to do a better job of scoring runs, obviously."
The Rangers had no such problems, as Harang gave up a solo homer to Martin in the third, a two-run blast to Mitch Moreland in the fourth and then the slam to Cruz in the fifth. Harang is now 0-2 with a 10.24 ERA in two starts.
The Rangers' fourth home run was a two-run shot to left field by Adrian Beltre off Blake Beavan in the sixth.
Seattle is lacking such big boppers in its lineup, with Morse struggling since fracturing his little finger nine days earlier against the Rangers. He snapped an 0-for-16 slump with an eighth-inning double, but is still just 3-for-24 since getting hit in the hand. His average has fallen to .231.
Kendrys Morales, the other veteran acquired to help the middle of the order, went 0-for-5 and is batting .235.
"I go back to what I've been saying, I think we're going to be a good offensive ballclub," said Wedge. "We've got too many good hitters -- veteran guys who are pretty good and younger guys that are going to continue to get better. So it's going to happen.
"It's frustrating right now. This was a tough series. But they've got to be tough and get through this."
Greg Johns is a reporter for MLB.com. Follow him on Twitter @GregJohnsMLB as well as his Mariners Musings blog. This story was not subject to the approval of Major League Baseball or its clubs.