Padres' offense stagnant in sweep by Giants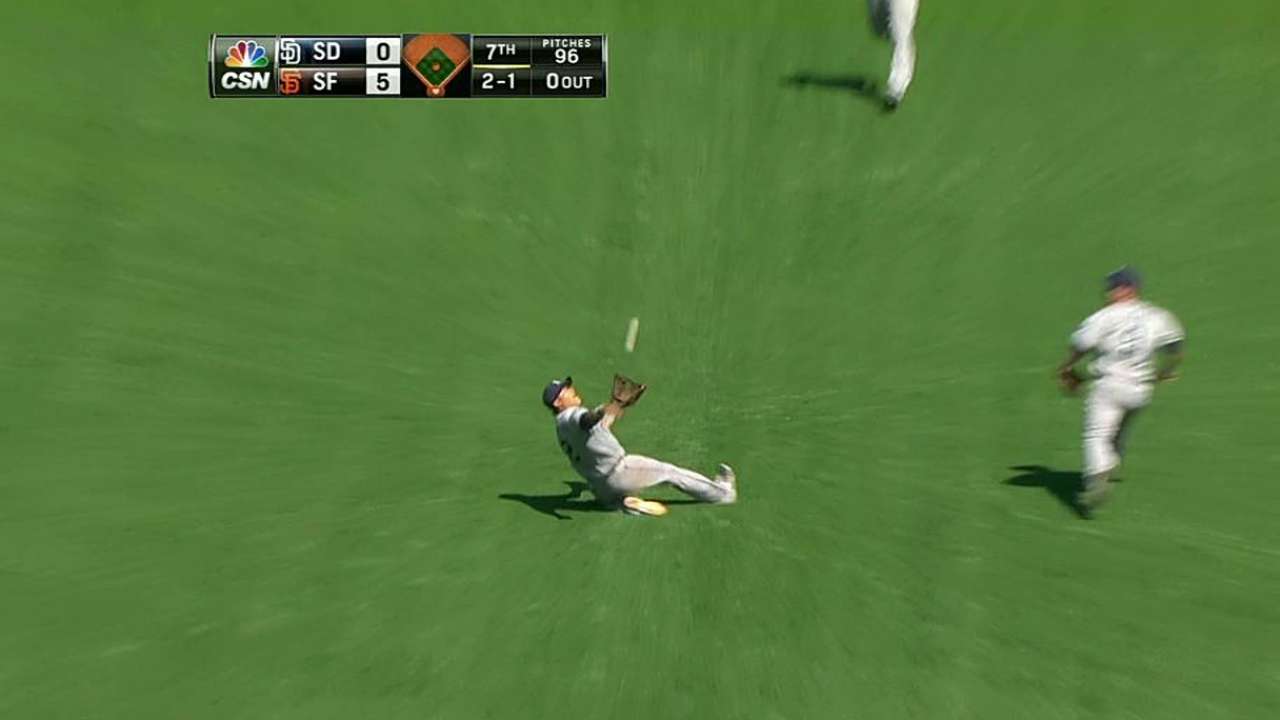 SAN FRANCISCO -- All of the momentum the Padres brokered last week with their three-game sweep of the Dodgers essentially evaporated on a lost weekend at AT&T Park.
Like air being let out of a beach ball, the Padres' offense hissed quietly during a sweep by the Giants, the latest setback a 5-0 loss before a sold-out crowd.
After scoring 22 runs in three victories over the Dodgers, the Padres scored two runs in three losses this weekend -- and didn't score a single run over the final 21 innings of the series.
"You didn't think it was coming after our at-bats in Los Angeles," Padres manager Bud Black said. "... No reason for it other than [the Giants] made pitches."
The Padres (5-13), who head home to start a series against the Brewers on Monday, have been swept in three of the six series they've played in this young season.
Following a cue by fellow starters Madison Bumgarner and Tim Lincecum earlier, Giants pitcher Barry Zito (3-1) tossed seven scoreless innings, getting nine fly-balls out, striking out four and allowing five hits.
Bumgarner, Lincecum and Zito combined to allow two earned runs in 19 2/3 innings in the series.
The Padres did square up a few balls Sunday, as Jesus Guzman flied out deeply to left field twice. Rookie Jedd Gyorko, facing Zito for the first time, hit a ball on the screws in the fourth inning, lining out to second base.
"I thought we just missed a couple. There were some deep flies that were caught. But that's sort of what Barry does. He works well at the top of the zone," Black said.
The Giants got all the runs they would need in the third inning off Padres starting pitcher Eric Stults. Andres Torres doubled and moved to third base on Brandon Crawford's single.
After a Zito bunt put runners at second and third base, Angel Pagan knocked in two runs with a double. Later in the inning, it was Pablo Sandoval who rolled a ball up the middle for a 3-0 lead.
Two innings later, Buster Posey hit his first home run of the season, a two-run shot off Stults, for a 5-0 lead. The way this series went for the Padres, a five-run deficit felt a whole lot larger.
"They bunched some hits together in the third," Black said. "Posey hit a cutter in and got it in the air. They really didn't hit [Stults] hard with the exception of Posey."
Stults allowed five runs on eight hits over seven innings. He struck out two and didn't walk a batter. The five runs he allowed were a season high.
"Stults has been throwing the ball well," said Giants manager Bruce Bochy. "... Changing speeds, a nice, slow curveball to go with his other pitches. He throws his soft stuff a lot. Buster did a great job of staying back [on the home run]."
The Padres had six hits in the game, two each by Everth Cabrera and Nick Hundley. For Hundley, it was already his sixth multi-hit game of the season. He already has more hits in April (16) than he had a year ago (15) with eight games left in the month.
"[With Zito], all of his stuff is in the similar speed range so it's important to be aggressive with him," Hundley said. "I've seen guys either try to do too much or force a ball to a certain spot of the field."
The Padres got a big scare in the sixth inning when left fielder Kyle Blanks made a nice running catch of a ball hit by Joaquin Arias before running headlong into the padded wall. Blanks laid on the ground for a minute, dazed. He eventually left after suffering a cut to his left eyelid -- his sunglasses were the culprit -- that needed four stitches.
"I'm just sore," Blanks proclaimed afterward. "I was happy I hung onto it."
Corey Brock is a reporter for MLB.com. Keep track of @FollowThePadres on Twitter. This story was not subject to the approval of Major League Baseball or its clubs.