Dominant Zito leads Giants to sweep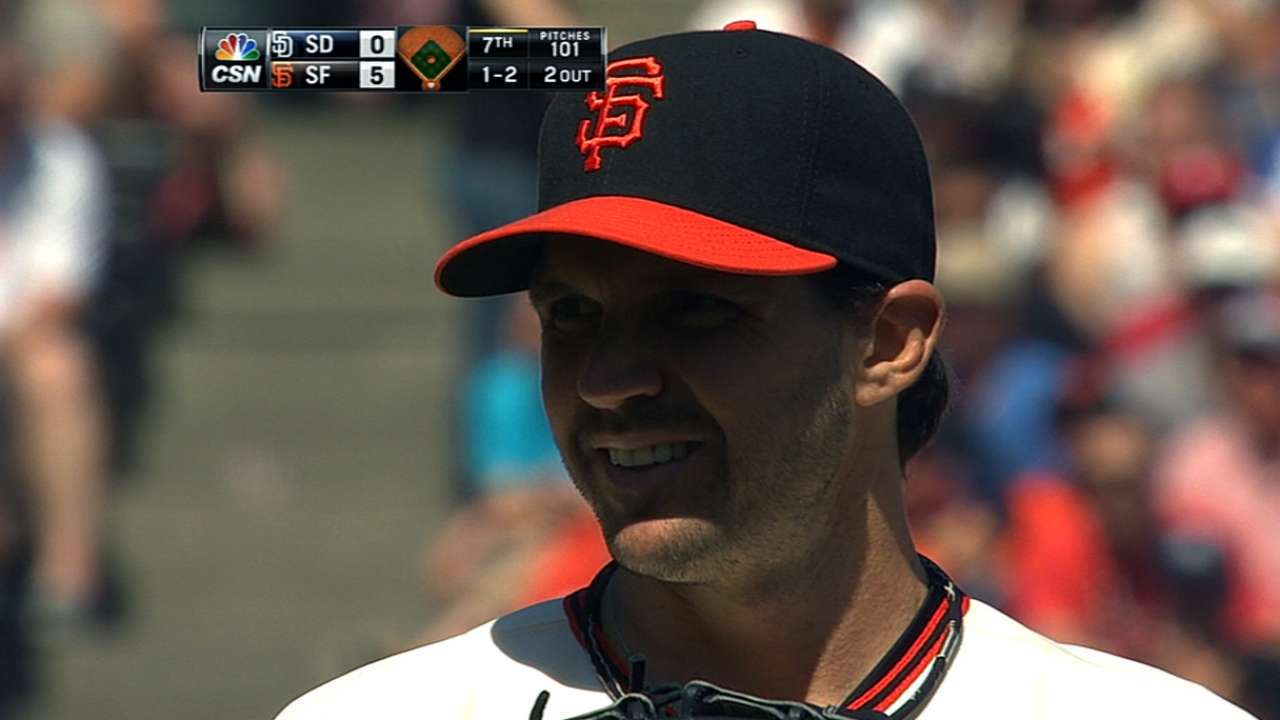 SAN FRANCISCO -- The old new Barry Zito is back.
Following a brutal start, he returned to his scoreless self Sunday, tossing seven shutout innings en route to the Giants' 5-0 win against the Padres.
"You have to have a short-term memory in this game," Zito said. "You have to stick with your approach."
Behind a three-run third inning and Buster Posey's first home run of the season, Zito guided San Francisco (12-7) to a three-game series sweep of the division-foe Padres (5-13). Zito began the season with back-to-back seven-inning shutout outings until his last start, which lasted 2 2/3 innings because of nine runs allowed.
On Sunday, Zito (3-1) allowed five hits and one walk and struck out four, permitting just two runners in scoring position, one each in the first and second innings. He also finished strong: Approaching 100 pitches in the seventh, Zito worked a 1-2-3 frame, striking out the first and third hitters, the latter on his 102nd and final pitch.
"He didn't change anything" after his last start, manager Bruce Bochy said, adding, "Great job on Barry's part bouncing back and throwing such a great game. You need to be resilient in this game. I felt like he threw well, had good command and had good pitches."
Zito said his changeup and command of off-speed pitches were improved. He has not allowed a run in 21 innings at AT&T Park this season.
Posey's two-run homer in the fifth and Angel Pagan's two-RBI double in the third highlighted San Francisco's offense.
Those big hits hurt Padres starter Eric Stults (2-2), who despite walking none allowed eight hits in seven innings.
"Stults has been throwing the ball well," Bochy said. "Changing speeds, a nice, slow curveball to go with his other pitches. He throws his soft stuff a lot. Buster did a great job of staying back [on the home run]. The first at-bat, he was a little early there."
Zito threw 48 pitches through the first three innings but settled down, aided a bit by the defense.
For example, Brandon Crawford, who has been one of the Giants' hottest hitters, flashed his glove in the fifth. With a runner on first, Will Venable grounded one to Crawford, who ran it himself for the forceout at second and gunned Venable out at first for a fine double play -- all Crawford.
"When [Zito] is hitting his spots, I can cheat on pitches" by being in a better defensive position, Crawford said.
In 2012, Posey hit his first home run in game No. 3. In 2013, it was game No. 19.
With two outs in the fifth and Pablo Sandoval on first, Posey drove a first-pitch slider from Stults into the left-field stands for his first home run of the season, making it 5-0.
Posey was relieved to get the first one out of the way.
"The longer you go, the more you think about it," Posey said.
Posey did have good numbers against Stults. Coming into Sunday, he had been 4-for-6 off the lefty.
The power showing by Posey is a welcoming sight for the Giants. Entering Sunday, the Giants were tied with the Dodgers for the second-fewest homers in the National League with 10. Posey is only the fourth Giants player to hit a homer in 2013, joining Hunter Pence (four), Crawford (three) and Sandoval (three).
Andres Torres led off the third by legging out a double to right. Crawford singled and advanced to second on Zito's sacrifice bunt, then Pagan smacked a 3-0 fastball to center for a two-run double and a 2-0 lead. With two outs and Pagan on third, Sandoval singled up the middle to make it 3-0.
"They bunched some hits together in the third," San Diego manager Bud Black said. "Posey hit a cutter in and got it in the air. They really didn't hit [Stults] hard with the exception of Posey."
Pitching and defense are what make the Giants who they are, and the weekend series against San Diego was a return to it. The three starting pitchers allowed two runs and three walks in 19 2/3 innings combined. In their previous seven games, Giants starting pitchers recorded a 6.92 ERA.
Even when Zito exited Sunday, reliever Chad Gaudin coasted the final two innings, permitting one hit and no walks while striking out two.
The Giants are now 8-1 against the division and have yet to play the D-backs, whom they play beginning Monday.
"You need to play good baseball against your division," Bochy said. "That's who you play more than anyone else."
Willie Bans is a contributor to MLB.com. This story was not subject to the approval of Major League Baseball or its clubs.