Milone, A's unable to find their stride in Tampa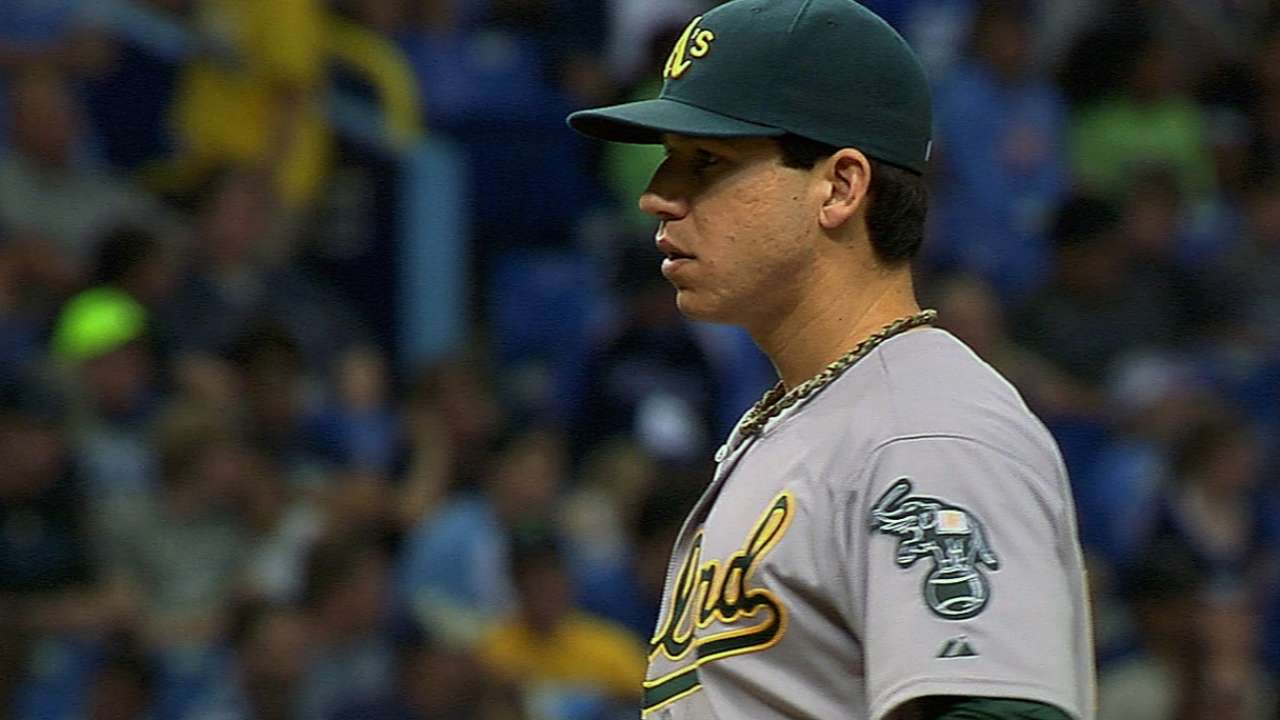 ST. PETERSBURG -- Brandon Moss didn't mince words.
"Obviously, we didn't do our job today with men in scoring position -- at least I didn't," the A's first baseman said.
Moss went 0-for-4 with runners in scoring position Sunday, and as a team, the A's were 1-for-13 with RISP as the Rays completed their weekend sweep, 8-1, extending Oakland's losing streak to a season-high three games and knocking the A's out of first place in the American League West.
"When you come up four times with runners in scoring position, and you don't get a single one in, that's not a recipe for success," Moss added when asked where the previously hot-hitting A's offense had suddenly gone.
"We had opportunities today. And their pitchers did a good job of keeping us off-balance all series. It would be stupid for us to get down on ourselves after three losses, especially when they pitched as well as they did. That's just baseball."
In this weekend's three losses to the Rays, the A's were an anemic 3-for-25 with runners in scoring position and were outscored 17-4. Every A's starter except Eric Sogard struck out at least once, and he went 1-for-8.
On Sunday they again settled for three hits, all singles -- none coming after the fifth inning. The final nine A's who stepped up to the plate were set down in order, four of them by strikeout.
For the second day in a row, the A's did not get an extra-base hit, after collecting at least one extra-base hit in every game this season,
"Three days ago, we were getting all the big hits," said manager Bob Melvin. "We've been getting big hits all season. We just didn't do it in this series. We're pressing some with runners in scoring position. We were getting guys on base today. We just weren't getting big hits.
"We've got to put this behind us and play better in Boston," added Melvin, who did not rule out the possibility he may make some lineup changes for Monday's game against the Red Sox.
The Rays jumped on previously unbeaten Tommy Milone for three runs in the first inning, scoring on an error by A's right fielder Josh Reddick, a bases-loaded hit batsman (Sean Rodriguez) and Kelly Johnson's sacrifice fly.
"It could have been a 'nothing' inning," Melvin pointed out.
Instead, it was the ballgame, as Milone was forced to throw 32 pitches in the frame.
"They did a good job of keeping the pressure on," Milone, now 3-1, said. "I made some bad pitches and they did a good job of putting the bat on the ball and getting on base.
"That's the way the game goes. It happens, As much as we pitchers would like it, we're not going to score 10 runs every game. We don't worry about what the offense is doing. We've got to go out there and do our own business."
Tampa Bay's Roberto Hernandez worked the first six innings, holding the A's to a run on three hits. He struck out seven and walked three to pick up his first win since Sept. 20, 2011 with the Indians.
Reddick, mired in a 2-for-26 slump, singled with two outs in the fourth for the A's first hit off Hernandez, driving in Seth Smith.
"Anytime you get a hit and drive in a run, if feels good," said Melvin of Reddick. "No one is going to feel sorry for you. He's just got to battle through it and get his confidence back."
The A's are 11-2 against the AL West, and 1-5 against everybody else. They are 0-7 this season when scoring fewer than four runs.
Jim Hawkins is a contributor to MLB.com. This story was not subject to the approval of Major League Baseball or its clubs.