Braun's homer lifts Brewers to seventh straight win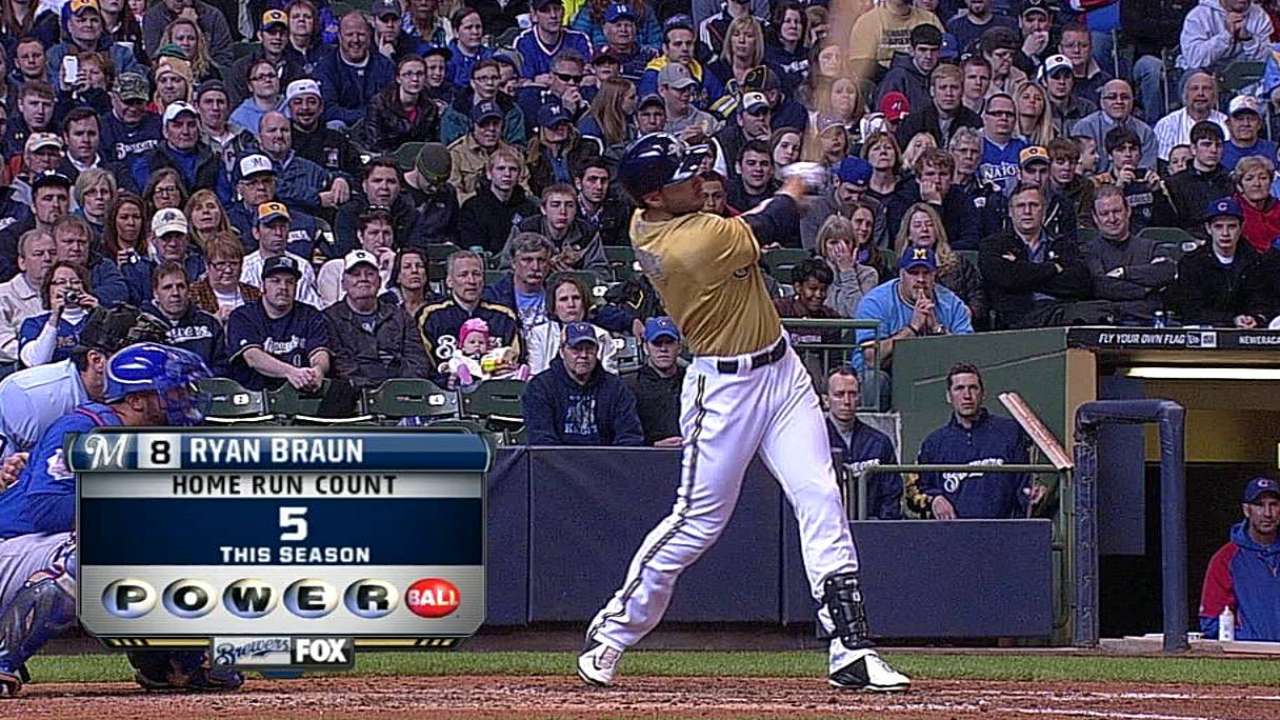 MILWAUKEE -- Ryan Braun isn't getting many hits these days, but he is making them count.
The Brewers' left fielder made Cubs starter Scott Feldman pay for a pair of fifth-inning mistakes -- the first a misplayed comebacker and the second a hanging curveball, which Braun hammered to the left-field seats for a three-run home run and a 4-2 victory on Sunday that capped a perfect homestand.
Wily Peralta pitched 6 2/3 innings for his first win of the season, and the Brewers won their seventh straight game by completing back-to-back sweeps of the Giants and Cubs at Miller Park. After a 2-8 start, the 9-8 Brewers are above .500 for the first time since they beat the Rockies on Opening Day.
"I'm not making a lot of contact, but when I do make contact, it counts," Braun said. "Homers are always good. We've won seven games in a row, so as long as we're winning, I'm happy."
Braun's last nine games have been, for lack of a better word, bizarre. He is 5-for-32 (.156) and has struck out at least three times in four of those nine games, including his three whiffs on Sunday.
But Braun also has four home runs and 10 RBIs in that span, and the homers have all been significant. His eighth-inning shot in St. Louis on April 14 snapped the Brewers' 32-inning scoreless streak and sparked a comeback that started the team's current winning streak. Four days later, he put the Brewers on the board against Giants ace Matt Cain with Milwaukee's first of three two-run home runs in the first three innings. The day after that, Braun's three-run home run highlighted a four-run first inning against the Cubs' Jeff Samardzija.
On Sunday, Braun would not have even batted in the decisive fifth inning had Feldman cleanly fielded a two-out comebacker by Brewers shortstop Jean Segura. But the baseball popped out of Feldman's glove for an error, giving Braun a chance to bat with two men on base and the Brewers trailing, 2-1.
He fell into a 1-2 hole, then looked at an outside fastball for ball two before jumping on a high curve. Both Feldman and catcher Welington Castillo had clear reactions when Braun connected with that pitch.
"We get Braun two strikes and once again, we couldn't put the game away right there and make a good pitch," Cubs manager Dale Sveum said. "The way Rickie [Weeks] is swinging behind him, we had him two strikes and could've done a whole lot of things other than that."
Opponents have been pitching carefully to Braun because regular cleanup hitter Aramis Ramirez is hurt and his replacement, Weeks, had four hits and 22 strikeouts in his last 48 at-bats.
Is Braun growing more frustrated?
"No, less frustrated," he said. "Lots of homers -- meaningful homers. ... It's not even about me, it's about the team. We're winning games."
Braun did let some disgust show in the eighth inning, when home-plate umpire Phil Cuzzi called him out on a full-count sinker from Shawn Camp that was well off the plate. Braun twirled his bat high in the air and earned an immediate ejection, but never looked back as he walked to the clubhouse.
"What did you think of the bat flip?" Braun said with a smile afterward.
"Umpires are always trying their hardest," Braun said. "Not everybody is going to be perfect. Obviously, it was a ball. It's just frustrating for me, because the challenge is not swinging at that pitch."
For the Cubs, the challenge has been fielding the baseball. An error started the Brewers' four-run first inning in a 5-4 win on Friday, and three more errors gave the Brewers four unearned runs in Saturday's 5-1 win. On Sunday, Castillo's throwing error in the fourth inning (and three Feldman walks) contributed to the Brewers' first run, and Feldman's fielding error in the fifth gave Braun his chance to play hero.
"When the opponent makes a mistake and you're a good team, you have to find a way to win, and we were able to do that the last couple of days," Braun said. "For us, it starts with pitching."
The Brewers have been getting quality pitching throughout their winning streak. It was Peralta's turn on Sunday, and he allowed two runs on five hits in 6 2/3 innings for his first victory of the season.
"I tried to do my best to keep the streak going," Peralta said. "This gives me more confidence."
His only mistakes came in the third inning, when he had Starlin Castro in an 0-2 count, but caught too much of the plate with a slider, which Castro hit for a single. Five pitches later, Rizzo hit another misplaced slider for his sixth home run and gave the Cubs a 2-0 lead.
Peralta exited in the seventh inning with two runners on and two outs, and the resurgent Brewers bullpen finished things off. John Axford threw a wild pitch that put both runners in scoring position, but retired David DeJesus on a flyout to end the threat.
Former Cub Tom Gorzelanny pitched a perfect eighth inning and walked a batter in the ninth. Jim Henderson came on to earn his fourth save of the year.
The Brewers have won eight straight home games against the Cubs and 18 of the last 20.
"It's not like we really out-hit them that much," Brewers manager Ron Roenicke said. "Those three games can turn around and go either way, so that part's frustrating [for Sveum and the Cubs]. We went through it early in the season, and most likely, we're going to go through it again during this season. It's the ups and downs."
Adam McCalvy is a reporter for MLB.com. Read his blog, Brew Beat, and follow him on Twitter at @AdamMcCalvy. This story was not subject to the approval of Major League Baseball or its clubs.