Errors prove costly again as Cubs fall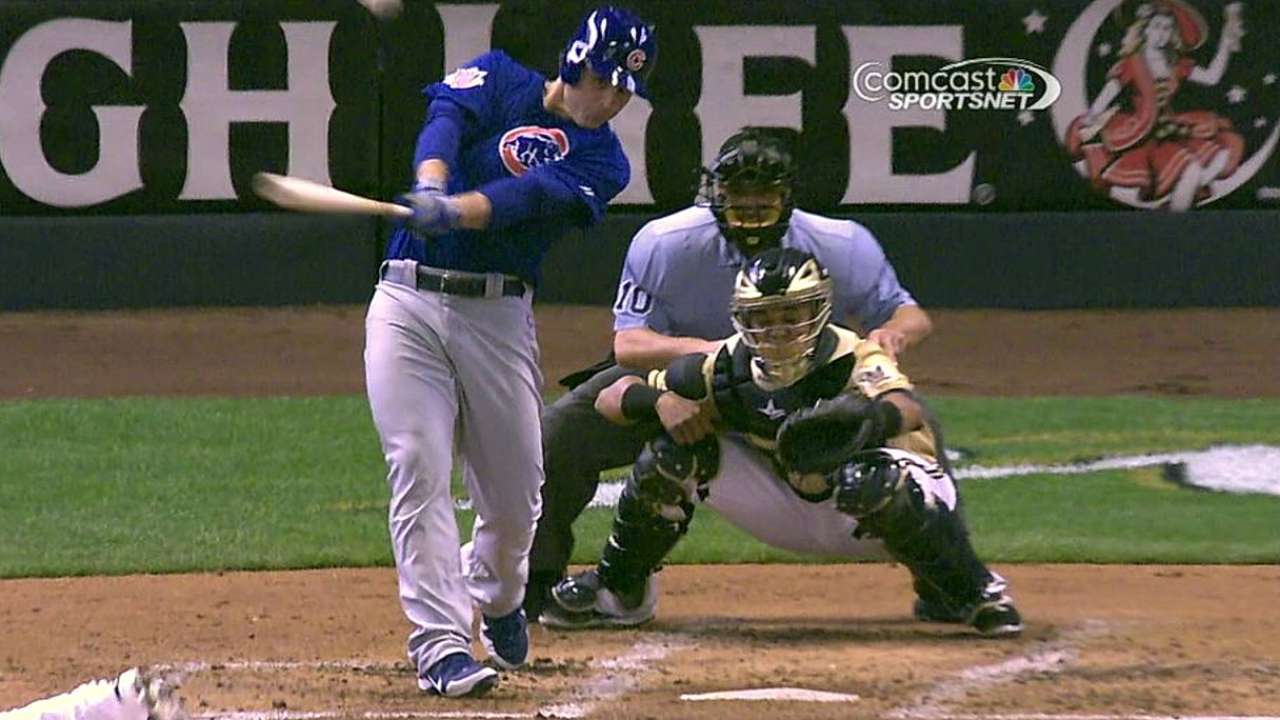 MILWAUKEE -- The errors and the losses keep adding up for the Cubs, and may lead to some changes on the roster.
Ryan Braun smacked a three-run home run to lift the Brewers to a 4-2 victory Sunday and completed a sweep over the mistake-prone Cubs, who committed two more miscues, and dropped to 3-11 in their last 14 games.
"You outhit a team every day and you lose," Chicago manager Dale Sveum said. "It doesn't happen very often."
The Cubs did just that, outhitting the Brewers, 22-16, in the series, including a two-run homer by Anthony Rizzo in the third to back Scott Feldman, who was making his first start since April 11 after being skipped because of back problems. But Feldman also made a critical error, which led to Braun's home run. The Cubs rank second in the Major Leagues with 17 errors, trailing the Nationals, who have committed 18.
"We keep shooting ourselves in the foot and that's something we can't do -- I don't think we're good enough to be doing that," Rizzo said of the poor defensive play. "We need to play good baseball. That's the game of baseball, though -- guys are going to make errors, and it's not going to be the last error we make today, we're going to make plenty more, but we're going to make plenty more good plays, too."
With two outs in the Chicago third, Starlin Castro singled to center to extend his hitting streak to 13 games, the longest in the Major Leagues. Rizzo connected off Wily Peralta for his sixth home run to put the Cubs ahead, 2-0. That was it.
The Brewers closed to 2-1 when Feldman walked the bases loaded in the fourth, and a run scored when Alex Gonzalez grounded out to third.
In the Milwaukee fifth, Yuniesky Betancourt doubled off David DeJesus' glove as he tried to make a leaping catch at the center-field wall. Two outs later, Jean Segura hit a comebacker to Feldman, who couldn't get his glove on the ball for an error. Braun then followed with his fifth home run, launching a 2-2 pitch into the left-field deck to go ahead, 4-2.
"It came down to not being able to field a ground ball that I've fielded thousands of times since I was a little kid," Feldman said. "It's the most routine play of all time -- it just shot out of my glove."
He tried to bounce a curveball past Braun but left it chest-high.
"I'm not making a lot of contact, but when I do make contact, it counts," Braun said. "Homers are always good, we've won seven games in a row, so as long as we're winning, I'm happy."
"This is one of those games that falls squarely on me," Feldman said. "If I make that play [on Segura], we're up 2-1, and my pitch count is down. It's just a shame I didn't make the play. ... It's like a Little League play."
Unfortunately for the Cubs, it's not the first time they have made an error that led to a run and a loss.
"We have to keep grinding," Feldman said. "I think things are going to turn around for us. That one play did turn out to be costly, but I have to take it upon myself to make a better pitch to Braun and we wouldn't be talking about the error."
Feldman was tested in the third when he fielded a comebacker by Norichika Aoki to end the inning. Sveum was a little more bothered by the pitch selection.
"We get Braun two strikes and once again, we couldn't put the game away right there and make a good pitch," Sveum said. "The way Rickie [Weeks has been] swinging behind him, we had him two strikes and could've done a whole lot of things other than that."
The Cubs didn't help themselves. They were 1-for-17 with runners in scoring position, charged with six errors in the series, and now have given up 14 unearned runs over 17 games.
"Going into a season, I don't care if you're the best team in baseball, you're going to have a week to 10 days that you play [sloppy] baseball," Sveum said. "That's a given going in. Obviously, good teams have really good streaks and long streaks. Hopefully, we're getting this out of our system. We know this team is a lot better than we've played."
The mistakes have forced Cubs starters to work even harder, dealing with the extra outs. Chicago starters have ranked among the top in the National League this season, and their combined ERA actually dropped to 3.13 after Feldman's outing. He has failed to post a quality start in his three outings.
Before the game, Sveum said the Cubs would look for other options if play didn't improve. It would seem that players like Castro and Rizzo were set, but Sveum didn't exclude them.
"You have to perform," Sveum said. "The bottom line is you have to perform."
"You can't think about that," Rizzo said about the possibility of being sent down. "Everyone in here is in the big leagues and everyone wants to be in the big leagues, no one wants to go to the Minor Leagues. Whatever happens, happens.
"This team is going to have a lot more transactions throughout the year," Rizzo said. "Guys are going to come and go, that's part of the game. You can't worry about getting sent down -- I've done it before and it never works out when you think about that. You just have to go out and play."
Castro, whose error in the fifth Saturday led to two Brewers runs, did talk to Sveum in Chicago.
"I feel bad," Castro said of his mistakes. "Those errors make the team lose. That's why the team is losing now because of the errors. We have to keep it together, work hard and it's going to be all right.
"The talent is here," Castro said. "The only thing is the whole team is trying to do too much because everybody feels bad about the way the team is playing now. That's why everybody is trying to do too much."
Players aren't hiding from the mistakes.
"It's frustrating," Rizzo said, "but everyone is competitive and that's why I think it's so frustrating. We're young and we want to win and we're hungry to win and we just have to keep fighting and keep believing in ourselves and each other and keep the line moving when we're at the plate and don't try to hit a five-run home run when you just have to get the next guy up."
The Cubs now head to Cincinnati for a three-game series against the Reds and can only hope things improve.
"We only had five hits [against the Brewers], and one was a two-run homer, and we didn't score the other eight innings," Sveum said. "Once again we were 0-for-men in scoring position. It's the same thing that's going on now -- it's a broken record every day."
Carrie Muskat is a reporter for MLB.com. She writes a blog, Muskat Ramblings, and you can follow her on Twitter @CarrieMuskat. This story was not subject to the approval of Major League Baseball or its clubs.