Nationals kept off the board in finale loss to Mets
Zimmermann lasts five innings; Werth grounds into costly double play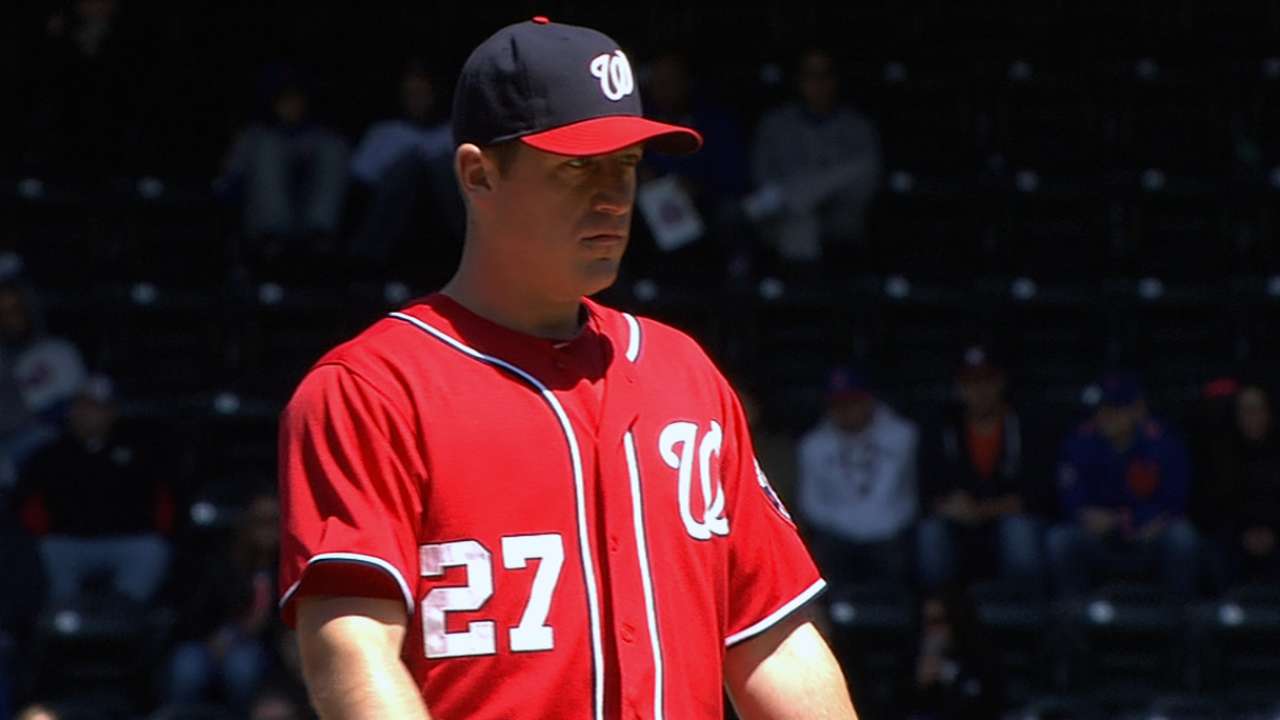 NEW YORK -- Right-hander Dillon Gee proved to be too much for the Nationals, who were blanked by the Mets, 2-0, at Citi Field on Sunday afternoon. The Nationals lost two out of three games in this series and dropped their record to 10-8.
"It was disappointing. [The Mets] pitched pretty well," manager Davey Johnson said. "We didn't swing the bats the way we are capable of swinging. We had a few bad breaks go against us. That's baseball."
Prior to Sunday, Gee was in a pitching slump, allowing 12 runs in his previous 7 2/3 innings. It looked like someone forgot to tell the Nationals. Gee lasted 5 2/3 innings without allowing a run and struck out six batters.
Washington's biggest chance to score against Gee occurred in the sixth inning. The team had runners on first and second with two outs, but Gee was taken out of the game in favor of reliever LaTroy Hawkins, who struck out Ian Desmond to end the threat.
"[Gee] threw well," left fielder Bryce Harper said. "Everything he threw was pretty good. He mixed speeds pretty well. He did things out there that made him a factor today."
It was a game in which the Nationals' defense made three errors and right-hander Jordan Zimmermann threw a lot of pitches (96) in five innings.
"Zim throwing [a lot of pitches] in five innings is not typical, but he is coming off a complete game," Johnson said. "He threw more breaking balls and he kept us in the ballgame, and the bullpen did a good job. We had breaks that went against us."
Zimmermann didn't have any excuses. He said he didn't throw first-pitch strikes and was often behind in the count.
"I had to battle all day and I was behind in the count most of the day, and when you do that, you are going to throw a lot more pitches," Zimmermann said. "I felt good out there. My breaking pitches were really good. I didn't throw a first-pitch strike very often today. I had to work a lot harder."
While the errors did not hurt Washington, the Mets were able to get to Zimmermann in the second inning, when John Buck swung at a 3-1 pitch and hit the ball over the left-center-field wall for his seventh home run of the season.
New York scored its second run of the game in the fourth inning. The Mets had the bases loaded with one out when Mike Baxter hit a sacrifice fly to center fielder Denard Span, scoring David Wright.
The Nationals had a chance to score in the bottom of the eighth inning against left-hander Scott Rice. They had runners on first and second with no outs, but Jayson Werth hit into a double play on a 3-0 pitch and Harper struck out to end the threat.
Johnson clearly was not happy about Werth swinging 3-0, but declined to comment on Werth's actions. After the game, a distraught Werth said he got caught up in the moment and was looking to win the game on one swing.
After Rice threw seven straight balls, Werth decided to move up in the batter's box and figured Rice would groove a fastball for a strike. Werth thought wrong.
"Looking back, I was trying to do too much, I was trying to win the game right there," Werth said. "The situation got the best of me. It was probably one of the dumber things I've done on the field in a while. Look no further than right here. That's where the game was lost. We had a chance to win the game. I feel like I pretty much blew it. ... We had the guy we wanted on the ropes, we had the heart of the order. They just put the lefties behind me. In that situation, you have to let the game come to you, and I tried to go get the game and that was it."
Rice had a feeling that Werth would be swinging at the 3-0 pitch. Rice was trying to start the pitch down the middle of the plate in hopes that it would sink down in the zone.
"Jayson Werth gets paid a lot of money to be driving in runs, so he's going to be hacking in those types of situations." Rice said. "[I was thinking], 'Just get out of it. Get a ground ball, throw a strike.' I was having a little trouble getting the ball over the plate today, but I was able to make the pitch when it mattered and got out of it."
The Nationals finished their road trip at 3-3 and will now play a three-game home series against the Cardinals, the team that beat them in five games in the National League Division Series last October.
"We're OK. It's early. We are a good ballclub. We're going home. We'll bounce back. But we definitely let this one get away from us," Werth said. "I couldn't tell you what our record is. Things could be a lot worse. We're all right. We are a good team. We'll get it together. We have too much talent. We'll be all right."
Bill Ladson is a reporter for MLB.com and writes an MLBlog, All Nats All the time. He also could be found on Twitter @WashingNats. This story was not subject to the approval of Major League Baseball or its clubs.