Fiery Lawrie sparks Blue Jays to comeback win
Getting timing down, third baseman hits go-ahead two-run double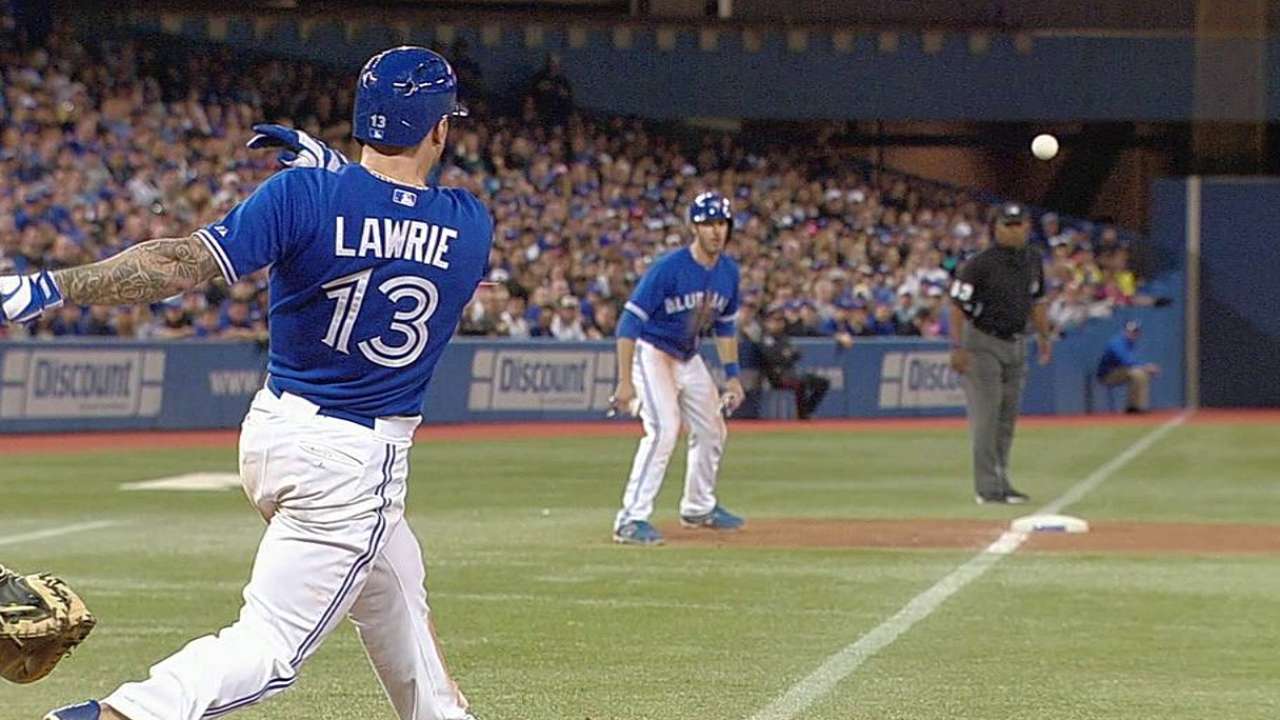 TORONTO -- The Blue Jays have been searching for their missing piece since the season began, and they might have found it with the recent return of Brett Lawrie.
Toronto's third baseman missed the first 13 games with a strained left oblique muscle before rejoining the club on Tuesday. It understandably has taken Lawrie a little while to find his timing at the plate, but things are starting to move in a positive direction.
Lawrie had a pair of hits, including a go-ahead two-run double, while J.P. Arencibia added a two-run homer as the Blue Jays' bats finally came to life in an 8-4 victory over the Yankees on Sunday afternoon at Rogers Centre.
"I know that I need reps, so there's nothing really to panic about," Lawrie said after recording multiple hits for the second time in three games. "I know it's going to come around some time, so I was just waiting on it. [I'll] just keep going to work every single day and keep doing what I'm doing."
Upon his return, Lawrie went hitless in his first 10 at-bats. Six of those were strikeouts as he clearly had trouble adjusting to Major League pitching after being away from it for approximately six weeks.
The biggest issue appeared to be with breaking balls, but it wasn't a major concern to either Lawrie or the club. He was rushed back because of Toronto's glaring hole at third base and as a result, there was going to be a few bumps along the way.
Since the initial struggles, Lawrie has four hits in his past 13 at-bats. It's not exactly perfection, but it represents a big step in the right direction for one of the Blue Jays' core players.
"Just when you're seeing the ball, taking pitches," Lawrie said when asked how he knows the timing is back. "When you're taking pitches. it just lets me know that my timing is there and I can feel my hands. You just feel on time, you know as a hitter."
The Blue Jays have been waiting for someone to provide a major lift to the team, which has been struggling through the first three weeks. Lawrie managed to do just that during a dramatic sixth inning when he came to the plate with two runners in scoring position and his team trailing by one.
Lawrie quickly got ahead in the count 2-1, then sent a two-seam fastball from right-hander David Phelps down the line in left field. The double scored both runners and Lawrie would later come around to score on an RBI single by Melky Cabrera before J.P. Arencibia blew things open in the seventh with a two-run shot.
The timely hit gave the sold-out crowd at Rogers Centre something to cheer about. Not surprisingly, the always energetic Lawrie relished the moment as well. Upon his double and then later his head-first slide into home he immediately jumped to his feet, clenched both fists and screamed at the top of his lungs, much to the amusement of the hometown crowd.
It's the type of emotion that fans and teammates of Lawrie love to see but it also has the potential to ruffle some feathers on opposing teams. Phelps, for his part, didn't take issue with the celebration.
"It's a big part of the game and he's a fiery player," said Phelps, who was charged with three runs in three innings. "You can't really fault a player for being excited for scoring runs."
The offense took a lot of the attention away from an inconsistent afternoon on the mound for Josh Johnson. Toronto's No. 4 starter allowed four runs on eight hits and three walks while striking out four in 5 1/3 innings.
Johnson had glimpses of greatness, but he also suffered through a troublesome fifth. Johnson loaded the bases on three consecutive singles before walking both Lyle Overbay and Eduardo Nunez to score a pair of runs.
"For the first four innings, everything felt good," said Johnson, who is searching for his first victory in a Blue Jays' uniform. "It seems like it happens a couple of times a year where you just all of a sudden can't find the zone for whatever reason."
With the victory, the Blue Jays avoided being swept for the first time this season. The club hits the road on Monday for a seven-game trip with stops in Baltimore and New York.
The old cliche is that there is no such thing as momentum in baseball. Momentum is only as good as the next day's starting pitcher, but the fact that the Blue Jays snapped their losing streak before hitting the road can only be taken as positive news.
Time will only tell, but Lawrie hopes this is the type of game that can have a spillover effect and help snap Toronto's early-season woes.
"Very exciting, that's a great win for our team to go on the road and hopefully carry that on," Lawrie said. "It was a tough couple of games the past couple of days, but obviously today was a new day and we capitalized on that. It was great."
Gregor Chisholm is a reporter for MLB.com. Read his blog, North of the Border, and follow him on Twitter @gregorMLB. This story was not subject to the approval of Major League Baseball or its clubs.