Vintage Lincecum leads Giants past Padres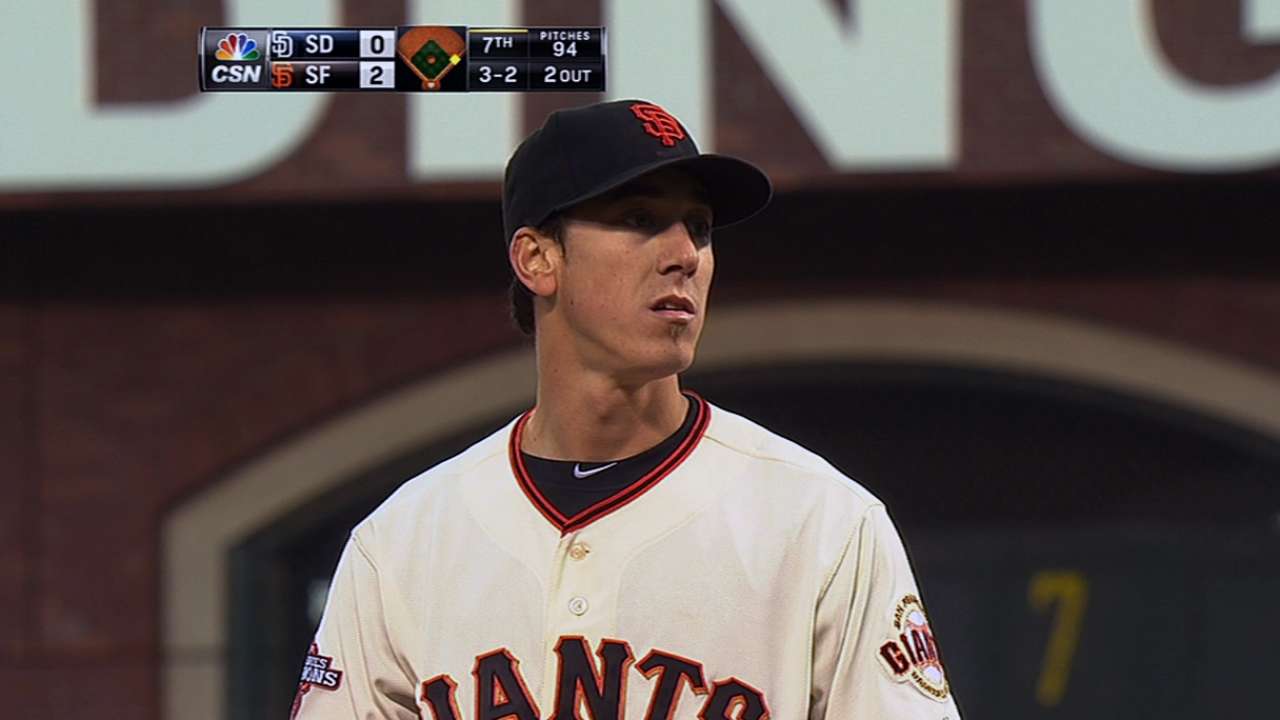 SAN FRANCISCO -- The fastball darted, not as quickly as it once did, but just as effectively.
The changeup took a familiar route -- anyplace but the path of a hitter's swing.
Even the tiny snarl was back, a facial expression made familiar by television closeups.
Tim Lincecum returned to AT&T Park Saturday night. This wasn't the desperate, struggling hurler who has been seen with increasing regularity every five days during the last couple of years. This was the commanding presence whose skill generated Cy Young Awards and eight-figure contracts. Lincecum struck out a season-high eight in 6 2/3 innings and benefited from Pablo Sandoval's fourth-inning, two-run homer as the Giants outlasted the San Diego Padres, 2-0.
Lincecum entered the game with a 5.73 ERA, a figure inflated mostly by his vulnerability to big innings. He allowed four or more runs in two of his previous three starts, continuing a pattern he established during his stunningly subpar 2012 season.
This time, Lincecum's excellence arrested the Padres' bats immediately and never loosened its grip. He struck out at least one hitter in each inning but the seventh. Collaborating with catcher Buster Posey for the first time this season, Lincecum walked two Padres, contrasting with the 12 free passes he issued in 16 innings this year.
Lincecum indicated that he felt loose and natural on the mound before the 41,995 patrons who witnessed his mastery.
"It kind of goes back to easing things up when you throw the pitch and visualizing what you want to do with it," he said. "That's kind of what I went through today -- purpose. Every pitch has a meaning to it."
Indeed, Giants manager Bruce Bochy thought that Lincecum (2-0) looked more "determined" and "focused" than usual. That was particularly evident in the third inning, when San Diego loaded the bases with two outs. In previous outings, Lincecum might have lapsed. Instead, he induced Chase Headley, San Diego's best hitter, to ground out to second base on a 3-1 fastball.
"I'm thinking, I'm not going to walk this guy," Lincecum said. "I have to challenge this guy. Be aggressive. And that's what I was thinking all day. I'm not going to try to nitpick around with these guys like I have in the past."
That began a stretch in which Lincecum retired seven consecutive Padres and 10 of 11 through the end of the sixth inning. Except for right fielder Hunter Pence's running catch of Yonder Alonso's fourth-inning drive, which likely prevented a triple, Lincecum required little defensive assistance.
"I thought his split-finger was as good as I've seen in a while," Headley said. "He was getting in spots where there wasn't damage to be done."
Rumored to be rivals, Posey and Lincecum credited each other for the evening's success.
"I thought he had a great tempo from the start of the game," Posey said.
"When the catcher's on the same page as you, it's not a question of what [sign] he puts down. It's just where he's going to put [the target]," Lincecum said. "There's tons of confidence when I can go out there and do that."
Jesus Guzman's seventh-inning leadoff single prompted the Giants' bullpen to stir. Lincecum retired the next two Padres before walking John Baker on a 3-2 pitch. With left-handed-batting Mark Kotsay on deck to pinch-hit and Lincecum having thrown 95 pitches, Bochy beckoned left-hander Jose Mijares. He coaxed a loud but harmless fly to right from Kotsay with his second pitch.
Santiago Casilla nursed the Giants through the eighth inning by coaxing Alonso's double-play grounder with runners on the corners and one out. Sergio Romo worked a perfect ninth to record his Major League-high eighth save.
Replacing scheduled starter Clayton Richard, who was scratched with flu-like symptoms, San Diego right-hander Andrew Cashner faced the minimum nine batters through three innings before walking Angel Pagan to open the fourth. One out later, Sandoval fouled off four 1-2 pitches before hammering Cashner's 96-mph fastball off the green metal covering the top of the right-field wall.
Sandoval's third homer of the season prompted wonder. "It was a mid-90s fastball in on the hands. It was a good pitch," San Diego manager Bud Black said. "But he's got great hand-eye coordination. He's that gifted as a hitter."
Said Posey, "I'd hate to have to call pitches to him. He looked like [Cashner] had him beat on a couple of pitches and then he turns on 96 on the black."
"He threw a great pitch, inside high. I got lucky," said Sandoval, who fouled a pitch off his right ankle in the seventh inning but insisted he felt fine. "That ball just hit the barrel when I swung up."
Sandoval also had no desire to see Lincecum's efforts go unrewarded.
"When you have a guy like that on the mound," Sandoval said, "you want to score and play defense for him."
Chris Haft is a reporter for MLB.com. This story was not subject to the approval of Major League Baseball or its clubs.