Lynn wins third behind big inning; Beltran homers
Cardinals push across four runs with three RBI singles in third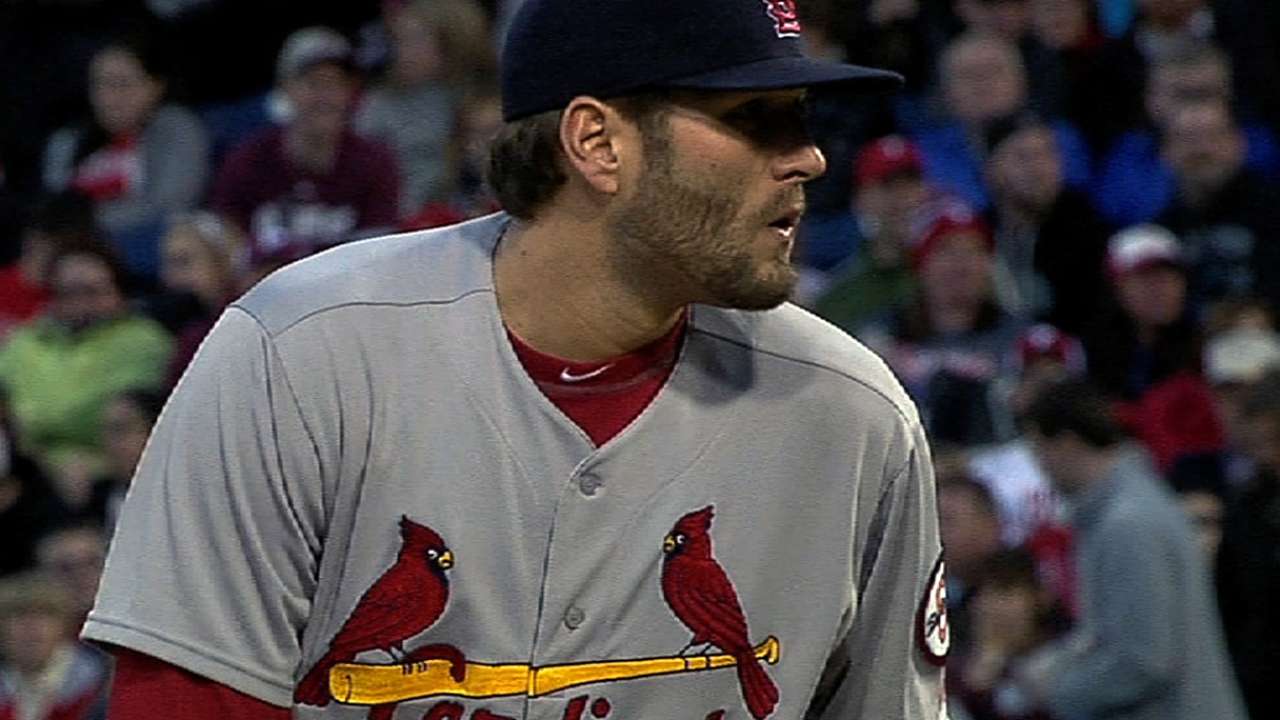 PHILADELPHIA -- Two different kinds of fastballs helped Lance Lynn hold the Phillies to only one hit in seven innings Saturday night. But Lynn's domination began and ended with him not being the same guy he has been all season.
"He just had a whole different demeanor, a whole different disposition," said Cardinals manager Mike Matheny. "We have talked about him going out with an edge, and that's how he pitches the best."
Only John Mayberry's double into the left-field corner to lead off the fifth inning kept Lynn from being any better than he was. He walked only three Phillies and gave into none.
Staked a five-run lead Saturday night, he dominated in the Cardinals' 5-0 triumph, which was different from his performance Tuesday. Handed an 8-1 lead in Pittsburgh after two innings, Lynn nibbled and barely lasted five innings in a 10-6 victory.
"Once we got a big lead, I didn't give them anything to get back into the game," said Lynn. "I am a better pitcher when I am pitching with a little chip on my shoulder. That's who I am and that's who I am going to be. There is a time for it and a time you have to stay within yourself, but that's who they want me to be and that's how I want to be."
Lynn, who came into the game with a 5.40 ERA, had been the only disappointment in the Cardinals rotation to this point of the young season. Challenged both privately and publicly by Matheny to "stop picking," the 25-year-old right-hander resoundingly did just that. The walks Lynn gave up in the first inning to Chase Utley and in the second to Domonic Brown had nothing to do with any failure to challenge.
"I think it was sinking a little more than what he wanted early, especially against the left-handers," Matheny said. "That's an interesting pitch; every time you go out there you don't know how much depth you are going to have, how much horizontal run you are going to have.
"It may be even different from the time you leave the bullpen until you get on the mound. But he had that heavy sinker tonight and he was able to establish that, and it made everything better."
Mayberry hit a four-seam fastball for the double to lead off the fifth, when the Phillies almost went on to have a productive inning. Ben Revere's liner sliced, fortunately for the Cardinals, into Matt Holliday's glove, and center fielder Shane Robinson went to the deepest part of the park to catch Erik Kratz's fly ball. After Lynn blew another four-seamer by pinch-hitter Laynce Nix to end the inning, he started to mix in some two-seamers and resumed dominating.
"When you go through the lineup a few times, it helps to have two different looks with the fastball," Lynn said.
Only one batter -- Brown, who walked -- reached in the sixth and seventh, before Lynn's 107th pitch, a sinker, was beaten into a double play by Mayberry to end the starter's night.
All this steady pounding of the zone was made that much easier by the pounding the Cardinals put on Cliff Lee. The Phillies starter's three third-inning walks caught up to him when Allen Craig, Yadier Molina and David Freese delivered three consecutive RBI singles as the Cardinals built a 4-0 lead.
Carlos Beltran's third home run in three nights -- the sixth time he has done that in his career -- was tattooed deep to left-center in the fifth, giving the Cards a 5-0 lead.
"Carlos is in a very good place right now," said Matheny.
Matheny didn't mean Citizens Bank Park, but Beltran has six home runs and 12 RBIs in his last 13 games at the Phillies' stadium. Regardless of venue, the best place for any Cardinal to be in this early season is in scoring position with two men out. They came into the game hitting .403 in those situations, and they delivered three more times on Saturday.
"The meat of our order has been very disciplined with runners in scoring position," said Matheny. "This was another showing of execution.
"We talk about grinding at-bats. What should be said about our team as a whole is that we fight off the tough pitches and wait for a mistake. Pete Kozma [who started the third with an eight-pitch walk], kept fighting until he got a free pass. And the hits we had that inning came from going where the ball was pitched."
The Phillies, too, pretty much knew what was coming and where. It didn't help them.
"First of all, [Lynn] got all his pitches over the plate," said manager Charlie Manuel. "I thought we had enough left-handed hitters in there that we could score some runs off him. But he did a really good job of keeping the ball down consistently, and he was throwing strikes with his breaking ball. He pitched a good ballgame."
Jay Greenberg is a contributor to MLB.com. This story was not subject to the approval of Major League Baseball or its clubs.