Lee loses control early, receives no support in loss
Lefty can't get through seven innings for first time this year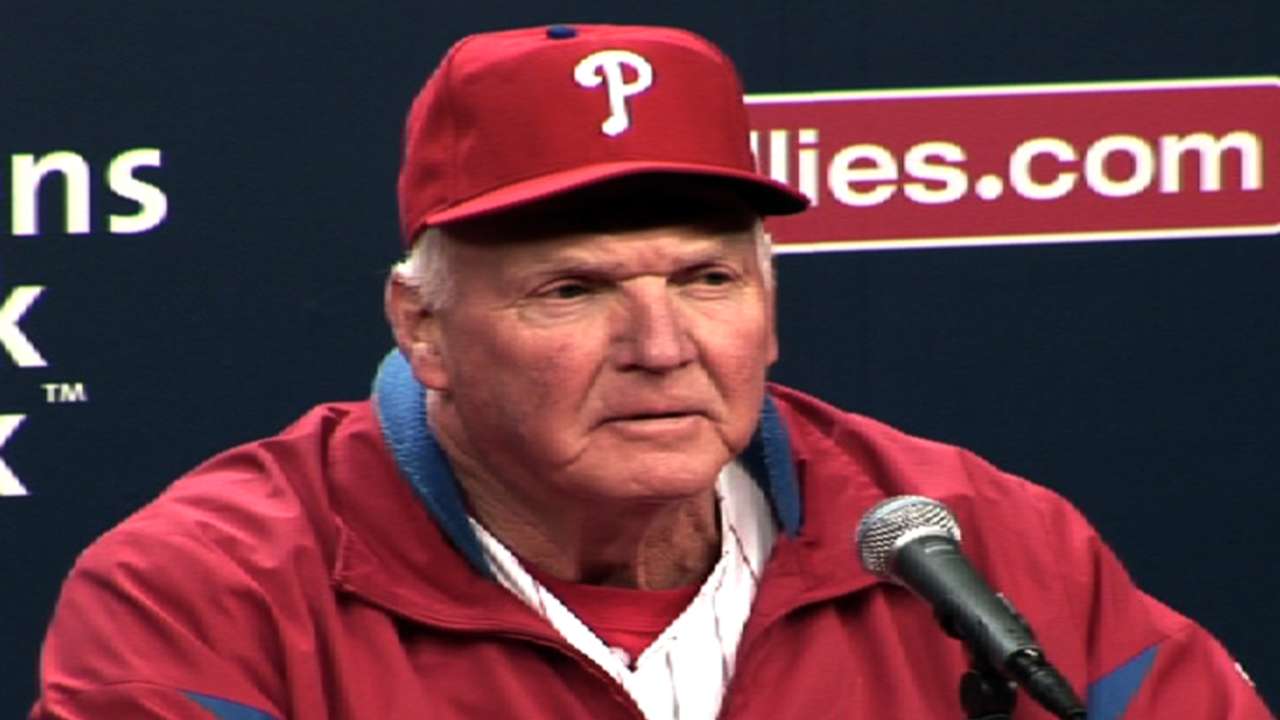 PHILADELPHIA -- The Phillies haven't scored many runs for Cliff Lee in the last year. They haven't scored many runs at all in their last nine games.
Those trends dovetailed against the Cardinals at Citizens Bank Park on Saturday night. Lee started against the Cardinals. The Phillies got three hits and lost, 5-0.
"Nobody feels worse about it than the players," said John Mayberry Jr., who started at first base in place of the ailing Ryan Howard and got his team's first hit off Cardinals starter Lance Lynn, a double to lead off the fifth. "Obviously, we want to score for everybody, but especially Cliff with how things went for him last year. He's always pitched great. He's the ultimate competitor and we'd like to be able to score some runs for him."
Added manager Charlie Manuel: "I wish I had the answer to that, because I would get him some runs. But that's just the way it goes sometimes. And you just keep pitching and try to pitch through it, and who knows? Maybe he'll start getting some runs."
The Phillies were shut out for the second time in their last five games. They have scored three or fewer runs in eight of their last nine. But that wasn't the entire story in this game. Lee, who came into the game with a 1.52 earned run average, wasn't at his best.
This is a pitcher who started the night with the fewest walks per nine innings (1.18) of any pitcher in the Major Leagues since the start of the 2010 season. This is the pitcher who had walked just one batter in 23 2/3 innings over his first three starts. This is a pitcher who had made 20 consecutive starts of at least six innings with one walk or less -- a modern record according to the Elias Sports Bureau, which was previously 14 by Christy Mathewson in 1908 and Greg Maddux in 1997.
This is a pitcher who inexplicably walked three batters in the third inning alone against the Cardinals.
"He had the ball up most of the night. It was just cold enough for him where it was hard for him to get a good grip on his fastball," Manuel said. "And I think that had something to do with his command. His stuff looked OK, but he had trouble getting the ball down. Nights like this, sometimes the ball feels real slick and it's hard for you to get a feel for it."
The announced game-time temperature was 57 degrees, but it dropped rapidly after the sun set. Lee shrugged when asked if that was a problem.
"I don't know. I'm not going to sit here and make excuses," Lee said. "Obviously, I had trouble out there commanding the ball and I walked three guys in a row in the third inning. Those guys all scored. I've got to do a better job commanding the strike zone."
This much is certain: Shortstop Pete Kozma, batting eighth, led off with a base on balls. After pitcher Lance Lynn struck out trying to bunt, Shane Robinson worked a free pass. Carlos Beltran flied out, but Matt Holliday also walked.
At that point, Lee had little choice but to throw the ball closer to the middle of the plate.
"You don't want to walk in a guy, no doubt. So you have to catch more of the plate and have better command, period," Lee said.
The result, instead, was that Allen Craig lashed a two-run single to center. Yadier Molina followed with a grounder to the right side that, off the bat, looked like the third out of the inning. But second baseman Chase Utley was breaking toward second and the ball rolled through for an RBI single. David Freese followed with another single to make the score 4-0.
Manuel and Lee said they didn't know why Utley was moving on the pitch.
"It looked like he kind of broke the other way," Manuel said. "I don't know. He might not have seen it or whatever."
Added Lee: "I was a little bit surprised, yeah. But I haven't asked him what happened there. I don't know."
The Phillies could have picked up their starter by scoring some runs, but instead managed just three hits, even though Manuel packed his starting lineup with two switch-hitters and three left-handed swingers against Lynn.
"I thought we had enough left-handed hitters in there that we could score some runs off him. But he did a really good job of keeping the ball down consistently, and he was throwing strikes with his breaking ball," Manuel said.
Mayberry was asked if Lynn had pitched well or if the Phillies hitters had helped him out.
"I think it's a combination of both," Mayberry said. "He was obviously on, hitting his spots, had great command. And we probably had some pitches we wish we could have had back, but it was just one of those nights."
It was one of those nights where, after Mayberry's double, he was stranded in scoring position. Ben Revere lined out to left. Erik Kratz flied out to the warning track in the deepest part of the park. And pinch-hitter Laynce Nix, batting for Lee, struck out.
Lee, who also gave up a solo home run to Beltran in the fifth, was done after allowing five runs on seven hits and three walks in five innings. He also struck out five while throwing 102 pitches, 66 for strikes.
Some nights, a pitcher can get away with a line like that and come away with a win. It just hasn't happened too often for Lee in the last year.
Paul Hagen is a reporter for MLB.com. This story was not subject to the approval of Major League Baseball or its clubs.