Brewers capitalize on errors to help Burgos win debut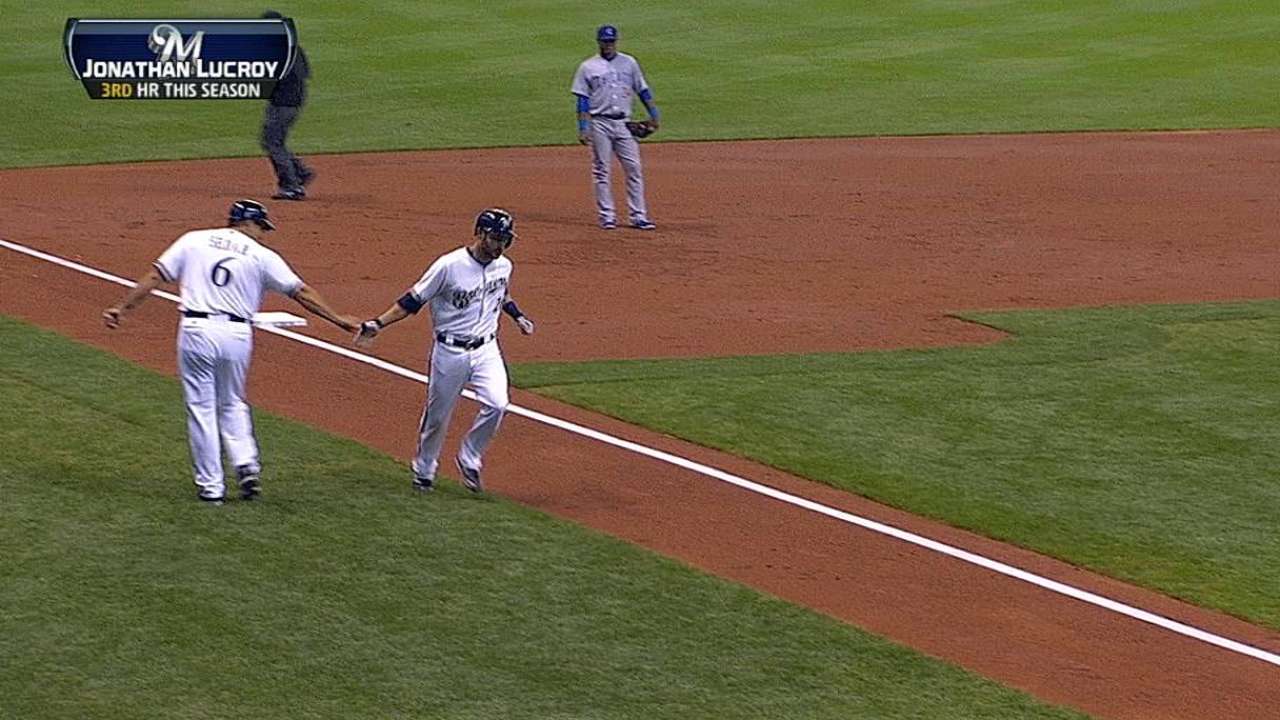 MILWAUKEE -- Hiram Burgos will have many more matchups against the Cubs if his career goes as planned, though it's difficult to imagine them ever being quite so generous again.
A trio of Cubs errors spotted the Brewers four unearned runs and made a winner of Burgos, the 25-year-old right-hander who made his Major League debut in Milwaukee's 5-1 victory at sold-out Miller Park on Saturday.
Burgos allowed only one run on five well-placed hits in five innings to become the first Brewers pitcher to win his Major League debut since Yovani Gallardo beat the Giants on June 16, 2007. Burgos exited with the game tied at 1 in the middle of the fifth inning, just as the Cubs transformed into the Bad News Bears.
"You have to take what they give you, and luckily they gave us a lot today," said Brewers center fielder Logan Schafer, who made the most of a rare start. "We executed when we were given those extra outs."
Just in time for Burgos.
"This is a blessing," he said. "I thank God and my teammates."
He should have thanked the Cubs. Errors by left fielder Alfonso Soriano and shortstop Starlin Castro gave the Brewers two runs in a go-ahead fifth inning, and another error charged to starter Edwin Jackson led to two more unearned runs in the sixth. The result was the Brewers' sixth straight win and Milwaukee's 17th win in the last 19 Cubs-Brewers games at Miller Park.
After a 2-8 start to the season, the Brewers are back to .500. They are the first team to win six games in a row after a 2-8 start since the 1977 world champion Yankees.
Who saw it coming? One week earlier, the Brewers had lost for the eighth time in nine games and were in the middle of a scoring drought that would grow to a franchise-record 32 innings.
"It's hard to figure out," manager Ron Roenicke said. "That's what drives me crazy, the coaches crazy. We try to figure things and how to get the team going and next thing you know, they do it themselves. It's baffling, this game's very baffling."
Right now, it is baffling the Brewers in a good way.
"Definitely in a good way," Roenicke said.
The Cubs had the opposite feeling.
"We're making a lot of the same mistakes," Chicago manager Dale Sveum said. "They're somewhat mental, they're physical. Obviously, they're young, but we're making mistakes that rookie ball people make."
Every time the Cubs made a mistake on Saturday, the Brewers capitalized. In the fifth, the Soriano error gave Schafer two bases leading off the inning. Martin Maldonado walked and Schafer moved to third on a groundout, then scored the go-ahead run when Cubs first baseman Anthony Rizzo booted a bouncer by pinch-hitter Blake Lalli. Rizzo recovered the baseball in time to retire Lalli and avoid an error, but the misplay cost him a chance to cut down Schafer at home.
The next batter was Norichika Aoki, who hit what should have been a routine grounder that Castro misplayed while Maldonado scored.
In the sixth, Ryan Braun led off with a single -- his first hit since April 9 that was not a home run. Two batters later, Jonathan Lucroy hit a comebacker to Jackson, who wheeled around intending to start an inning-ending double play, but his throw sailed into center field, putting runners at second and third with one out.
Schafer cashed in by executing a beautiful safety squeeze bunt, with Braun scoring easily. Maldonado followed with a single that extended Milwaukee's lead to 5-1.
It was the Brewers' first successful squeeze in 2013. Last year, they led the Majors.
Burgos struck out only one Cubs batter in five innings, but did not issue a walk and surrendered only one extra-base hit, a cue-shot double by Nate Schierholtz that hugged the third-base line in the fourth inning. It followed Soriano's RBI single, but Burgos recovered to retire Dioner Navarro on a fly out to center field that stranded Chicago runners at second and third base.
He could have worked deeper into the game (Burgos threw only 83 pitches), but the Brewers turned to pinch-hitter Lalli with a chance to score in the bottom of the fifth inning. The Brewers do not require a fifth starter again until April 30, and will meet Sunday to begin making a decision about Burgos' next step.
"He was cool, confident," Schafer said. "It was fun to see out there. I've played defense behind him for a while, and he looked like the same guy to me."
Burgos made only one mistake. After throwing a 90-mph strike to start his career, Burgos tossed the baseball into the dugout as a keepsake. That sprung the Brewers' other starting pitchers into action.
After the game, a shrine of memorabilia awaited Burgos at his locker. There was that first ball, along with five more commemorating everything from his first warm-up pitch in the bullpen to his first bounced changeup. There was a second foul ball ("Sorry, a fan wouldn't give back the first," read the inscription) and a first water bottle, a first gum wrapper and a first towel sat on in the Major Leagues.
All were inscribed and signed by teammates.
"Since I was young, I was dreaming to play in the big leagues," Burgos said. "Actually, I was very anxious before the game, waiting to go out there and warm up and all that. As soon as I got out there, I threw my first pitch and everything went away."
Adam McCalvy is a reporter for MLB.com. Read his blog, Brew Beat, and follow him on Twitter at @AdamMcCalvy. This story was not subject to the approval of Major League Baseball or its clubs.