Barmes, brilliant bullpen lead Bucs by Braves
Shortstop's two RBIs, relievers' six scoreless innings key in win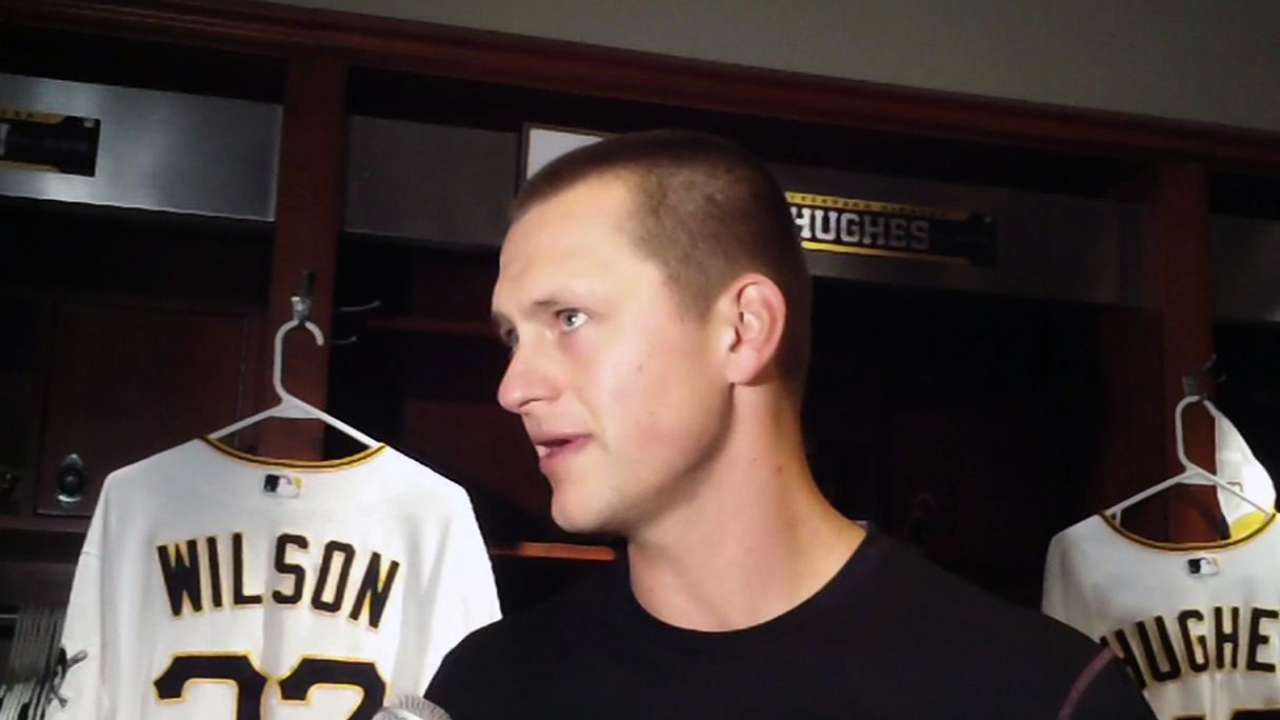 PITTSBURGH -- This is how teams that are going places get there. Anyone can win when the big arm is dealing and the big bats are cranking. But not losing when the game jumps the rails ... well, those are the ones that make you pay attention.
"Sign of a professional team: Find a way to do what you have to do," manager Clint Hurdle said late Sunday afternoon, after his Pirates had been at their make-do best.
The Bucs won on a day that their starting pitcher lasted only three innings and all their RBIs came from the bottom of the lineup.
This may not happen often. But that's exactly what makes it special, and an especially good omen.
They beat Atlanta, 4-2, with Jonathan Sanchez wobbling through three innings and No. 7 hitter Russell Martin driving in one run and No. 8 hitter Clint Barmes driving in two others (another run scored on a wild pitch) against Atlanta righty Kris Medlen (six innings, three earned runs).
Coming out of one of the Majors' statistically best bullpens to cover for Sanchez, Jeanmar Gomez, Justin Wilson, Jared Hughes, Tony Watson and Jason Grilli teamed for six shutout innings as the Bucs finished cooling off the Braves by taking three out of four from them.
That would be the 2012 postseason Braves, as the Pirates also finished off a 7-2 homestand that matched them against two other '12 playoff teams, the Reds and the Cardinals.
Unimpressed by the tough schedule, Hughes said, "We think teams that have to come in here have a tough schedule. This is a new year -- and we consider ourselves a playoff team."
Wilson quelled a threat in the top of the sixth and went 1 1/3 innings for the win -- his first in the Majors. He got both the game ball and the lineup card as keepsakes.
"Pretty cool," said the young lefty. "I'm going to send them home to keep them in a safe place."
The Pirates have 10 total wins -- and this was their third victory in a game in which their starter did not make it through five innings.
"We're ready whenever the phone rings," Wilson said. "It was great that Jeanmar went out and did what he did, and everyone behind me, too."
Even Sanchez did one thing that was great: He pitched out of a jam in the third, which was earlier than Hurdle would have wanted to remove him.
"Jonathan got us to a point where we felt we could manage the game," Hurdle noted. "He wasn't sharp, and by no means is he happy. But everybody threw in something. Everybody got big outs."
Otherwise, Sanchez did not present a convincing case for rotation tenure, laboring through 74 pitches in his three innings. In two starts over 11 days -- around his rained-out start last Tuesday against St. Louis -- he has logged 6 1/3 innings in which he has allowed 12 hits and 11 runs.
He also is on a pitching schedule parallel to that of Francisco Liriano, the other veteran left-hander who made the second of possibly four rehab starts on Saturday night.
Although the damage against Sanchez wasn't nearly as severe as Arizona's nine-run assault on April 10, the lefty again was under constant threat.
A one-out walk in the first to Ramiro Pena was erased on a strike-out-throw-out double play, but the Braves took a 2-0 lead on four consecutive hard-hit singles in the second, the last two hits run-producing ones by Gerald Laird and Andrelton Simmons.
After the Bucs neutralized that in the bottom of the inning, with Martin doubling for a run and scoring on Barmes' single, Sanchez had to work around a pair of walks in the third to keep the game tied.
He couldn't, however, keep himself in the game. Gomez took over in the fourth. In addition to the three walks, Sanchez had a trio of other three-ball counts to inflate his pitch total.
The same man who created that 2-2 tie broke it four innings later -- Barmes' up-the-middle single with two outs in the sixth scored Neil Walker, who had begun the inning with a single and advanced to third on an outfield fly and infield grounder. Barmes' dribbler was gloved by the shortstop Simmons, but he couldn't get anything on an off-balance throw to first.
"It was great to get that first one out of the way," said Barmes, 0-for-15 prior to his two-strike opposite-field liner off Medlen. "Just to find a hole was a pretty good feeling."
Departing for Philadelphia and the start of a 10-game road trip with nine wins in their last 12 games was a definite feel-good vibe.
"We're capable of playing very good baseball," Hurdle said, putting a bow on the homestand, "and we just did that on this homestand. And we took on a [Braves] pitching staff that was hot and a lineup that was hot. This series, we beat them."
Atlanta touched down in Pittsburgh on Thursday with a staff ERA of 1.77 and a team total of 25 homers in 14 games, both Major League bests. They moved on with an ERA of 2.36 and without a home run in three straight games.
"It's good to beat good teams," said Hurdle.
Period.
Tom Singer is a reporter for MLB.com and writes an MLBlog Change for a Nickel. He can also be found on Twitter @Tom_Singer. This story was not subject to the approval of Major League Baseball or its clubs.