Medlen's quality effort results in loss to Pirates
Offense plates two early, then held scoreless by Pittsburgh 'pen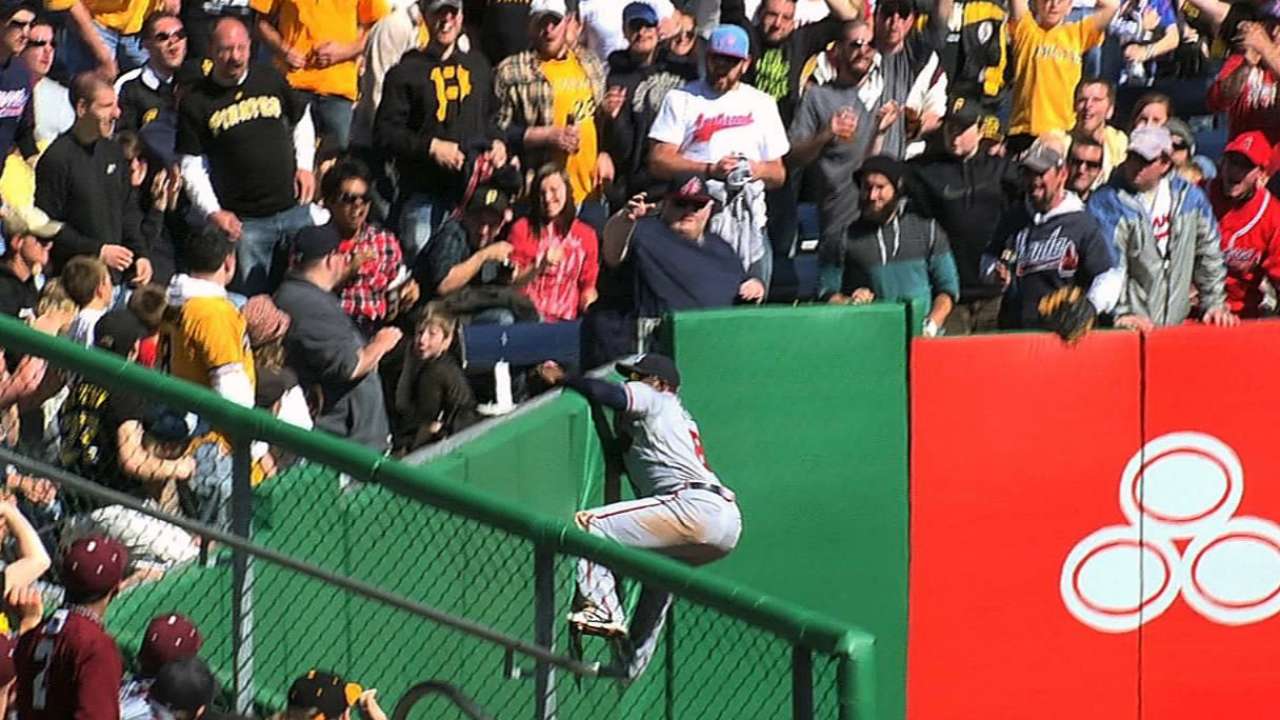 PITTSBURGH -- When the Braves exited Atlanta on Wednesday, there did not seem to be reason to be too concerned about the shutout loss they had just suffered against the Royals. But as this weekend elapsed, it was apparent this potent lineup is in a serious funk.
After being neutralized during the previous two games, the Braves' offense showed some life and chased Jonathan Sanchez after just three innings on Sunday afternoon at PNC Park. But their inability to take advantage of multiple scoring opportunities allowed the red-hot Pirates to conclude an impressive homestand with a 4-2 win.
"We just didn't swing the bats well," Braves left fielder Justin Upton said. "We came out and did what we didn't want to do. We swung at some pitches out of the zone. Even the hits we got, we kind of shortened those innings a couple times. We just didn't piece together the hits."
Clint Barmes' two-out infield single in the sixth inning off Kris Medlen served as the crushing blow to the Braves, who have lost three consecutive games since improving their record to 13-2 with Thursday night's series-opening win over the Pirates.
After totaling six hits and one run in the losses they suffered on Friday and Saturday, the Braves notched eight hits and produced 15 baserunners during Sunday's series finale. But they also went 2-for-10 with runners in scoring position and stranded 10 runners.
The Pirates, who have won seven of their last nine games, surrendered four home runs in Thursday night's loss. They threw just two pitches with a runner on base in Friday's shutout win and limited the Braves to two hits in 16 at-bats with runners in scoring position during the series' final two games.
"You run into a pretty good, hot Pittsburgh Pirates team that pitches well," Braves manager Fredi Gonzalez said after his team's first series loss. "We had plenty of opportunities. We just didn't get that big hit when we needed to."
Medlen settled in after allowing three consecutive hits to begin Pittsburgh's two-run second inning. But the Braves right-hander encountered some bad luck during the decisive sixth inning, which began with Neil Walker's leadoff single.
Walker alertly tagged and advanced to second base when Upton leaped into the left-field wall to make an impressive catch that may have robbed Pedro Alvarez of a two-run home run. After advancing to third base on a groundout, Walker raced to the plate when Barmes' decisive single rolled past second base far enough to prevent shortstop Andrelton Simmons from making a strong throw to first base.
"We had the right matchup there with Barmes at the plate, and he just happened to hit it right to the left of Simmons and not hard enough for us to throw him out at first base," Gonzalez said.
Adding to the frustration of a third consecutive loss was the fact that Barmes entered the game hitting just .093 (4-for-43) and exited it with his first multi-hit game of the season. The Pirates shortstop's RBI single in the second inning accounted for the last of the three hits Medlen surrendered during that two-run frame.
"I go out there and try to keep us in the game the best that I can," Medlen said. "I thought I did a decent job of it after the second inning. In the sixth, you make a pitch and he fights one off and has enough speed to get the infield single."
Simmons actually trumped Upton's catch with the acrobatic grab he made with his back to the plate halfway down the left-field line in the fourth inning. But the defensive contributions weren't enough to prevent a tough-luck loss for Medlen, who was charged with three runs and seven hits in six innings.
After gaining a two-run lead in the second inning, Medlen saw his early advantage erased within a span of six pitches. Alvarez opened the bottom of the second with a single, and then lumbered around the bases to score on Russell Martin's double to the left-field gap. Barmes followed with his RBI single.
"The second inning, it was what it was," Medlen said. "I was leaving pitches out over the plate, pulling off, and everything was flat."
It did not take the Braves long to chase Sanchez, who exited after throwing 74 pitches and allowing two runs in three innings. Both of the runs scored against the veteran left-hander came courtesy four consecutive one-out singles in the second inning.
The four consecutive singles by Chris Johnson, Reed Johnson, Gerald Laird and Simmons gave the Braves two runs, one more than they totaled in the previous two games. But the potential to do more damage was erased when B.J. Upton struck out to end the inning with runners on second and third base.
The Braves were unable to take advantage of the consecutive one-out walks Sanchez issued in the third inning. This started a trend that continued when B.J. Upton grounded into a double play to end the top of the sixth inning, which began with consecutive singles by Laird and Simmons.
After Ramiro Pena drew a walk to begin the seventh inning, he was easily retired as he attempted to steal second base on the back end of Justin Upton's strikeout. The unsuccessful hit-and-run attempt proved costly when Evan Gattis drilled a two-out double that hit near the top of the right-field wall.
"We didn't capitalize on our opportunities," Justin Upton said. "When we had runners in scoring position or men on early with no outs or one out, we didn't get the big hit. That usually costs you. We left a lot of men on base."
Mark Bowman is a reporter for MLB.com. This story was not subject to the approval of Major League Baseball or its clubs.