Trout's first slam backs Richards' solid outing
Right-hander fans career-high eight to position Angels for sweep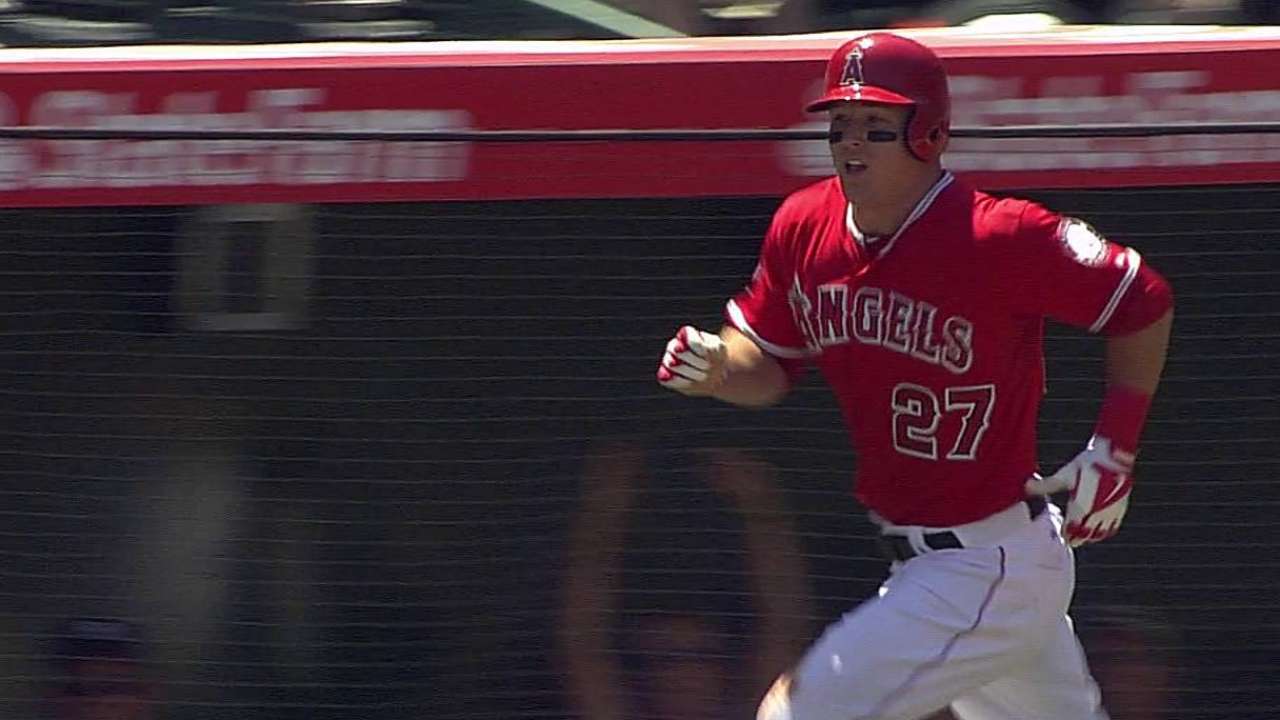 ANAHEIM -- Momentum is a word that has been tossed around the Angels' clubhouse several times this season.
After Saturday's 10-0 victory over the Tigers -- a dominant performance from both the offense and starter Garrett Richards -- it appears the Angels have found, or are at least close to finding, what they've been seeking since Opening Day.
"We've got a great squad from top to bottom, one to 25, we are pretty strong," Richards said. "We are starting to click and it's kind of exciting."
The offense banged out 14 hits -- including seven with runners in scoring position. It was more than enough for Richards, who threw seven scoreless innings with a career-high eight strikeouts, as the Angels won consecutive games for just the second time all season.
The Angels are now 6-10 -- the same record through 16 games as in 2012 -- but have won four in a row at home, two straight home series and five consecutive meetings against the Tigers.
While the offensive fireworks brought the crowd to life, Richards, who is the only Angels starter to pitch into the seventh inning this season, limited the Tigers to just two hits. He retired 16 straight batters from the second through the sixth innings.
"Guys played great defense behind me today and obviously the offense came alive, and that only makes my job a little bit easier," Richards said. "But at the same time, I don't really pay attention to the score. Every inning I have a job to do and that's to put a zero up there."
After scoring five runs in the eighth inning to break open Friday's game, the Angels wasted no time on Saturday with a nine-run first inning. The Angels failed to score more than 13 runs in any of the first four series of the season, but needed just 10 innings to eclipse that mark against the Tigers.
"When we put the ball in play, it found a hole, that's for sure," Halos manager Mike Scioscia said. "There's no doubt we caught some breaks, but when we got guys on base, we did a good job of getting them in."
The Angels' monster first inning consisted of 10 hits -- a club record for the first inning -- from seven different players. Mike Trout belted his first career grand slam, while Peter Bourjos and Albert Pujols recorded two hits in the uprising.
"We played the game all right, we just got ambushed," Tigers manager Jim Leyland said.
Bourjos now has back-to-back three-hit games and has combined with Trout and Pujols for 14 RBIs in the Angels' past two games after the trio totaled 16 RBIs in the first 14. The first six batters reached base and the Angels scored four runs before Tigers starter Rick Porcello, who only lasted two-thirds of an inning, recorded an out.
"I struggled a little bit with my command, but it wasn't all that bad," Porcello said. "I was keeping it down in the zone. I don't really know what to tell you except it wasn't in the cards for me today. I did the best I could to dig deep, especially when I started to feel some pressure. It just didn't happen for me.
"I wish I had a breakdown for you. I was throwing good sinkers. It just didn't turn for me."
Defensively, Luis Jimenez had another strong day, as he dove to his right on a ground ball to rob Austin Jackson of a single to lead off the game. In the seventh, Jimenez snagged a line drive and started a 5-4 double play.
Howie Kendrick also flashed some leather with a diving stop on a Victor Martinez ground ball in the second.
C.J. Wilson will start Sunday's series finale as the Angels go for their first series sweep of the season.
William Boor is an associate reporter for MLB.com. This story was not subject to the approval of Major League Baseball or its clubs.