Kennedy solid in loss to Rockies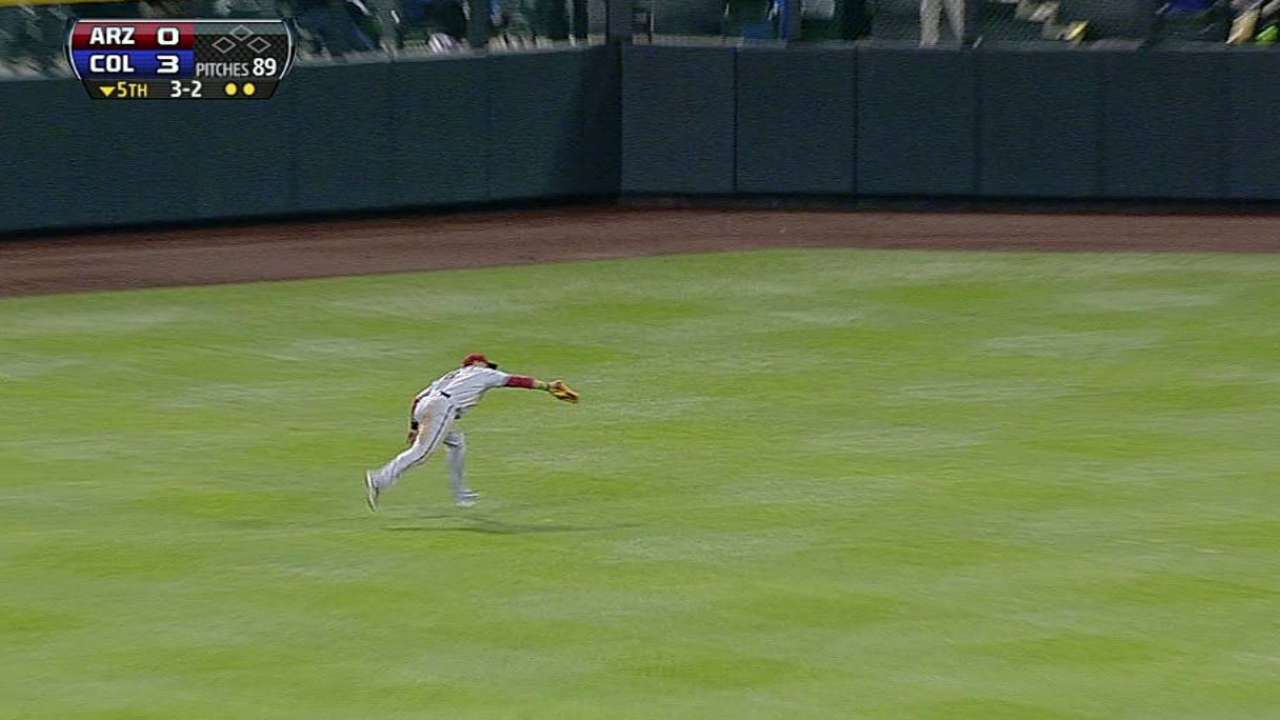 DENVER -- The first meeting of the season between the D-backs and their National League West rival Rockies didn't figure to be a battle of the titans.
But with Colorado perched atop the standings and Arizona trailing by two games as the series began on Friday, there were certainly some bragging rights at stake. But an uncommon pitcher's duel on a cold night at Coors Field set the stage for a taut series set to defy expectations.
The D-backs and Rockies combined for only eight hits, with Ian Kennedy and Jhoulys Chacin going through the side in order for the first three innings before the Rockies pulled ahead to take the opener, 3-1, extending their winning streak to seven games and increasing their lead to three games over the D-backs.
"They beat us tonight, but it's not like we laid down," D-backs manager Kirk Gibson said. "We played hard. The breaks didn't really go our way. We'll come back tomorrow."
Nobody was making excuses, but it's worth noting that Arizona played 12 innings against the Yankees Thursday night, then flew cross-country and got to Colorado in the wee hours of the morning. One player flew ahead -- Kennedy -- and he stood out with a sterling performance on a night when sterling wasn't enough.
Kennedy was perfect through three, striking out six of the first 12 Rockies he faced, before things unraveled a bit in the fourth. After retiring the leadoff hitter, Kennedy walked Josh Rutledge, then gave up a two-out, two-run homer to left by Troy Tulowitzki that gave the Rockies a 2-0 lead.
"I'd rather throw my pitch than give in, so I wasn't too worried about the walk," Kennedy said. "I got [Carlos Gonzalez] with the next strikeout, and I was happy with two outs with Tulo coming up. It looked like [the pitch] was in, but it wasn't in enough. It was kind of up, but he got on top of it. He's one of the best hitters in the National League, so he did a pretty good job of getting to it."
Kennedy ended the day with a quality start, allowing three runs in six innings on three hits and three walks while striking out six.
"Kennedy did a great job tonight," Rockies manager Walt Weiss said. "He got a lot of swings and misses on his fastball and his changeup. It looks like there's a lot of deception with him. It was a well-pitched game."
Chacin was equally effective through three innings, retiring all nine batters faced before Gerardo Parra opened the fourth with a single to center, his first of two hits on the night. Didi Gregorius added a pair of hits and A.J. Pollock's hit in the fifth made for a total of five, all singles, with the middle of the lineup going 0-for-12 with five strikeouts.
"The middle of our lineup didn't get any production out of it," Gibson noted. "It's going to happen."
The D-backs' best shot at breaking through against Chacin came in the fifth inning. Pollock ignited the rally with a two-out single to left and Gregorius followed with a single to right. Cliff Pennington then walked to load the bases, but Kennedy grounded out to short to end the threat.
Kennedy allowed his final run when Colorado third baseman Chris Nelson led off the fifth with a triple over Pollock's head in center. Chacin plated him with a sacrifice fly to center, giving the Rockies a 3-0 lead.
"Some balls die, some balls take off," Gibson observed. "That ball took off on him a little bit."
Gregorius built on his two-hit Major League debut on Thursday night with a 2-for-3 performance Friday, seeing 22 pitches in three at-bats. He saw nine pitches his first time up against Chacin, fouling off six before finally lacing a liner to left that Gonzalez caught with a dive toward the foul line.
"He had a couple good pitches moving around," Gregorius said. "His sinker was really good. The first at-bat, he threw me almost all his pitches. Cutters, sinkers, changeups, splits. I was fouling, fouling, fouling them off. The next time through, I managed to put a good swing through," connecting for a single.
Chacin left the game with left oblique stiffness following his 100th pitch in the seventh. He threw 6 1/3 shutout innings of three-hit ball.
The Rockies kept the D-backs scoreless until the ninth, when Parra slapped a single to center to open the inning, advanced to second on defensive indifference, then scored on a two-out throwing error by Nelson.
The loss dropped the D-backs to 3-3 in series openers this season and 1-3 on their nine-game road trip through New York, Colorado, and San Francisco.
Owen Perkins is a contributor to MLB.com. This story was not subject to the approval of Major League Baseball or its clubs.