Tulo's homer leads Rox to seventh straight win
Chacin throws 6 1/3 shutout innings before leaving with injury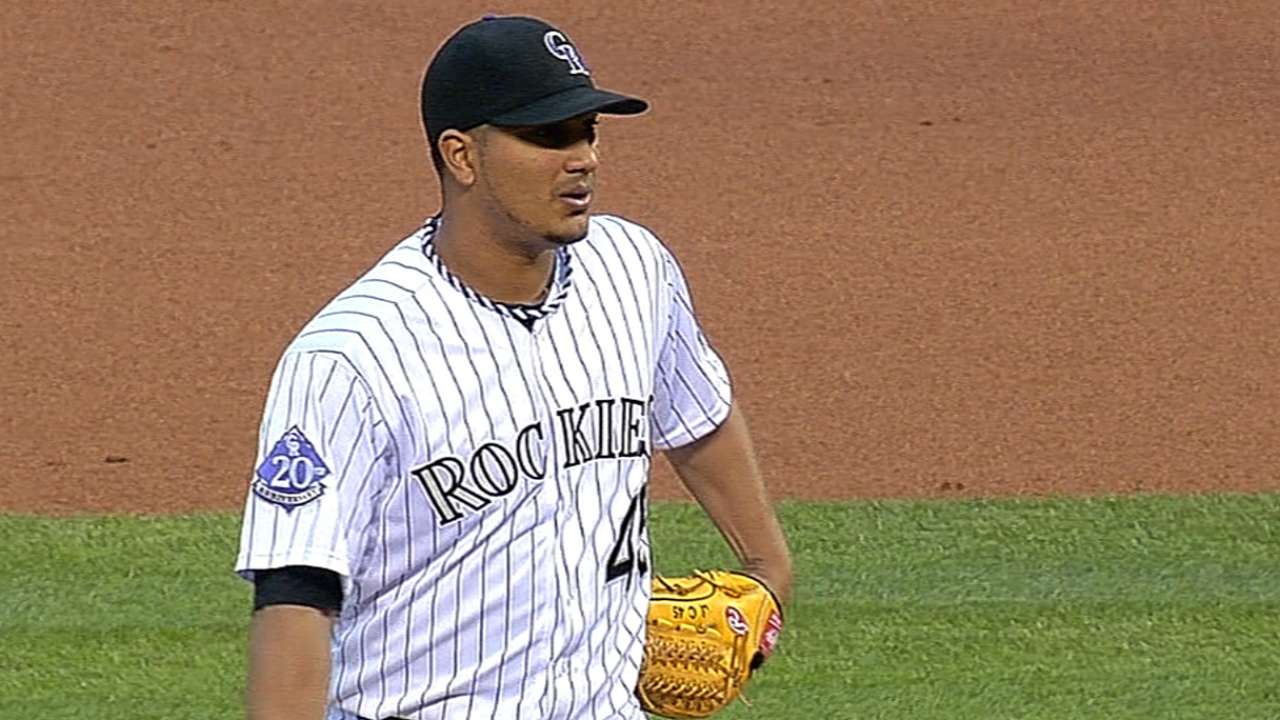 DENVER -- The sun finally came out, and after days of freezing temperatures, the air was a little nicer at Coors Field on Friday night. It wasn't quite summer, but jackets and Jhoulys Chacin's masterful pitching kept Rockies fans among the 23,445 warm for 6 1/3 innings.
That was before the first significant storm cloud set in over the Rockies' season.
Troy Tulowitzki homered for the fifth time and the National League West-leading Rockies won their seventh straight, 3-1, over the D-backs. But the joy was tempered when Chacin grasped his back and side on consecutive seventh-inning fastballs and was removed.
The Rockies, whose 12-4 record matches the 2011 squad for best 16-game start in club history, announced that Chacin exited the game with left oblique stiffness, although he said he didn't know if the source of the pain was the oblique or his back. He will be re-evaluated on Saturday.
The victory in the opener of a three-game weekend set, on a night when the Rockies had just three hits, put them at 4-0 on a nine-game homestand and 7-0 at Coors. The homestand was originally scheduled for 10 games, but one was wiped out by the snow that hit earlier this week.
Chacin (3-0) struck out five against one walk and held the D-backs to three hits. It's not known how much longer he would have pitched, since he came out after pitch No. 100.
"I thought he was really good," Rockies manager Walt Weiss said. "He's had nice outings all year early on for us. That was as good as any of them."
Chacin left after becoming the first Rockies pitcher to reach the 100 pitches since last June 12. That was before the Rockies experimented with a four-man rotation with limits of either 75 pitches or two turns through the opposition's lineup. That plan was scrapped late last season.
The injury was all that could stop Chacin on Friday night. The only real threat came when the D-backs loaded the bases with two outs in the fifth, but Chacin worked D-backs pitcher Ian Kennedy (1-2) into a grounder to short.
Chacin did it by commanding his fastball, then using his slider for either early strikes or put-away pitches. His best slider was one that froze Eric Goldschmit for a strikeout to end the sixth inning.
"He was throwing all his pitches over for strikes," D-backs manager Kirk Gibson said. "We never really got ahead of him. He dumped his slider over early in the count and we were just laying off it. It had good depth to it. That's probably the best I've seen him throw. Give him credit there."
Chacin said, "Everything was working. I felt really well. I felt like I could have gone longer, even though I threw a lot of pitches [before the injury]."
With two out in the fourth and Josh Rutledge aboard because of one of the three walks Kennedy issued, Tulowitzki hammered on the first pitch into the left-field seats. Tulowitzki has homered in the last two games, and leads the Rockies with 15 RBIs.
Chris Nelson tripled to right-center off Kennedy to open the Rockies' fifth and scored on Chacin's sacrifice fly.
"We're not going to bang the ball around the park every night in this league, so you've got to be able to win a variety of ways," Weiss said. "Tonight we did it with a great outing by Jhoulys and a big hit by Tulo."
Wilton Lopez replaced Chacin and struck out two, and Rex Brothers gave up one hit but forced a double-play grounder in a scoreless eighth. Rafael Betancourt (6-for-6 on save chances) gave up one hit and would have completed the Rockies' first shutout of the season had Nelson not bounced a two-out throw to first base to give the D-backs an unearned run.
Thomas Harding is a reporter for MLB.com. Read his blog, Hardball in the Rockies, and follow him on Twitter @harding_at_mlb. This story was not subject to the approval of Major League Baseball or its clubs.